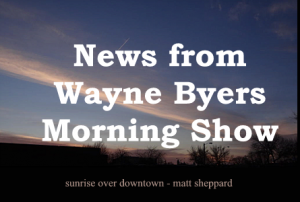 CSi Weather…
.REST OF TODAY…Sunny. Highs in the upper 70s. Southwest winds around 15 mph.
.TONIGHT…Partly cloudy. Lows in the upper 50s. Southeast winds
10 to 15 mph.
.THURSDAY…Mostly sunny. Highs in the mid 80s. Southeast winds
10 to 15 mph increasing to around 20 mph in the afternoon.
.THURSDAY NIGHT…Mostly cloudy with a 40 percent chance of
showers and thunderstorms in the Jamestown area, 50 percent in the Valley City area. Some thunderstorms may be severe. Lows
in the mid 60s. Southeast winds around 15 mph with gusts to
around 30 mph shifting to the northeast after midnight.
.FRIDAY…Mostly sunny. Highs in the lower 80s. North winds 10 to
15 mph.
.FRIDAY NIGHT…Partly cloudy. Lows in the lower 60s.
.SATURDAY…Mostly cloudy. Chance of showers and slight chance of
thunderstorms in the afternoon. Highs in the mid 70s. Chance of
precipitation 30 percent.
.SATURDAY NIGHT…Rain showers likely and chance of
thunderstorms. Lows in the upper 50s. Chance of precipitation
70 percent.
.SUNDAY…Cloudy. Chance of showers and slight chance of
thunderstorms in the morning, then showers likely and slight
chance of thunderstorms in the afternoon. Highs in the upper 60s.
Chance of precipitation 60 percent.
.SUNDAY NIGHT…Mostly cloudy with chance of rain showers and
slight chance of thunderstorms. Lows in the mid 50s. Chance of
precipitation 40 percent.
.MONDAY…Partly sunny. Highs in the mid 70s.
.MONDAY NIGHT…Partly cloudy. Lows in the mid 50s.
.TUESDAY…Mostly sunny. Highs in the upper 70s.
Thursday afternoon and early evening,  storms could quickly grow  and develop into supercells with all severe threats present, including a few
tornadoes.  Then, an increasing wind threat.
Jamestown (CSi)  Voters in the City of Jamestown on Tuesday elected candidates for public office, including a newly elected mayor, and newly elected city council member.
Wining the Mayor's Election was:
Dwaine Heinrich  1282
Katie Andersen  1100
Joshua Meade  408
Winning the City Council seat was:
David Steele  1746
Kevin Walker  833
City Council Member Ramone Gumke previously announced that he will not seek re-election to the Council, and is seeking the nomination to the Stutsman County Commission in the June 12 Primary Election.
Elected to the three  Jamestown City Park Board seats:
Chris Aarhus  667
*Mike Landscoot  (I)  1317
*Mike Soulis  1490
*Mindi Schmitz  1381
Mitchell Ostlie  880
Ryan Schlafman  1124
Larry Knoblich said he is not seeking re-election
Richard Ryan resigned his seat last summer.
Municpial Judge  unopposed
Lawrence Kropp  1986
Tim Ottmar did not file a petition seeking re-election.
On the Jamestown Public School Board vote..
For the  three City/Urban Seats for four year terms.
Winning was:
Brenda Roemmich  1493
*Heidi Larson  1937
*Jason Rohr  1987
*Robert Toso 1791
For the two Rural seats, Four Year Terms
*Ballot candidate Sedric Trevithick  2065
Write In  83
The Jamestown Sun reported Wednesday that  it was determined while voting that Trevithick actually lives in the Barnes County, North School District, and as such will have to resign the school board at the July 16 board meeting.
His rural seat will then be appointed.
Incumbent Greg Allen had indicated he would not run for re-election.
His rural seat will  be awarded to a possible write-in candidate or another appointment made by the school board.
CSiNewsNow.com will follow up with more information from Jamestown Public Schools.
All vote totals are unofficial until canvassed and certified.
3,517 of 16,810 eligible Stutsman County voters cast  ballots on Tuesday, with 646 early and absentee voters and 2,675 primary election voters
20.92 percent of eligible Stutsman County voters cast ballots, Tuesday, compares to 17.18 percent in the non-presidential primary in 2014.
Valley City  (CSi)  Valley City voters have elected a mayor, and two City Commission members along with Park Board, and School Board candidates.
Winning the Mayor's race is:
Ballot Candidate, David Carlsrud   1103
Write in 350
For City Commission:
To fill two positions
Corey Neseth  640
Duane "Dewey" Magnuson  942
Jeffery Erickson  680
Write in  397
Winning the three City Parkboard seats:
Jenni Lou Russi  681
Michael Lentz  856
Susan Kringlie  1088
William "Buff" Murray  988
Barnes County Commission:
District Number Four…
The two candidates nominated to run in the November 2018 election were:
Terence R Brock  45
Vicky Lovell  147
Erik Sand  59
Marcy Svenningsen  215
Nominated to run in the November 2018 elections…
Barnes County States Attorney:
Carl Martineck  1856
Write in votes  192
All vote totals are unofficial until canvassed, and certified.
BISMARCK, N.D. (AP) — Three of North Dakota's larger cities have elected new mayors.
In Bismarck, challenger Steve Bakken edged out incumbent Mayor Mike Seminary in Tuesday's election. Bakken is a former radio show host and the business development manager for an engineering company.
In Minot, City Councilman Shaun Sipma beat two other candidates to take the mayor seat vacated by Chuck Barney, who decided not to seek re-election to pursue other interests. Sipma is a former TV journalist, an insurance agent and board secretary for the Farm Rescue nonprofit.
In West Fargo, longtime Mayor Rich Mattern was unseated by Bernie Dardis. Dardis is a former CEO of a sign company who still works as a consultant.
Jamestown  (CSi)  The Jamestown Stutsman Development Corporation (JSDC) board has approved the sale of the last two lots remaining at the I-94 Jamestown Business Park.
On Tuesday's Wayne Byers Show JSDC report, Business Development Director, Corry Shevlin said, all the lots will now be occupied located off I-94 and Highway 281 South, which contains the Stutsman Harley-Davidson business.
It's expected that UPS will locate on the lots, for business expansion, allowing the company to expand its operations and retain Jamestown UPS jobs.
Shevlin added that development continues at the Jamestown business park located at the west side of Jamestown Regional Airport, with work starting on infrastructure including installing a roadway and utilities.
He pointed out that JSDC board approved the 2019 draft budget that will be presented to the Jamestown City Council and the Stutsman Commission for approval, which contains increased funding from the city and county.
Jamestown  (CSi)  Louis L'Amour Elementary Principal Jon Koehmstedt has resigned, the position.
The Jamestown Public School Board at the Special Meeting, Monday on an 8-0 vote, approved the resignation.
Koehmstedt was hired April this year, to replace retired  Louis L'Amour Principal Vikki Coombs.
The position of principal is to remain open pending the formation of a list of candidates to  be interviewed.
Jamestown  (CSi)  There will be two Boat Safety Classes on Thursday June 14th at 10-a.m., and 1-p.m., at Lakeside Marina.
The classes are for children and adults, which are free and open to the public.
Only one class needs to be attended.
Parents are responsible for transportation to and from the Reservoir.  There will be no supervised Healthy Connections Program activities at Nickeus and McElroy Parks on Thursday morning.  The parks will re-open at 1:00.  For more information, please contact the Jamestown Parks and Recreation office at 252-3982.
BISMARCK, N.D. (AP) — North Dakota U.S. Rep. Kevin Cramer says he's looking ahead to a November Senate battle with Democratic incumbent Heidi Heitkamp that has big stakes for the state and the nation.
Cramer defeated little-known Air Force veteran Thomas O'Neill to cruise to victory in Tuesday's Republican Senate primary.
Cramer weighed a challenge to Heitkamp for months before announcing earlier this year that he wouldn't run. He later changed his mind and said President Donald Trump had pressed him to enter the race.
Cramer says he knows he's in for a tough fight against Heitkamp.
In the only other statewide primary, state Sen. Kelly Armstrong eased past a pair of political newcomers in the GOP race for Cramer's House seat
GRAND FORKS, N.D. (AP) — Charges are pending against a driver who Grand Forks police say crashed his pickup truck into a parked vehicle and then a law office building while driving drunk.The incident happened shortly after 10:30 p.m. Tuesday. The driver was taken to a hospital with unknown injuries. No other injuries were reported.Police say the driver was cited for driving under the influence, and charges of driving under suspension and leaving the scene of a crash are pending.
WILLISTON, N.D. (AP) — A Williston physical education teacher accused of child sex crimes is facing more charges.
Twenty-eight-year-old Everest Moore was arrested in March on three counts of gross sexual imposition stemming from incidents allegedly involving sexual misconduct with girls under the age of 15. Two more charges were added in April, and three additional counts have now been added for a total of eight.
KXMC-TV reports that Moore has pleaded not guilty to the initial five charges against him. He will have a bond hearing on Tuesday for the new charges.
Moore was placed on administrative leave by St. Joseph's Catholic School in February, following allegations of employee misconduct.
BISMARCK, N.D. (AP) — North Dakota's efforts to reduce the impact of wind development on wildlife habitats are drawing opposition from energy and agriculture industries.
The Bismarck Tribune reports that the state Game and Fish Department has proposed voluntary guidelines aimed at steering wind developers away from building turbines and roads in wildlife habitats. The guidelines also outline a way companies can offset their impact to habitats via projects that restore or reconstruct habitats elsewhere.
Utility company officials said last week they weren't given the opportunity to comment on the proposal. They also questioned the department's authority to develop guidelines they say could be interpreted as requirements.
Department officials say they'll keep working with stakeholders to revise the recommendations.
The agency says North Dakota has 12 species on the federal threatened and endangered list.
MINOT, N.D. (AP) — A Ward County Jail inmate accused of breaking another inmate's jaw in two places during a fight over ramen noodles has been sentenced in state court.
The Minot Daily News reports that 33-year-old Jesse Levi Jones, of Kenmare, was sentenced to time already served of 126 days and ordered to pay more than $2,000 for expenses.
Jones pleaded guilty last week to misdemeanor assault.
Court documents show that the incident happened after 26-year-old inmate David Pieper Jr. accused Jones of stealing seven ramen noodle packages and a bowl from Pieper's cell. Pieper was unable to talk about the fight at the time but gave a written account to investigators.
Authorities say security cameras showed Jones punching Pieper.
In sports…
Jamestown  (CSi)  Hillcrest Municipal Golf Course will host  junior golf events for ages 9-17.
Junior Golf Camp will be held June 18-20. The cost  is $25 with the deadline to register is today. Registrations are available at Hillcrest Pro Shop only and is limited to the first 40 juniors to sign up.
Sticks for Kids will be held Wednesday mornings at 10:30 a.m. from June 27 to July 25.   The cost is $20 with  the deadline to register is June 20. Registrations are available at Hillcrest Pro Shop only… limited to the first 25 juniors to sign up.
Contact John at 252-4320 for further information.
TWINS-BELISLE
DETROIT (AP) — The Minnesota Twins have signed right-handed reliever Matt Belisle to an $800,000, one-year contract, bringing back the popular veteran after a stint with Cleveland.
The Twins made the move Tuesday before their game at Detroit and designated utility infielder Gregorio Petit for release or assignment to make room on the roster.
Belisle had a 5.06 ERA for the Indians in eight appearances earlier this season before being assigned to Triple-A Columbus. The 38-year-old posted a 4.03 ERA for the Twins in 2017 in 62 appearances. He moved from setup man to a ninth-inning role after closer Brandon Kintzler was traded.
Twins relievers rank 21st in the major leagues with a 4.15 ERA.
Petit had 26 at-bats for the Twins. He hit .308 and played all four infield positions.
MLB-
Ehire Adrianza (AY'-ray ah-dree-AHN'-zuh) belted a go-ahead grand slam in the seventh inning to lead the Twins past the Tigers, 6-4. Adrianza supplied three of Minnesota's seven hits as the team won its second straight and pulled within five games of the AL Central-leading Indians. Detroit remains 5 ½ games behind Cleveland.— The New York Yankees kept their share of first place in the AL East while causing the Washington Nationals to lose their piece of the NL East lead.CC Sabathia (sah-BATH'-ee-uh) combined with three relievers on a five-hitter as the Yanks blanked the Nats, 3-0. Sabathia scattered four hits over 5 2/3 innings and hit Bryce Harper on the right elbow in the fifth.Harper also was plunked on the left foot by a Dellin Betances (beh-TAN'-sehs) pitch in the eighth inning and was lifted from the game. However, manager Dave Martinez says Harper was fine after the game.Didi Gregorius (DEE'-dee greh-GOHR'-ee-uhs) ended a long power outage with a pair of solo home runs for the Bombers, who remain tied for first with Boston.The Red Sox kept pace by getting homers by Rafael Devers (DEH'-vurz) and Andrew Benintendi in a 6-4 victory at Baltimore. Devers smacked a two-run homer and Benintendi added a solo shot and two RBIs to help Eduardo Rodriguez improve to 8-1. Rodriguez put 10 runners on base over 5 2/3s, but he allowed just two runs as Boston won for the seventh time in 10 games.

Washington's loss allowed Atlanta to take a one-game lead in the NL East. The Braves cruised to an 8-2 win over the Mets as Ozzie Albies crushed a grand slam and Freddie Freeman added a solo shot. New York led 2-1 until Freeman and Albies went deep in the Braves' six-run sixth.Mike Foltynewicz (fohl-tih-NAY'-vihch) worked five innings and combined with five relievers on a three-hitter.

Checking out Tuesday's other major league action:

— The Brewers are back atop the NL Central after Travis Shaw and Chase Anderson led a 4-0 win over the second-place Cubs. Shaw provided a pair of two-run doubles to back Anderson, who limited Chicago to one hit over seven innings before the bullpen finished up a two-hitter. Tyler Chatwood gave up the four runs over five innings as the Cubs fell a half-game behind Milwaukee.

— The Cardinals' 4-2 loss to the Padres leaves St. Louis three games behind the Brewers. Eric Hosmer hit a solo homer and A.J. Ellis added a two-run single while San Diego scored three times in the fourth inning off Miles Mikolas (MY'-koh-lahs). The Padres have won 10 of their last 14 games.

— The Diamondbacks outscored the Pirates, 13-8 to maintain their three-game lead over the Dodgers in the NL West. Ketel Marte (keh-TEHL' mahr-TAY') collected three RBIs for Arizona, which scored six times in the first inning to withstand the Pirates' six-run fourth. Marte's two-run triple gave the DBacks a 6-0 lead.

— Joc Pederson, Max Muncy and Yasiel Puig (YAH'-see-ul pweeg) homered off Bartolo Colon as part of the Dodgers' 16-hit attack in a 12-5 thrashing of the Rangers. Puig went deep while Los Angeles was erupting for seven runs in the fourth to take an 11-2 lead. Colon remains tied with Juan Marichal for the most career victories among Dominican-born pitchers with 243.

— The Phillies were 5-4 winners over the Rockies behind Aaron Nola, who fanned 10 while yielding one run and four hits over 6 2/3 innings. Scott Kingery put Philadelphia ahead with a three-run blast in the first inning and added a sacrifice fly in the third. Colorado scored three times in the ninth before suffering its fifth straight loss.

— Trevor Richards picked up his first big league win by tossing two-hit ball over six innings of the Marlins' 3-1 verdict over the Giants. Miami blanked San Francisco following Brandon Crawford's RBI grounder in the first inning. JT Riddle delivered a two-run double and Starlin Castro had two hits and an RBI for the Fish.

— Mitch Haniger and Ryon Healy each homered twice as the Mariners knocked off the Angels, 6-3. Haniger's second home run was a two-run shot that broke a 1-1 tie in the fifth. Mike Leake is 7-3 after holding Los Angeles to a run and four hits over six innings.

— Houston also earned a 6-3 win over the Athletics to stay a half-game behind the AL West-leading Mariners. Evan Gattis led the Astros to their sixth straight win by providing a three-run homer and five RBIs. Lance McCullers gave up two runs and five hits over seven frames to move to 8-3.
— James Shields was sharp in the White Sox's 5-1 win over the Indians, yielding a run and just four hits over seven innings. Yoan Moncada and Yolmer Sanchez opened the bottom of the first with consecutive home runs to help Chicago send Cleveland to its second loss in seven games. Matt Davidson furnished a pair of RBI doubles for the White Sox, who have won five of eight.— Wilson Ramos (RAH'-mohs) launched a two-run homer and six Tampa Bay relievers combined for a five-hitter in a 4-1 win against the Blue Jays. Ramos opened the scoring in the third inning before pinch-hitter Joey Wendle and Mallex Smith both had run-scoring singles in the sixth.— Joey Votto (VAH'-toh) lined a tiebreaking, base-loaded triple in the 10th inning to send the Reds past the Royals, 5-1. Tucker Barnhardt slammed a solo homer and Cincinnati starter Sal Romano lowered his ERA to 5.67 by holding the Royals to a run and four hits over eight frames.

MLB NEWS

UNDATED (AP) — Washington Nationals second baseman Daniel Murphy made his season debut against the Yankees Tuesday after coming off the disabled list.

Murphy batted fifth and went 0-for-4 with two strikeouts in the Nats' 3-0 loss. The 33-year-old Murphy missed the Nats' first 64 games while recovering from right knee surgery.

The three-time All-Star batted .322 with 43 doubles, 23 home runs and 93 RBIs in 144 games last season.

In other MLB news:

— Dodgers rookie pitcher Walker Buehler has landed on the disabled list after an MRI revealed a right rib microfracture. The injury was sustained when he was hit by a 108-mph line drive by Colorado's Trevor Story on May 21, but he made three more starts despite feeling slight discomfort

— Rays right-hander Chris Archer could be sidelined through the All-Star break as he deals with a left abdominal strain. He felt discomfort after a 22-pitch mound session on Saturday and has no timetable for throwing off a mound again.

— Orioles right-hander Andrew Cashner has been placed on the 10-day disabled list with lower back spasms. He is expected to miss at least one start. Orioles manager Buck Showalter said Cashner is on the mend, but not feeling well enough to make his scheduled start Wednesday against Boston.

SPORTS CHAMPIONSHIPS-WARRIORS/CAPITALS

UNDATED (AP) — The Golden State Warriors and Washington Capitals held their championship parades on Tuesday.

Hundreds of thousands of Warriors fans turned out for the team's third victory parade in four years as players rode open, double-decker buses.

An equal number of Caps fans lined Constitution Ave. or stood at the National Mall to celebrate the first championship in the team's 43-season history.

NBA-IRVING LEBRON-REUNION

BOSTON (AP) — Kyrie Irving is playing coy about the possibility of reuniting with his former Cleveland Cavaliers teammate LeBron James next season in Boston.

The Celtics guard on Tuesday deferred when asked about the prospect of the team pursuing James this summer. The 33-year-old James has a player option to remain in Cleveland next season but could opt for free agency.

Irving simply said he's experienced it all in the NBA and that he'll "see what management decides."

NFL-NEWS

UNDATED (AP) — Khalil Mack is holding out from the Oakland Raiders' mandatory minicamp as he seeks a long-term contract.

Mack is entering the final season of his rookie deal that is set to pay him $13.8 million. He was a first-team All-Pro at both defensive end and linebacker in 2015 and won AP Defensive Player of the Year in 2016.

In other NFL news:

— Seahawks free safety Earl Thomas officially commenced his holdout as the team began its three-day mandatory minicamp. Thomas released a statement on Twitter on Sunday announcing his intention to skip the minicamp and all team-related activities until his contract situation is resolved.

— Zack Martin has rejoined the Cowboys for mandatory minicamp with the two-time All-Pro closing in on a contract that's expected to make him the highest-paid guard in the NFL. Martin's new contract is expected to surpass the $13.3 million annual average in the $66.5 million, five-year contract that Jacksonville's Andrew Norwell signed in March.

— All-Pro defensive tackle Aaron Donald is not attending the Rams' mandatory minicamp while he continues his lengthy quest for a lucrative new contract. Donald is due to make nearly $6.9 million this season in the fifth year of his rookie contract, and the team agrees he deserves a raise after turning in four dominant seasons as the cornerstone of the Rams' defense.

— Colts quarterback Andrew Luck attempted his first passes in front of reporters as Indy opened its three-day minicamp. Luck only threw a handful of balls before he finished with a lob of about 20 yards. He then jogged from the outdoor practice field to the Colts' indoor facility.

— Giants wide receiver Odell Beckham Jr. looked good running pass routes yesterday after being cleared to practice. However, he did little work in team periods at the opening of minicamp as he recovers from a broken left ankle that caused him to miss the final 11 games last season.

— Panthers four-time All-Pro middle linebacker Luke Kuechly (KEEK'-lee) says he should be ready for full contact when training camp begins following offseason surgery for a torn labrum in his shoulder. Kuechly participated in individual drills during minicamp Tuesday, but was held out of team drills.

— Steelers star wide receiver Antonio Brown says he skipped most of organized team activities to spend time with his family and clear his head before his ninth season. Brown expressed frustration at stories suggesting he stayed away because he didn't want to work with the team's backup quarterbacks.

— Broncos pass rusher Shane Ray will undergo another operation on his left wrist. It's his fourth surgery since August and one he hopes will finally allow him to return to the field healthy.

— A St. Louis jury has ordered the NFL's Rams to pay former running back Reggie Bush $12.5 million for a severe left knee injury suffered at the Edward Jones Dome in 2015, the team's final season before moving to Los Angeles. Bush was playing for the San Francisco 49ers when he was pushed out of bounds and slipped on concrete.

— The San Diego County Sheriff's Department says it is investigating the circumstances of former NFL player Kellen Winslow Jr.'s arrest on suspicion of burglary. The department told the San Diego Union-Tribune on Monday that Winslow has given inconsistent and varied statements relating to his presence in a mobile home in Encinitas. Winslow was arrested June 7 after a resident reported seeing a stranger walk into a neighboring residence.

WCUP

MOSCOW (AP) — FIFA member federations voted 134-65 in favor of selecting the joint bid from the United States, Canada and Mexico to host the 2026 World Cup over Morocco.

The outcome was an endorsement for the more profitable and stable bid from the North American neighbors.

The four countries involved in the bidding and three U.S. territories were not involved in the ballot.

In his acceptance speech, U.S. Soccer Federation president Carlos Cordeiro says "Thank you so, so very much for this incredible honor."

The 2026 World Cup has 48 teams playing a total of 80 games — 60 planned across 10 U.S. cities, and 10 games in three cities for each of Canada and Mexico.

GYMNASTICS-DOCTOR-SEXUAL ASSAULT LEGISLATION

LANSING, Mich. (AP) — Michigan Lt. Gov. Brian Calley has signed two bills inspired by the Larry Nassar scandal, including one giving childhood sexual abuse victims more time to sue.

One law will allow people who were sexually abused as children to sue until their 28th birthdays, or three years from when they realize they have been abused. Nassar's victims will get a 90-day window to sue retroactively.

Nassar is serving several decades-long sentences for sexual assault of female athletes while serving as a team doctor for USA Gymnastics and Michigan State athletics.

Calley signed the bills because Gov. Rick Snyder is out of state.
In world and national news..
WASHINGTON (AP) — President Donald Trump is defending his calls to end military exercises with South Korea that allies have said is important to security in the Asia Pacific region. Trump says on Twitter after returning from his Singapore summit that "we save a fortune by not doing war games, as long as we are negotiating in good faith." Trump has said the U.S. and South Korea should stop their joint military exercises as long as both sides are negotiating in good faith, which the president says is happening.WASHINGTON (AP) — Critics say the pledge between President Donald Trump and North Korea's Kim Jong Un does not include specifics on denuclearization and that verification is too early. White House officials say this week's summit is the beginning, and that the Iran nuclear deal, signed by President Barack Obama in 2015, was an imperfect end to 18 months of negotiations.PYONGYANG, North Korea (AP) — One day after a historic summit, North Koreans saw images they never would have imagined just months ago _ Kim Jong Un warmly shaking hands with President Donald Trump. The front-page treatment of Kim's meeting Trump and being treated on equal footing with the U.S. leader underscores the propaganda coup the summit was for the North. The media message to the masses was clear: this is a big success for Kim _ known in the North as the Marshal _ and the result of his wise leadership.COLUMBIA, S.C. (AP) — President Donald Trump is trumpeting the defeat of a South Carolina Republican congressman critical of his administration. Trump is tweeting early Wednesday that his advisers didn't want him to get involved in the GOP primary, thinking that involving Rep. Mark Sanford, "thinking that Sanford would easily win." But Trump says he felt that state Rep. Katie Arrington "was such a good candidate, and Sanford was so bad, I had to give it a shot."DUBAI, United Arab Emirates (AP) — Yemeni residents in the Red Sea port city of Hodeida say the Saudi-led coalition has dropped leaflets advising them to stay away from military and security points, and to stay in their homes, amid the coalition's assault. Residents say they have heard shelling and air raids outside the city. The Saudi-led coalition backing Yemen's exiled government began an assault Wednesday morning on Hodeida.