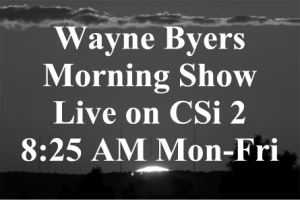 CSi Weather…
.REST OF TODAY…Mostly sunny. Highs in the mid 80s. Southeast winds 10 to 20 mph.
.TONIGHT…Mostly cloudy. Showers and thunderstorms likely in the evening, then chance of showers and thunderstorms after midnight.
Some thunderstorms may be severe. Lows in the mid 60s. Southeast
winds 10 to 15 mph shifting to the north 5 to 10 mph after
midnight. Chance of precipitation 60 percent in the Jamestown area, 70 percent in the Valley City area.
.FRIDAY…Sunny. Highs in the lower 80s. North winds 10 to
15 mph.
.FRIDAY NIGHT…Partly cloudy in the evening, then mostly cloudy
with a 20 percent chance of showers and thunderstorms after
midnight. Lows in the lower 60s. North winds 5 to 10 mph.
.SATURDAY…Mostly cloudy with a 40 percent chance of showers and
thunderstorms. Highs in the mid 70s. Northeast winds 10 to
15 mph.
.SATURDAY NIGHT…Cloudy with a 40 percent chance of rain showers
and thunderstorms. Lows in the upper 50s.
.SUNDAY…Rain showers likely and chance of thunderstorms. Highs
in the upper 60s. Chance of precipitation 60 percent.
.SUNDAY NIGHT…Mostly cloudy with a 50 percent chance of rain
showers and thunderstorms. Lows in the mid 50s.
.MONDAY…Partly sunny. A 20 percent chance of rain showers in
the morning. Highs in the mid 70s.
.MONDAY NIGHT…Partly cloudy. A 20 percent chance of rain
showers in the evening. Lows in the upper 50s.
.TUESDAY…Mostly sunny. Highs in the upper 70s.
.TUESDAY NIGHT…Partly cloudy. A 20 percent chance of rain
showers in the evening. Lows in the upper 50s.
.WEDNESDAY…Mostly sunny. Highs in the lower 80s.
Severe thunderstorms are expected to develop over central North
Dakota Thursday afternoon. This activity is expected to develop into
several thunderstorm clusters that will move across eastern North
Dakota and northern Minnesota Thursday evening and overnight.
Initial threats include hail to 2 inches or larger, winds to 75
mph, and the possibility of a tornado.
As the activity spreads east, threats will be one inch hail and winds to 75 mph. Localized flooding will also be possible.
Across the north, very large hail, damaging wind, and locally heavy rain are the main storm threats. A small risk for tornadoes also exists.
A prolonged period of showers and thunderstorms are possible Saturday through Sunday night for parts of the region. Due to the widespread and potentially heavy nature of this rain event there may be an increased risk for flooding.
Jamestown  (CSi)  Interstate Engineering reports that, due to unforeseen circumstances, 20th St. SW from the Jamestown Regional
Medical Center (JRMC) to Menards will remain closed on Friday, June 15th to finish the final pavement markings. The road will be reopened to traffic by 6:00 am, Saturday, June 16th. Please plan to use alternative routes during this final construction phase.
FOR MORE INFORMATION, PLEASE CALL STEVE ALDINGER, PE, AT
INTERSTATE ENGINEERING, INC. – (701) 252-0234.
BISMARCK, N.D. (AP) — President Donald Trump has tweeted congratulations to Republican U.S. Rep. Kevin Cramer for his "huge win" in North Dakota's Senate primary and included a jab at Cramer's fall opponent, Sen. Heidi Heitkamp.
Trump tweeted Wednesday that he "strongly" endorses Cramer in a Senate race seen as critical for control of the closely divided Senate.
Heitkamp has made her coziness with Trump and her ability to cross the aisle a selling point in her re-election bid.
But Trump says in his tweet that Heitkamp "always will vote no when we need her." He blasted her for voting against last year's tax cut legislation.
Trump carried North Dakota by 36 percentage points in the 2016 election.
BISMARCK, N.D. (AP) — North Dakota regulators have fined CenturyLink Inc. $10,000 for violating the state's excavation notice system.
The Public Service Commission says the communications company violated the state's "one-call" law 25,701 times last year.
State law requires excavators to call a "one-call center" at least 48 hours before they begin digging, so the center has time to notify the excavator whether there are any pipelines or utility facilities buried there.
Utilities are required to provide "positive responses" to the center to ensure the digging area has been inspected and marked. The company says in regulatory filings its responses to the center were being rejected due to an incorrect password.
Under the agreement accepted Wednesday, the PSC suspended $15,000 of the fine if no other violations occur in five years.
BISMARCK, N.D. (AP) — North Dakota's Health Department has issued a permit allowing construction of an oil refinery about 3 miles (5 kilometers) from Theodore Roosevelt National Park.
State Air Quality Director Terry O'Clair says officials conducted a 1½-year review and determined the refinery won't negatively impact the park.
Davis Refinery developer Meridian Energy Group says the decision "validates" work the company has done ensuring it will be "the cleanest refinery on the planet."
Several national and regional conservation groups doubt that and have actively opposed the project. Badlands Conservation Alliance Executive Director Jan Swenson calls it "a pretty sad day for the state of North Dakota."
The project still needs state water and wastewater permits, and will need to prove once it's built that it meets air quality standards.
FARGO, N.D. (AP) — A man accused in a fatal brawl outside a downtown Fargo bar last year is expected to plead guilty to charges.KFGO says Darren Patterson is expected to change his not guilty plea during a hearing Thursday. He had been scheduled for trial next week on charges of manslaughter and assault.Patterson is accused of punching Jaime Grant and two other men outside the HoDo bar on May 27, 2017. Grant fell, hit his head on the sidewalk and never regained consciousness. He died the following month.The manslaughter and assault charged together carry a maximum punishment of 20 years in prison.
BISMARCK, N.D. (AP) — A Washington state man who authorities say traveled to North Dakota with the intention of having sex with a 17-year-old girl has been sentenced to more than seven years in prison.Twenty-four-year-old Timothy Carnahan, of Longview, Washington, is charged in federal court with attempted transportation to engage in unlawful sexual acts with a minor.Prosecutors say Carnahan answered a Craigslist ad for a young female escort. The ad was placed by a Bismarck police officer. Carnahan arranged to pick up the girl at a local shopping center, where he was arrested.Carnahan has a prior sexual assault conviction from 2012 in Washington state. Judge Daniel Hovland ordered Carnahan to serve seven years and six months in prison, to be followed by 10 years of supervised release. 
MANDAN, N.D. (AP) — Morton County officials are asking boaters on the Missouri River to voluntarily keep wakes from eroding the banks.The river level is expected to remain high throughout the summer due to higher-than-normal releases from Garrison Dam upstream.Morton County's Office of Emergency Management says property owners along the river are worried about erosion caused by boat wakes.Dam releases are high because of a large amount of runoff in the river basin. The Army Corps of Engineers says May runoff into Montana's Fort Peck and North Dakota's Lake Sakakawea reservoirs was the second-highest on record.
In sports…
GRAND FORKS, N.D. (AP) — Eleven former University of North Dakota women's hockey players have filed a discrimination lawsuit seeking to reinstate the program that was cut 15 months ago.
The federal complaint filed Tuesday against the North Dakota University System alleges that the university violated Title IX laws that prohibit women from being treated differently because of gender. The suit says the hockey program was "the most prominent and popular sport" among women's athletic programs at the college.
The players are seeking class-action status on behalf of the university's "current, prospective and future female students" affected by dropping the program.
University system officials did not immediately respond to a request for comment.
The U.S. Department of Education's Office for Civil Rights recently dismissed two discrimination complaints over the decision to drop the program.
AA…
Fargo-Moorhead 7, St. Paul 1
MLB…
— Victor Reyes's RBI single keyed a four-run eighth inning and the Detroit Tigers rallied to beat the Minnesota Twins 5-2 on Wednesday night. The Tigers, playing their first game since Miguel Cabrera's season-ending biceps injury, won for just the fourth time in 11 games.
— Chris Sale took a two-hitter into the seventh inning before being ejected, and the Boston Red Sox completed a three-game sweep of the Baltimore Orioles with a 5-1 victory Wednesday.
After issuing two walks to open the seventh in a 5-0 game, Sale (6-4) was lifted by manager Alex Cora. As he was making his way to the dugout, the left-hander yelled at plate umpire Brian Knight and was promptly ejected.
Sale struck out nine, allowed one run and gave up two hits in ending a run of three straight losing starts. Mookie Betts and J.D. Martinez homered for the Red Sox, who are 9-1 against the Orioles this season. Baltimore has lost seven straight and 14 of 16.
Elsewhere in the major leagues:
—Enrique Hernandez dodged home on a wild throw by pitcher Matt Bush in the 11th inning and, hours after a hard collision at the plate led to a bench-clearing incident and a pair of ejections. The Los Angeles Dodgers edged the Texas Rangers 3-2 on Wednesday night.
— Evan Gattis hit two home runs, including the first of back-to-back shots with Marwin Gonzalez during a seven-run second inning, and the streaking Houston Astros beat the Oakland Athletics 13-5 for their seventh straight win. Jake Marisnick also homered, Carlos Correa had a two-run triple and Yuli Gurriel had three hits and three RBIs to help Gerrit Cole win his sixth straight decision. The defending World Series champs moved a season-high 19 games over .500.
— Teenage rookie Juan Soto homered twice and drove in four runs, becoming the youngest player in 29 years to go deep in a regular-season game at Yankee Stadium, and the Washington Nationals beat New York 5-4. Soto showed exactly why he was rated one of baseball's best prospects. The 19-year-old outfielder lofted a three-run homer into the left-field corner off Sonny Gray in the fourth inning to give Washington a 4-3 lead. Soto then launched a titanic shot to right-center in the seventh against Chasen Shreve, putting the Nationals back in front 5-4.
— Dylan Covey carried a shutout into the eighth inning, continuing his impressive June and helping the Chicago White Sox beat Trevor Bauer and the Cleveland Indians 3-2 on Wednesday night. Covey allowed 10 hits — all singles — and walked none. The 26-year-old right-hander, who was acquired from Oakland in the 2016 Rule 5 draft, improved to 3-0 with a 1.53 ERA in five starts since he was recalled from Triple-A Charlotte last month.
— Mike Soroka did not allow a hit until the seventh inning, Freddie Freeman homered and drove in both runs, and the Atlanta Braves beat the New York Mets 2-0 on Wednesday. Soroka, the youngest pitcher in the major leagues and one of baseball's top prospects, returned from a right shoulder strain that sidelined him since May 17 to outpitch NL ERA leader Jacob deGrom in a game that lasted only 2 hours, 12 minutes. The Mets have lost 10 of their past 11 and 17 of their past 21.
— Lorenzo Cain homered and Jhoulys Chacin combined with three relievers on a six-hitter to give the Milwaukee Brewers their second straight shutout of the Chicago Cubs, 1-0. Chacin allowed four hits in six innings, striking out seven and walking four to win his sixth consecutive decision. Jeremy Jeffress pitched the seventh, Josh Hader struck out the side in the eighth and Cory Knebel finished with a perfect ninth for his sixth save.
— Jordy Mercer homered and had three RBIs, Jameson Taillon pitched seven effective innings and the Pittsburgh Pirates avoided a sweep with a 5-4 victory over the Arizona Diamondbacks. The Pirates blew a five-run lead in the opener and were knocked for 13 runs in the second game.
— Mitch Haniger hit a two-run home run in the bottom of the ninth inning to give the Seattle Mariners an 8-6 victory and sweep of the three-game series over the Los Angeles Angels. After Jean Segura singled to center off reliever Oliver Drake (0-1), Haniger launched his 16th homer of the season over the left-field wall to finish off the sweep. Nelson Cruz and Ryon Healy also homered for Seattle, and Healy's upper-deck shot in the eighth inning tied the game at 6-6.
— Matt Duffy's RBI single with two outs in the ninth drove in the game's only run in the Tampa Bay Rays' 1-0 win over the Toronto Blue Jays. Duffy drove in Mallex Smith, who doubled with one out and moved to third base on a ground ball. Diego Castillo got his first major league win after pitching two innings of relief.
— Ian Desmond hit a two-run homer in a five-run fourth inning, Tyler Anderson pitched seven strong innings and the Colorado Rockies routed the Philadelphia Phillies 7-2 on Wednesday night to end a five-game losing streak. Trevor Story added three hits and drove in two for the Rockies, who had dropped nine of 11 while falling from first place to fourth in the NL West.
— Tyler Mahle allowed three hits while pitching into the seventh, Adam Duvall hit a ninth-inning grand slam and the Cincinnati Reds beat the skidding Kansas City Royals 7-0 on Wednesday night. Mahle allowed only one runner to touch second base in 6 1/3 innings, matching his career longest start. He is 2-0 in June, allowing two earned runs and 14 hits in 16 1/3 innings.
— Brian Anderson hit a game-ending sacrifice fly in the ninth inning to lift the Miami Marlins over the San Francisco Giants 5-4 Wednesday night. J.T. Realmuto had two hits and scored twice for the Marlins, who have won three straight for the first time since winning four in a row April 28-May 1.
— Eric Lauer carried a shutout into the sixth inning, Manuel Margot had three hits and the San Diego Padres beat the St. Louis Cardinals 4-2 Wednesday night to win their fifth straight series. Freddy Galvis drove in two first-inning runs for San Diego, which has won five of seven. The Padres hadn't won five consecutive series since 2010.
MLB-NEWS
UNDATED (AP) — Hal Steinbrenner says his New York Yankees may need a starting pitching upgrade if they're going to reach their first World Series since 2009.
Steinbrenner, the Yankees managing general partner, said Wednesday the club will explore the trade market for an arm, especially considering the recent loss of left-hander Jordan Montgomery, who had season-ending Tommy John surgery on June 7.
The Yankees entered Wednesday with the best record in baseball, narrowly ahead of AL East rival Boston. The club has space to acquire an impact player and still remain under the $197 million luxury-tax threshold, a goal the team has stated several times.
In other MLB news:
— Miguel Cabrera's season is over, leaving Detroit without its biggest star at a time when there wasn't much else for Tigers fans to latch onto. Cabrera ruptured his left biceps tendon on a swing during Tuesday night's 6-4 loss to the Minnesota Twins, just a couple of weeks after the two-time MVP returned from a DL stint due to a right hamstring strain. The 35-year-old will have surgery this week.
— Mets right-hander Noah Syndergaard has been prescribed more rest after getting a second opinion on a strained ligament in his index finger. Manager Mickey Callaway said Syndergaard's right finger is "tender to the touch." Syndergaard, on the disabled list retroactive to May 26, was examined Tuesday in New York. There is no immediate timetable for his return.
— Nationals slugger Bryce Harper says he's "fine" after being hit by a pair of pitches during Tuesday night's 3-0 loss to the Yankees. Harper fell to the ground in pain after getting plunked on the right elbow by a 90 mph pitch from CC Sabathia (suh-BATH'-ee-uh). He stayed in the game until he was hit on the left foot by Dellin Betances' 89 mph slider in the eighth inning.
U.S. Open…
SOUTHAMPTON, N.Y. (AP) — The U.S. Open has begun on a century-old golf course with a new look.Harold Varner hit the opening tee shot on a gorgeous Thursday morning at Shinnecock Hills, using a fairway metal to hit a fairway that was some 60 yards wide in the landing zone. He still watched it anxiously, only because a marshal unaware the U.S. Open had started ambled across the fairway, and broke into a sprint when he heard the ball land near him.Scott Piercy and Matthieu Pavon of France also found the short grass — Piercy in the first fairway, Pavon so far right that it cleared the knee-high fescue and landed on the ninth hole.The fairways are 15 yards wider on average than the 2004 U.S. Open at Shinnecock. 
NHL-CAPITALS-TROTZ
ARLINGTON, Va. (AP) — Barry Trotz and the Washington Capitals have begun discussing a contract extension that would keep the pending free agent coach around for next season and beyond after winning the Stanley Cup.
Trotz and general manager Brian MacLellan met Wednesday to talk about a new deal. MacLellan says he'll meet with ownership over the next week and that he doesn't believe either side feels pressure to get a deal done given Trotz's contract expires June 30.
NFL-NEWS
FRISCO, Texas (AP) — A person with direct knowledge of the deal says the Dallas Cowboys and Zack Martin have agreed to terms on an $84 million, six-year contract extension. The deal will make the two-time All-Pro the highest-paid guard in the NFL.
The agreement includes $40 million guaranteed money and will be tacked on to the final year of his rookie contract, the person told The Associated Press on condition of anonymity because the deal hasn't been announced. Martin will be under contract through 2024.
The $14 million average on the new contract surpasses the $13.3 million average on the $66.5 million, five-year contract signed by Jacksonville's Andrew Norwell in March.
COLLEGE FOOTBALL-MARYLAND-PLAYER DEATH
COLLEGE PARK, Md. (AP) — A University of Maryland football player hospitalized after an organized team workout two weeks ago, has died.
Maryland executive athletic director Damon Evans said Jordan McNair was hospitalized May 29 and died Wednesday. He was 19.
McNair was a 6-foot-4, 325-pound offensive lineman preparing for his sophomore season. A graduate of McDonogh High School, McNair played one game last season.
WOMEN'S BASKETBALL-OBIT-DONOVAN
UNDATED (AP) — Anne Donovan, the Basketball Hall of Famer who won a national championship at Old Dominion, two Olympic gold medals in the 1980s and coached the U.S. to gold in 2008, died Wednesday of heart failure. She was 56.
Donovan's family confirmed the death in a statement.
Donovan was at the Women's Basketball Hall of Fame in Knoxville, Tennessee, last weekend.
She was inducted into the Naismith Memorial Basketball Hall of Fame in 1995, was part of the inaugural class of the Women's Basketball Hall of Fame in 1999 and was inducted in the FIBA Hall of Fame in 2015.
STRIKEOUT UPSWING
OMAHA, Neb. (AP) — Strikeout numbers are the highest on record in college baseball with the College World Series set to begin later this week.
The 297 Division I teams have combined to average 7.88 strikeouts per nine innings this season. That is the highest figure in NCAA records dating to 1970 and a huge 21.6 percent increase since 2014.
Pitching staffs for forty-one teams — including CWS participants North Carolina, Mississippi State and Arkansas — average at least nine strikeouts per nine innings. That's up from 16 teams in 2016 and from just one in 2012.
Six pitchers in the CWS average 10 or more strikeouts per nine innings, led by Oregon State's Kevin Abel and Luke Heimlich.
What's happening in the college game mirrors the major leagues, where strikeouts are on track to set a record for the 11th straight year.
In world and national news…
PYONGYANG, North Korea (AP) — North Koreans are getting a new look at U.S. President Donald Trump after his summit with leader Kim Jong Un and it's a far cry from the "dotard" label their government slapped on him last year. Previously, even on a good day, the best he might get was "Trump." No honorifics. No signs of respect. Now, he's being called "the president of the United States of America." Or "President Donald J. Trump." But how long will it last?BEIJING (AP) — The United States and its Asian allies are working to paper over any semblance of disagreement over President Donald Trump's concession that the U.S. would halt military exercises with South Korea, with Trump's top diplomat insisting the president hadn't backed down from his firm line on North Korea's nukes. Secretary of State Mike Pompeo put a more sober spin on moves by Trump after his summit with Kim Jong Un.WASHINGTON (AP) — The much-anticipated report on the FBI's handling of the Hillary Clinton email investigation is set for release on Thursday afternoon. The report is the culmination of an 18-month review by the Justice Department's internal watchdog of one of the most consequential FBI investigations in recent history. The inspector general is expected to criticize the FBI, stepping into a political minefield while detailing how the law enforcement agency came to be entangled in the 2016 presidential race.MONTAUK, N.Y. (AP) — A leading seller of sustainable, local seafood has been duping top chefs, universities and restaurants. New York-based Sea To Table labeled fish with the name of the dock where it landed _ and sometimes the boat that caught it. But an Associated Press investigation found some tuna entered the supply chain from around the globe. Other fish came from markets and companies that trucked it up and down the coasts. Sea To Table says it didn't intentionally mislead, and will change some practices.DUBAI, United Arab Emirates (AP) — The United Arab Emirates' ambassador to the United Nations in Geneva says the four Emirati troops who were killed in Yemen were taking part in the campaign to retake the port city of Hodeida. Ambassador Obaid Salem al-Zaabi made the comments during a news conference with journalists Thursday. Al-Zaabi declined to offer further specifics about the soldiers' deaths.