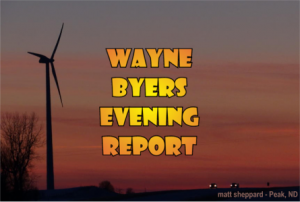 CSi Weather..
.TONIGHT…Mostly cloudy with a 30 percent chance of showers and thunderstorms in the Jamestown area, 50 percent in the Valley City area. Some thunderstorms may be severe. Lows in the mid
60s. Southeast winds 10 to 15 mph shifting to the north after midnight.
.FRIDAY…Sunny. Highs around 80. North winds 10 to 15 mph.
.FRIDAY NIGHT…Mostly clear in the evening, then mostly cloudy
with a 20 percent chance of rain showers and thunderstorms after
midnight. Lows in the upper 50s. North winds 5 to 10 mph.
.SATURDAY…Mostly cloudy with chance of showers and slight
chance of thunderstorms. Highs in the mid 70s. Northeast winds
10 to 15 mph. Chance of precipitation 40 percent.
.SATURDAY NIGHT…Cloudy with chance of rain showers and slight
chance of thunderstorms. Lows in the upper 50s. Northeast winds
10 to 15 mph. Chance of precipitation 40 percent in the Jamestown area, 60 percent in the Valley City area.
.SUNDAY…Rain showers likely and slight chance of thunderstorms.
Highs in the upper 60s. Chance of precipitation 60 percent.
.SUNDAY NIGHT…Mostly cloudy with chance of rain showers and
slight chance of thunderstorms. Lows in the mid 50s. Chance of
precipitation 30 percent.
.MONDAY…Mostly sunny. A 20 percent chance of rain showers and
thunderstorms in the morning. Highs in the mid 70s.
.MONDAY NIGHT…Partly cloudy. Lows in the mid 50s.
.TUESDAY…Mostly sunny. Highs in the upper 70s.
.TUESDAY NIGHT…Partly cloudy. Lows in the upper 50s.
.WEDNESDAY…Mostly sunny. Highs in the lower 80s.
.WEDNESDAY NIGHT…Partly cloudy. Lows around 60.
.THURSDAY…Mostly sunny. Highs in the lower 80s.
Severe thunderstorms  developing  over central North
Dakota Thursday afternoon. This activity is expected to develop into
several thunderstorm clusters that will move across eastern North
Dakota and northern Minnesota Thursday evening and overnight.
Initial threats include hail to 2 inches or larger, winds to 75
mph, and the possibility of a tornado.
As the activity spreads east, threats will be one inch hail and winds to 75 mph. Localized flooding will also be possible.
Across the north, very large hail, damaging wind, and locally heavy rain are the main storm threats. A small risk for tornadoes also exists.
A prolonged period of showers and thunderstorms are possible Saturday through Sunday night for parts of the region. Due to the widespread and potentially heavy nature of this rain event there may be an increased risk for flooding.
Jamestown (CSi)  Jamestown Police investigated a two vehicle crash on Business Loop West, Thursday afternoon.
A white truck crashed over the lunch hour backing traffic up both ways at the base of Mill hill. Three squad cars were on the scene, and officers did traffic control.
After the white truck was towed away, the city brought in a payloader with sand to pick up the oil and fluids on the street.
More information when the report is filed.
Valley City  (CSi)    Connect with friends and strangers for the Summer Solstice Sunset at Valley City's Medicine Wheel Park on Thursday, June 21 at 9:00 pm and celebrate the longest day of the year. 
Sunset is at 9:30 pm. Come see the new developments at the Park and be part of the entertainment. 
As the sky darkens, telescopes with be available to view Mercury, Venus, Jupiter, Saturn, and the Moon.  After midnight, Mars will join the show.   
OAKES, N.D. (AP) — A North Dakota man is accused of assaulting police who were serving him with a warrant during a street dance.
25-year-old Derek Williams Jones, of Lisbon, is charged with simple assault on a peace officer and preventing arrest, both felonies.
Authorities say the incident happened Saturday night at a dance in Oakes. Jones allegedly threw a beer at one officer and punched another as police attempted to arrest him on a probation violation.
Jones facing charges in Ransom County on allegations that he raped a 15-year-old girl last July and threatened to kill or harm the victim or her family if she told police.
Jones was convicted in Clay County, Minnesota last year for fleeing a peace officer in a motor vehicle.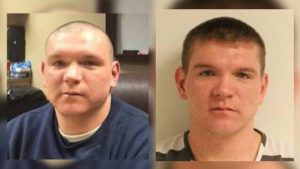 FARGO, N.D. (AP) — Authorities are searching for a prisoner who walked away from a rehabilitation center in Fargo.Fargo police and the U.S. Marshals Service say 29-year-old Sean Schroeder of Dunseith walked away from Centre, Inc., on Wednesday. Schroeder pleaded guilty in February to voluntary manslaughter for a 2017 incident in which  another person died.He was at the rehabilitation facility on a court-ordered furlough when he walked away.Authorities say he did not have immediate access to a car.

Schroeder is described as 5 feet, 5 inches tall, and about 165 pounds. He is white, and has brown hair, and blue eyes. Police say he could be a public safety risk due to a history of violence and drug use. Anyone who sees Schroeder is asked to contact authorities.
(WDAY Photo)
GRAND FORKS, N.D. (AP) — The City of Grand Forks says the West Nile virus has been found in a pool of mosquitoes collected locally.The health department is urging residents to take precautions to reduce their risk of contracting the virus. They include using insect repellent that contains DEET, limiting time outdoors between dusk and dawn when mosquitoes are most active, eliminating standing water and wearing long pants and long-sleeved shirts when possible.Health officials say most people infected with the West Nile virus don't develop symptoms. Sometimes, though, a mild illness results 1 to 2 weeks after exposure. Those symptoms can include fever, headache, body aches, skin rash, and swollen lymph nodes. Less than one percent of infected people may develop a serious illness that includes inflammation of the brain. 
Update…
FARGO, N.D. (AP) — A man accused in a fatal brawl outside a downtown Fargo bar last year has pleaded guilty in a deal with prosecutors that calls for an 18-month prison sentence.Darren Patterson pleaded guilty Thursday to negligent homicide in the May 2017 death of James Grant. Authorities say Grant fell after he was punched by Patterson and hit his head on the sidewalk. He never regained consciousness and died the following month.Patterson is also accused of punching two other men. He entered an Alford plea to a second charge of aggravated assault, which means he doesn't admit wrongdoing but acknowledges there's enough evidence for a conviction.Patterson had been scheduled for trial next week. Prosecutor Ryan Younggren said after Thursday's hearing that Grant's family is satisfied with the guilty plea. 
MANDAN, N.D. (AP) — A business owner whose Bismarck store was raided by police has pleaded not guilty to felony drug paraphernalia and possession charges.
Twenty-three-year-old Ryan Loeb of Mandan was arrested April 20 after officers raided his Tokes "R" Us store in Bismarck. Authorities allege the store had items specifically made for marijuana, hashish and THC ingestion.
The Bismarck Tribune reports that Loeb is scheduled for trial in October.
BISMARCK, N.D. (AP) — North Dakota will limit the number of electronic pull tab machines a business may have to 10.The Legislature's Administrative Rules Committee unanimously approved the new rules on Thursday.Pull tabs or "rippies" are paper tickets that a player buys and opens to see whether the ticket offers a prize. They account for a majority of the wagers at North Dakota charitable gambling outlets.Data shows players bought about $148 million worth of paper pull tabs last year.The Legislature last year approved the use of electronic pull tabs and the North Dakota attorney general's office crafted rules for their use. Backers of the electronic pull tabs say they will not replace the paper tickets. Officials expect the electronic pull tab machines to be running by late summer.
BISMARCK, N.D. (AP) — The foundation working to build a Theodore Roosevelt Presidential Library in western North Dakota is at odds with the state's university system over how to end a lease agreement for land at Dickinson State University that's no longer planned as a library site.
The nonprofit foundation's board in March voted to build a museum at Theodore Roosevelt National Park and a library about a half hour's drive away in Dickinson, where a university project is digitizing tens of thousands of Roosevelt documents. But the board reversed course last month, voting to put the entire project at the park named for the 26th U.S. president, who hunted and ranched in the North Dakota Badlands in the late 1800s before moving on to the White House.
The move to boost national fundraising means the project no longer needs the 27-acre site on the Dickinson campus for which the foundation negotiated a 99-year, dollar-a-year lease in 2016. The board in May directed attorney Murray Sagsveen to terminate the lease.
The state Board of Higher Education countered with a proposal under which the foundation would pay a total of more than $91,000, mostly to enable the university to rebuild rodeo grounds it abandoned to make way for the library, according to Sagsveen. The school currently uses a Stark County rodeo facility about 4 miles from town.
Sagsveen said during a board meeting in Dickinson on Thursday that he expected the university would be happy to have the land back and that the proposal caught him by surprise.
"I didn't see the $100,000 coming," he said.
Sagsveen said he's confident some sort of agreement can be worked out, and the board took no action. However, board member Niles Hushka questioned the university's plan to rebuild the rodeo grounds and advocated keeping the land.
RUSO, N.D. (AP) — The man believed to be North Dakota's oldest mayor has breezed to another term, winning unanimously in a vote that saw 100 percent turnout.
The Minot Daily News reports that Ruso Mayor Bruce Lorenz captured all three votes cast in the state's smallest incorporated city.
The 86-year-old retired rural mail carrier estimates he's been mayor for more than three decades. He said he forgot Tuesday was election day.
He quipped, "I'll have to go down the street and see if I can find a cigar."
Recent health issues have caused Lorenz to move into an assisted living facility in Minot. But he says he'll still serve as mayor.
He does have a platform — he wants to get rural water service in the McLean County town.
In sports…
DETROIT (AP) — JaCoby Jones' two-run homer capped a three-run seventh inning as the Detroit Tigers came from behind to beat the Minnesota Twins 3-1 on Thursday afternoon.
Jones was hitting .135 in his last 10 games, and had struck out in his first two at-bats before hitting Lance Lynn's 3-1 fastball for his fifth home run.
Detroit won the last two games of the series to improve to 23-17 at Comerica Park. The Tigers, who play their next eight games on the road, are 10-20 away from home.
Michael Fulmer (3-5) improved to 5-0 in five career starts against the Twins. He pitched seven innings, allowing one run on five hits and a walk with four strikeouts in ending a three-start winless streak.
Joe Jimenez pitched the eighth and Shane Greene threw the ninth for his 17th save.
Lance Lynn (4-5) took a shutout into the seventh but ended up allowing three runs on five hits and a walk. He struck out nine in 6 2/3 innings.
The Twins took a first-inning lead for the second day in a row. With one out, Eddie Rosario doubled and scored on Eduardo Escobar's base hit.
After that, the game belonged to Fulmer and Lynn. After six innings, the Twins still led 1-0 with four hits to Detroit's three.
John Hicks, though, led off the bottom of the seventh with his first career triple, a line drive to the right-centerfield gap. Niko Goodrum followed with a sacrifice fly to tie the game. With two out, Lynn hit Jose Iglesias, and Jones hit Lynn's 114th and final pitch over the wall.
The homer was the first Lynn had allowed in his last six starts.
In world and national news…
NEW YORK (AP) — The Trump Foundation says in a statement that a lawsuit filed against it by New York's attorney general is "politics at its very worst."
The suit filed Thursday says President Donald Trump illegally used the charity to pay legal settlements related to his golf clubs, buy a painting of himself and bolster his political image with donations directed by his campaign staff.
The Foundation defended its record, saying it had donated over $19 million to worthy charitable causes.
It said it had been planning to shut down for more than a year, but had been stopped from doing so because of the state's investigation.
It also said it had $1.7 million remaining to give out to charity "that the NYAG has been holding hostage for political gain."
WASHINGTON (AP) — Former FBI Director James Comey says he disagrees with some of the conclusions of the Justice Department's inspector general about his handling of the Hillary Clinton email investigation.
But Comey says in a tweet that he respects the inspector general's work and believes the conclusions are "reasonable." He says "people of good faith" can see the "unprecedented situation differently."
Comey's comments come in response to the public release of a report that is heavily critical of his decisions in the probe. The report says Comey was insubordinate and departed from established protocol numerous times.
The report does find that Comey's actions were not politically motivated to help either candidate.
Comey also wrote an opinion piece in The New York Times responding to the report's findings.
WASHINGTON (AP) — President Donald Trump's decision to suspend major U.S. military exercises in South Korea could weaken allied defenses, depending on the length and scope of the hiatus.
But the potential damage seems even greater in the diplomatic arena, given Trump's failure to consult allies on this in advance.
Analysts with experience in U.S.-Asia policy were shaken by Trump's characterization of the military drills as provocations and "war games." Those are terms the North Koreans have used for years to argue that the U.S. is a hostile nation and to justify its development of nuclear missiles and long-range missiles.
The Pentagon still has not explained publicly which specific military exercises will be postponed or canceled.
LONDON (AP) — Singer Adele and grime musician Stormzy have joined emotional memorial services on the anniversary of London's Grenfell Tower fire.
The stars joined local people near the base of the tower, where survivors, relatives and neighbors laid wreaths and a gospel choir sang "Lean on Me."
Fire ravaged the 25-story building on June 14, 2017, killing 72 people.
During Thursday's memorial activities, 73 white doves were released into the sky — one for each victim and one for any unknown victims.
A nationwide minute's silence was led by Queen Elizabeth II, who paused during a visit to northwestern England with her new granddaughter-in-law Meghan, Duchess of Sussex. The monarch wore green, which has been adopted as the color of the commemorative "green for Grenfell" campaign.
The silence was also observed by the England soccer team, training in Russia for the World Cup.
SAN FRANCISCO (AP) — San Francisco's incoming mayor, London Breed, knows the yawning gap between rich and poor firsthand. She was raised by her grandmother in the city's drug- and violence-riddled projects.
Now it's her job to try to unite San Francisco, a city unsettled by the high-tech boom.
Breed won last week's mayoral contest, becoming the first black woman elected to lead San Francisco.
The city's dot-com economy has sent the median price of a home soaring to $1.3 million and worsened homelessness.