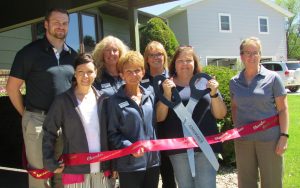 Jamestown  (Chamber)  Members of the Chamber Ambassadors and Young Professionals of Jamestown held a ribbon cutting ceremony for DeClutter Me to celebrate the opening of the new business in Jamestown.  Michelle Watne, owner, has developed this business to assist individuals or businesses who need to reorganize and declutter their home or office spaces.  Michelle has always had a passion for reorganizing and identifying things to be gotten rid of, so the space can be optimally used.  She is located in Jamestown and is now setting appointments for very small to very large jobs.
Joining the chamber Ambassadors and YPJ committee members, Michelle cut the ribbon to celebrate the opening of her dream business.  If you personally need this type of consultation, or as a business owner wish to utilize her experience and services, please consider contacting her at 701-320-8787 for more information about her services and how she can help you DeClutter!
Businesses qualify for a ribbon-cutting ceremony if they open, move, remodel, are under new ownership or change their name.  For more information, contact Becky Thatcher-Keller by emailing: director@jamestownchamber.com or call the chamber at 701-252-4830.