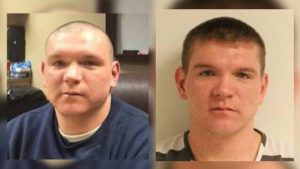 FARGO N.D. — WDAY has confirmed that the dangerous killer who walked away from a transitional facility has been arrested.
Fargo police say Sean Schroeder was caught just before 7 p.m. Friday.
Schroeder walked away from Centre Inc., a transitional facility, on Wednesday after a judge sent him there for psych evaluation.
Schroeder was serving a prison sentence for manslaughter.
He pleaded guilty to beating a man to death last year in Dunseith, North Dakota.
Previously…
FARGO, N.D. (AP) — Authorities are searching for a prisoner who walked away from a rehabilitation center in Fargo. Fargo police and the U.S. Marshals Service say 29-year-old Sean Schroeder of Dunseith walked away from Centre, Inc., on Wednesday. Schroeder pleaded guilty in February to voluntary manslaughter for a 2017 incident in which another person died. He was at the rehabilitation facility on a court-ordered furlough when he walked away.Authorities say he did not have immediate access to a car.Schroeder is described as 5 feet, 5 inches tall, and about 165 pounds. He is white, and has brown hair, and blue eyes. Police say he could be a public safety risk due to a history of violence and drug use. Anyone who sees Schroeder is asked to contact authorities.
(WDAY Photo)