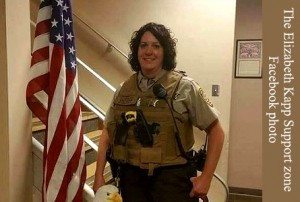 Jamestown  (CSi)  A former Stutsman County Deputy has announced her bid, running for Stutsman County Sheriff and plans to be on the November General Election.
Elizabeth Kapp on her Facebook page says, " I would like to thank the people who wrote my name on the primary ballot for Sheriff of Stutsman County.
Since I received more than enough votes to be on the November 2018 general election ballot, I will accept this opportunity to run for Sheriff.
My campaign will focus upon building strong community connections, community policing, and ensuring the safety of the citizens of Stutsman County.
I would appreciate your support in the upcoming November election."
Kapp had 139 write-in votes in the June 12th Stutsman County primary, 148 after the vote was canvassed on Monday, of the 169 write-ins,  to qualify her to become a ballot candidate in the November elections, with 130 needed, to run against incumbent Sheriff, Chad Kaiser, who was unopposed on the June primary ballot and received 2810 votes.
Stutsman County Sheriff Chad Kaiser terminated Elizabeth Kapp on February, 27, 2016, and according to Kapp's termination letter she was terminated for violating the Peace Officer Code of Conduct, violating the Peace Officer Oath and the Employee Code of Conduct per the Stutsman County Personnel Police. Kapp also allegedly was insubordinate and used offensive language and conduct.
The Stutsman County Grievance Committee unanimously ruled to uphold the termination of a former Stutsman County Sheriff's Office sergeant.
The Stutsman County Commission, upheld the termination of former Sheriff's Deputy, Sgt., Elizabeth Kapp, by Stutsman County Sheriff, Chad Kaiser.
The North Dakota Department of Labor, found in favor of Kaiser.