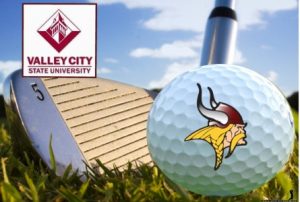 Valley City (VCSU Vikings .com) – A total of 30 teams and 118 golfers competed Sat  June 9, during the annual Viking Golf Scramble held in Valley City. 
The annual fundraiser for VCSU athletic scholarships was played at both Bjornson Park Golf Course and the Valley City Town & Country Club. 
The team of Jamie Paurus, Nate Zerface, Jared Lentz and John Samuelson recorded an 18-hole score of 54 (17-under) to win the Championship Flight. 
In the Open Flight, the team of Tom Morehouse, Greg Bischoff, Mike Morehouse and David Beierle fired a 62 (9-under) to win the Open title. 
The annual Viking Golf Scramble is one of the biggest fundraisers put on by the VCSU Century Club Booster Board, which raises money for athletic scholarships at VCSU. Major sponsors for the event included Dacotah Bank, Puklich Chevrolet Buick GMC, Leevers Foods and Valley Sales.