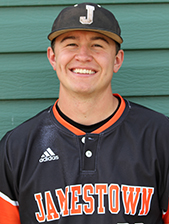 (University of Jamestown) Former University of Jamestown catcher Quinn Irey (SR/Bismarck, ND) has signed with the Fargo-Moorhead RedHawks, the team announced Sunday.
Irey made his debut Saturday in the RedHawks' 5-4 win over Kansas City. He entered the game as a pinch-runner in the bottom of the eighth, scoring the go-ahead run, then stayed in the game to play first base.
On Sunday Irey started at first base, batting eighth in an 8-6 F-M victory.
Irey is the 10th Jimmie to sign a professional contract during Tom Hager's tenure as head coach, and the fourth to play for the RedHawks (Brent Krause, 2005; Alex Kreis, 2015;  and Tanner Dahl, 2016).