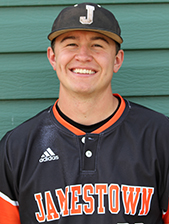 Update…
Jamestown (uj.edu)  Former University of Jamestown catcher Quinn Irey's time with the Fargo-Moorhead RedHawks lasted until June 30, when the club released him following the return of catcher Charlie Valerio from the disabled list. Irey hit .182 in 11 at-bats with a stolen base over six games.
The RedHawks signed Irey on June 16, and the Bismarck native made his debut later that evening.
"They (the RedHawks) did not mention they would bring me back when I was released," said Irey, "but they did mention they would stay in touch and keep tabs on me to see if I would go anywhere else this summer."
However, Irey did not stay unemployed long. A rash of injuries left the Cleburne Railroaders without a healthy catcher, and on July 1 the Texas club, also of the American Association, signed Irey and immediately inserted him in the lineup as the everyday backstop.
Irey caught all 14 innings of Cleburne's 4-3 win over Chicago on July 15, and after the game, found out he was heading back to the RedHawks in a trade for a player to be named. The Railroaders handed him his flight itinerary and he left for Dallas-Fort Worth airport the next morning.
Back in Fargo, Irey continues to learn the ins and outs of the catching position from assistant coach Chris Coste, whose 12 years of professional baseball included a World Series championship with the Philadelphia Phillies in 2008.
Previously…
(University of Jamestown) Former University of Jamestown catcher Quinn Irey (SR/Bismarck, ND) has signed with the Fargo-Moorhead RedHawks, the team announced Sunday.
Irey made his debut Saturday in the RedHawks' 5-4 win over Kansas City. He entered the game as a pinch-runner in the bottom of the eighth, scoring the go-ahead run, then stayed in the game to play first base.
On Sunday Irey started at first base, batting eighth in an 8-6 F-M victory.
Irey is the 10th Jimmie to sign a professional contract during Tom Hager's tenure as head coach, and the fourth to play for the RedHawks (Brent Krause, 2005; Alex Kreis, 2015;  and Tanner Dahl, 2016).