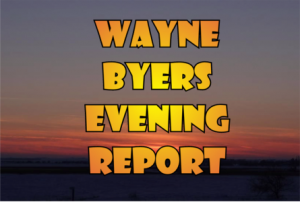 CSi Weather…
.TONIGHT…Mostly cloudy. Lows in the lower 60s. South winds around 5 mph.
.FRIDAY…Mostly sunny. Highs in the lower 80s. Southeast winds 5 to 10 mph.
.FRIDAY NIGHT…Partly cloudy. Lows around 60. South winds 5 to
10 mph.
.SATURDAY…Mostly sunny with a 30 percent chance of showers and
thunderstorms. Highs around 80. Southeast winds 5 to 10 mph.
.SATURDAY NIGHT…Mostly cloudy with a 20 percent chance of
showers and thunderstorms in the evening, in the Jamestown area, 30 ercent in the Valley City area, then partly cloudy after midnight. Lows around 60.
.SUNDAY…Mostly sunny. Highs in the lower 80s.
.SUNDAY NIGHT…Partly cloudy. Lows in the lower 60s.
.MONDAY…Partly sunny. Slight chance of showers in the morning,
then chance of showers and thunderstorms in the afternoon. Highs
in the lower 80s. Chance of precipitation 30 percent.
.MONDAY NIGHT…Mostly cloudy. Slight chance of showers and
thunderstorms in the evening, then slight chance of showers after
midnight. Lows in the lower 60s. Chance of precipitation
20 percent.
.TUESDAY…Partly sunny with a 20 percent chance of showers.
Highs in the lower 80s.
.TUESDAY NIGHT…Partly cloudy. Lows in the lower 60s.
.WEDNESDAY…Mostly sunny. A 20 percent chance of showers in the
morning. Highs in the lower 80s.
Friday through the weekend and into early next week a series of systems move through the region.
The threat for severe weather will remain low, with the potential for
heavy rain producers for any storm that develops.
Jamestown (CSi) Jamestown Public Works informs residents, that there will be temporary water outages along 4th Ave NW between 13th & 15th Streets NW.  That portion of 4th Ave NW will be temporarily closed due to utility repairs in progress. Please watch for road detour signage. Water service will be resumed as soon as possible.
PLEASE CALL THE WATER TREATMENT PLANT AT 252-5131 FOR FURTHER INFORMATION.
Valley City  (CSi)    Connect with friends and strangers for the Summer Solstice Sunset at Valley City's Medicine Wheel Park on Thursday, June 21 at 9:00 pm and celebrate the longest day of the year.
Sunset is at 9:30 pm. Come see the new developments at the Park and be part of the entertainment.
As the sky darkens, telescopes with be available to view Mercury, Venus, Jupiter, Saturn, and the Moon.  After midnight, Mars will join the show.
Jamestown  (CSi)  Jamestown Tourism has started their "Feed the Buffalo" campaign.
Tourism Office Manager, Emily Bivens tells CSiNewsNow.com that dollars raised will go toward refurbishing World's Large Buffalo statue, at Frontier Village in Jamestown.
She says the buffalo was repainted two to three years ago, and the new coat of paint at cost of $8,000 is expected to last five years.
She says the refurbishing work will begin when the statue is anticipated to need repainting.
The work will include stripping several layers of paint, cleaning, repairing of cracks and a seal coat at the top before repainting.
She adds, that the refurbishing costs will need to be re-estimated, and its possible additional funds may be requested from the Capital Improvement Fund, to meet the costs.
Now located at the World's Largest Buffalo, to place donations, is a bison silhouette cutout, created by Dan Poland Machine, Inc., of Jamestown constructed of steel with an opening at the bison's mouth where people can place money for a donation. In the future, plans are to have the bison cutout, "speak," whenever money is put  into the receptacle's mouth.
Jamestown  (CSi)  The City of Jamestown reports that the regular meeting of the Planning Commission to be held July 9, 2018 at 8:00 am is canceled as there are no items of business.
The next regularly scheduled Planning Commission meeting will be held August 13, 2018 at 8:00 am., at City Hall.
Jamestown  (CSi)   Jamestown Arts Market, at Hansen Arts Park, in downtown Jamestown, runs 5 to 9 pm., the Thursday evening, in Downtown Jamestown.
Arts Center, Director, Larry Kopp said, in addition to a wide variety of entertainment on Thursday nights, in June, July and August, there will be Kids Corner with activities and adult arts offerings.
The event runs from 5-p.m., to 9-p.m., each Thursday. He added there will be vendors on hand as well. He said, the Arts Center, not only promotes the Performing and Visual Arts, but also promotes Downtown Jamestown, and building the Jamestown community.
The Arts Market is made possible through  grants from Jamestown Tourism, and North Dakota Tourism, and is a partnership  with  Jamestown Downtown Association, North Dakota Tourism and Jamestown Tourism.
Jamestown Area Chamber of Commerce, Executive Becky Thatcher-Keller recently pointed out that during the Markets, residents will have the opportunity to engage in a walking tour of Downtown Jamestown's historical buildings and find out more about the unique businesses in town
June 21st: Third Thursday Series
Celebrating North Dakota's Native American Culture:
RYAN KELPIN and band with Native American Dancer and Flutist KEVIN LOCKE
Join us as we celebrate North Dakota's Native American culture! Métis fiddler Ryan Keplin brings audiences to their feet with his incredible fiddling skills, infectious traditional and original music, and a world-class backing band.  A member of the International Fiddlers Hall of Fame, we are excited to welcome Ryan and his band to Jamestown!  Internationally acclaimed Native American Dancer and flutist Kevin Locke opens the program, performing his visionary hoop dance and traditional music on the Northern Plains flute.
Valley City –  The City of Valley City reminds residents about the city's fireworks Ordinance.
Buying & Using Fireworks in Valley City Valley City's Fireworks Regulations for the July Independence Days.
The city ordinance indicates:
The sale of fireworks starts June 27th of each year and ends July 5th.
The days of detonation or using your fireworks ARE NOT the same as the sale days.
The days in which detonation are five and can only be detonated in the city starting July 1st at 8-a.m. and ending on July 5th at 1-a.m.
Fireworks may be detonated on the following days:
• July 1st from 8:00 AM to 11:00 PM
• July 2nd from 8:00 AM to 11:00 PM
• July 3rd from 8:00 AM to 11:00 PM
• July 4th from 8:00 AM to July 5th at 1:00 AM
• July 5th from 8:00 AM to 11:00 PM
You must be at least 12 years of age to buy fireworks.
The public fireworks display is set for Saturday June 30th at dusk at Ashtabula Crossing.
Jamestown (CSi) Legal sales and detonation of fireworks in the City of Jamestown is allowed the first day of July through the fifth day of July.
Hours
July 1: noon to 11pm
July 2: noon to 11pm
July 3: noon to 11pm
July 4: noon to 1am July 5
You cannot detonate fireworks from 11:00 P.M. to 12:00 P.M. (noon) within the City of Jamestown.
Translation:  you can shoot off fireworks July 1-2-3 from noon to 11pm.  On the 4th, noon to 1am of the 5th.
The sale of fireworks shall be allowed only in areas zoned commercial or industrial.
No person shall offer any fireworks for sale unless such person is a resident of the city or living within the one-mile area under the city zoning control.
The Jamestown City Council may, by resolution, allow the sale or use of fireworks at any other time or date during the calendar year.
The public fireworks display will be held Wednesday night July 4th at the Stutsman County Fairgrounds, slated to start at 10-p.m.
BISMARCK, N.D. (AP) — A U.S. Supreme Court decision Thursday that states can force online shoppers to pay sales tax is being hailed by North Dakota officials as a victory for local businesses, and Tax Commissioner Ryan Rauschenberger said his office will be working quickly to implement the law change.
Remote sellers will be required to collect and remit sales tax to North Dakota if they make a minimum of either 200 sales or $100,000 in sales per year in the state, according to Rauschenberger.
The Supreme Court ruling in a 2016 South Dakota case overturns a 1992 decision, Quill Corp. v. North Dakota, that said companies cannot be forced to collect sales tax from customers in a state where they don't have a physical presence like a store or distribution center.
U.S. Sen. Heidi Heitkamp was North Dakota's tax commissioner when the state lost the Quill case, which dealt with catalog retailers. She applauded the Supreme Court's action Thursday, calling it "a huge victory decades in the making for our brick-and-mortar businesses."
Gov. Doug Burgum echoed that statement, calling the decision "a long overdue victory."
The North Dakota Legislature last year passed a law requiring the collection of sales tax from online retailers, effective whenever the U.S. Supreme Court acted to overturn the Quill decision or made a similar ruling, according to Attorney General Wayne Stenehjem, who joined with South Dakota in pushing to overturn the Supreme Court's 1992 decision. He said he will work with Rauschenberger to implement the change.
Rauschenberger says,it will happen "over the next few weeks."
The state Tax Commissioner's Office estimates overturning the Quill case could represent up to an additional $50 million in annual sales tax revenue for the state.
GRAND FORKS, N.D. (AP) — Federal prosecutors have filed murder charges in the deaths of two women in separate incidents on the Spirit Lake Indian Reservation.Court documents show that 38-year-old Billy Joe Herman is charged with felony murder, kidnapping and assault with intent to commit murder in connection with the October 2015 death of 36-year-old Amanda Engst. Her body was found in February 2016 in the Sheyenne River south of Warwick.

Authorities say Engst was strangled and beaten to death.

Two men are accused in the August 2016 death of 27-year-old Carla Yellowbird. Twenty-four-year-old Dakota Charboneau and 20-year-old Daylin St. Pierre are charged with felony murder and conspiracy to commit robbery. Yellowbird's body was found in September 2016 near St. Michael.

Authorities say the suspects shot Yellowbird while robbing her of drugs and money.
BISMARCK, N.D. (AP) — New technology will soon be taking internal readings of 15 small pipelines across western North Dakota.
The Bismarck Tribune reports that the Piper is the size of a golf ball and filled with acoustic sensors. The small sphere will be inserted at one end of an underground pipeline and flow along with whatever liquid is being carried, checking for clogs and leaks.
A startup called Ingu Solutions developed the Pipers as part of the Intelligent Pipeline Integrity Program, a research and development grant matching project by the North Dakota Industrial Commission. The three-year program is focused on advancing new pipeline leak prevention technologies.
The program chose Ingu for its unique target market, small gathering pipelines that deliver liquids from remote well sites in the state's western region.
FARGO, N.D. (AP) — North Dakota's staple spring wheat crop continues to look in decent shape as the crop begins to head.The federal Agriculture Department says in its weekly crop report that only 2 percent of the spring wheat crop is rated less than fair, with about two-thirds of the crop in "good" condition.About three-fourths of the state's sugar beet crop is rated in excellent condition, and 22 percent of potatoes are in that category with another 69 percent rated "good."Planting of sunflowers is wrapping up, ahead of the average pace.Topsoil moisture supplies statewide are rated 78 percent adequate to surplus, and subsoil moisture is 68 percent in those categories.Pasture and range conditions statewide are mostly rated fair or good. Stockwater supplies are mostly rated adequate.
BISMARCK, N.D. (AP) — Supporters seeking to amend the North Dakota constitution to include a sweeping government ethics overhaul say they have turned in more than 38,000 signatures to Secretary of State Al Jaeger.The initiative billed as an "anti-corruption amendment" would ban foreign money from elections, restrict lobbying and create an independent ethics commission, among other provisions. North Dakota is one of only a handful of states without an ethics commission.Nearly 27,000 valid signatures are required to put the measure on the November ballot. Proponents say it will allow North Dakotans to find out who is funding political campaigns.North Dakota Democratic lawmakers have been unsuccessfully pushing for years to establish an ethics commission. The Republican-led Legislature has said it's not needed because lawmakers already follow high standards of conduct. 
MINOT AIR FORCE BASE, N.D. (AP) — An Air Force base in North Dakota that's been searching for a missing machine gun and some lost military explosives has recovered the weapon.Officials discovered the M240 machine gun was missing during a routine weapons inventory at Minot Air Force Base on May 16. Air Force special agents recovered it Tuesday at an airman's off-base residence.The base released no other details, citing an ongoing investigation.The Minot base also is missing ammunition for an automatic grenade launcher. It fell off a vehicle on an American Indian reservation May 1. Searches failed to turn up any trace of the container.Col. Jason Beers of the 91st Security Forces Group was removed from command in May due to the incidents. He's now with Air Force Special Operations Command in Florida.
LEITH, N.D. (AP) — The small town of Leith that drew international headlines in 2013 when a white supremacist unsuccessfully tried to take it over is on the verge of dissolving.
The Bismarck Tribune reports some residents are worried that two write-in candidates elected to the town's council might rekindle antagonism.
Mayor Ryan Schock gathered enough petition signatures to prompt a dissolution vote July 23. The 18 people who voted in the city election will decide whether to give up their incorporated status and turn their official affairs over to Grant County.
Schock says he hopes dissolving the town's government will be the end of the Craig Cobb legacy and of the division in Leith.
Cobb recently finished serving four years of probation for terrorizing residents of Leith in 2013. He lives in Sherwood.
In sports…
MINNEAPOLIS (AP) — Rick Porcello allowed one hit in seven innings, Mookie Betts and Andrew Benintendi homered, and the Boston Red Sox beat the Minnesota Twins 9-2 Thursday afternoon to avoid a series sweep.
Xander Bogaerts had two RBIs for the Red Sox, who had a season-high 16 hits, and finished 6-4 on a road trip through Baltimore, Seattle and Minnesota.
After a first-inning single by Logan Morrison, ending a 0-for-30 stretch against Boston, Porcello (9-3) retired 19 of 20 Twins hitters, including the last 16. Throwing 97 pitches, he struck out five and walked one.
Porcello finished seven innings for the first time in 10 starts since April 29. His best previous start of the season was April 12 against the Yankees, when he allowed two hits and struck out six in seven innings.
Kyle Gibson (2-5) allowed seven hits and two earned runs in six innings for Minnesota, striking out five for his ninth quality start this season. He had only 10 in 2017 and eight in 2016.
In world and national news…
McALLEN, Texas (AP) — First lady Melania Trump boarded a flight to a facility housing migrant children separated from their parents wearing a jacket that read "I really don't care, do u?"
The green hooded spring military jacket has the words written graffiti-style on the back.
When asked what message the first lady's jacket intended to send, spokeswoman Stephanie Grisham said: "It's a jacket. There was no hidden message."
Mrs. Trump wore a different pale yellow jacket when the plane landed in McAllen, Texas, for a visit to the Upbring New Hope Children's Center, which houses 55 migrant children.
The trendy jacket sharply contrasts with the first lady's typically bold, foreign-flavored wardrobe.
In public appearances, the first lady has worn designs by Dolce & Gabbana, Del Pozo, Christian Dior, Emilio Pucci, Givenchy and Valentino, often with daringly high Christian Louboutin heels.
WASHINGTON (AP) — House Republican leaders abruptly postponed voting on a compromise immigration measure amid ongoing infighting between conservative and moderates.
Majority Leader Kevin McCarthy's office confirmed the decision. Voting that had been expected Thursday now would be held Friday instead. That's according to aides who demanded anonymity because they were not authorized to discuss the situation publicly.
House Republicans have been struggling on rival immigration bills. A more conservative measure was rejected Thursday. The compromise was negotiated between GOP conservative and moderate factions.
WASHINGTON (AP) — Virginia Gov. Ralph Northam has ordered state officials to investigate claims made by immigrant teens of severe physical abuse at a juvenile detention facility.
Northam announced the probe in a tweet on Thursday, hours after The Associated Press reported on a half-dozen sworn statements from Latino teens held at the Shenandoah Valley Juvenile Center.
Youths as young as 14 say they were beaten while handcuffed and locked up for long periods in solitary confinement, left nude and shivering in concrete cells. Detainees also say the guards stripped them of their clothes and strapped them to chairs with bags placed over their heads.
The governor, a Democrat, said the allegations are disturbing and ordered the state's secretary of public safety and homeland security to report back to him about conditions inside the facility.
The center's lawyers deny all abuse allegations.
WASHINGTON (AP) — A provocative new study says viruses that sneak into the brain just might play a role in Alzheimer's.
Some scientists have long suspected viruses or bacteria somehow set the stage for Alzheimer's. Now, the main theory is that sticky brain-clogging plaques are the culprit. Thursday's findings don't prove viruses cause the mind-robbing disease but they promise to spur new research into the possible connection.
A team led by researchers at New York's Mount Sinai Health System found higher levels of two very common herpes viruses in Alzheimer's-affected brains than in normal ones. They then found evidence that the viruses influence the behavior of genes involved in Alzheimer's.
If the findings eventually pan out, they could lead to new targets for Alzheimer's treatment.
The study was published in the journal Neuron.