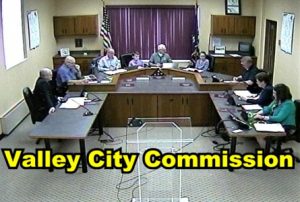 Valley City  (CSi)  The Valley City Commission met Monday evening at City Hall.  All members were present.
PRESENTATION TO RETIRING  FIRE DEPARTMENT OFFICER.
APPROVAL OF CONSENT AGENDA ITEMS INCLUDED;
Monthly Reports from the Fire Chief, Building Inspector, Auditor, Municipal Judge and Public Works Accountant.
Monthly Bills for the City and Public Works in the Amount of $1,633,475.65
A Raffle Permit for Barnes County Historical Society, CHI Health at Home – Hospice, Red Knights
Aproved alcoholic beverage license for Captain's Pub.
PUBLIC COMMENTS …No one spoke..
ORDINANCE
City Commissioners approved a first reading of an Ordinance amending Title 11, Zoning.
City Attorney Mertins said it replaces the existing Ordinance in conjunction with the recodification process.
NEW BUSINESS
Discussed was an application to Block off Street on July 28, 2018 by the Thundering Saints on the 200 block of Main Street East, or the 100 block of 3rd Avenue SE if reconstruction has not begun
City Administrator Schelkoph said construction will start at that point in that area sometime around that time period, and asked the contractor to start on time.
The alternate is Main Street.
The Commissioners approved 3rd Street, with the option of Main Street.
The City Commission  approved the Visitors Committee recommendation for an extension for completing the installation of replacement interpretive and map panels along the Scenic Byway to December 31, 2018.
Approved was the Public Works Policy on Meter Exemption Charges.
City Administrator Schelkoph requested three changes.
"Snowbird" seasonal water service shutoffs at the curbstop be charged disconnect and reconnect fees.
Irrigation meters to be charged a connect and disconnect fee.
With commercial properties with temporary  electrical service to be charge if used for less than six months.
Two items were delayed…
A  "Notice to Award" to Swanberg Construction for the Ultra Filtration Project at the Water Treatment Plant
A "Notice to Proceed" to Swanberg Construction for the Water Treatment Plant Ultra Filtration Project
CITY ADMINISTRATOR'S REPORT
David Schelkoph thanked residents for their patience with the street project work, including distruptions to traffic flows.
CITY UPDATES & COMMISSION REPORTS
City Fire Chief Gary Retterath said all has been quite so far concerning reports of fireworks abuse of the city ordinance.
KLJ gave a report on street projects and permanent flood control flood wall installations.
Where no parking is in effect July 5th and 6th,  parking on the 4th allowed, if moved by the 5th.
The meeting was shown live on CSi Cable 68 followed by replays.