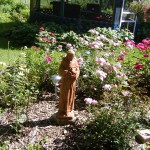 Jamestown  (CSi)  The Jamestown AAUW announces the date of the 29th Annual Garden Tour as Wednesday, July 18, 4-8 pm.
On Thursday's Wayne Byers Show, on CSi Cable 2, Kelly Krien said, locations on this year's  garden tour include:
Gary & Cathy Carlson, 506 8th St SW
Mike & Colleen Dronen, 1301 8th Ave SW; Shaun & Deanna Fischer, 805 16 1/2 St NE and
Jon & Connie Lillejord, 1604 Evergreen Dr NW.
Refreshments will be served between 6-8 PM at The Arts Center, 115 2nd Ave SW.  View their photo exhibit entitled "Dakotaland" with photos by Marie Flood. Completed tickets can also be dropped off there to qualify for door prizes.
Advance tickets are $10.00 available to purchase at The AAUW Used Bookstore and Dakota Store, 605 1st Avenue South
The Arts Center, 115 2nd Street  Southwest.  Refreshments will be served there from 6-p.m., to 8-p.m.   Completed tickets can be dropped off there to qualify for door prizes.
Country Gardens Floral, 106 Business Loop West
Lloyd's Toyota, 500 17th Street Southwest,  and all AAUW members.
Tickets are $12 the day of the tour and after 3 PM on tour day, they will only be available at
The AAUW Used Book Store or at each tour site during tour hours.
Hours at the AAUW Used Book Store are: Monday-Friday 10-a.m. to 5-p.m., and the second Saturday of each month, 10-a.m., to 2-p.m.
Proceeds from the garden tour support the AAUW Endowment Fund at the University of
Jamestown and the AAUW Foundation which provides grants and funding for projects that
promote equity for women and girls.
For more information and maps showing the host sites, visit the Jamestown AAUW website https://jamestown-nd.aauw.net/branch-activities/garden-tour/  or call Kelly Krein, 252-4690 or 4107.