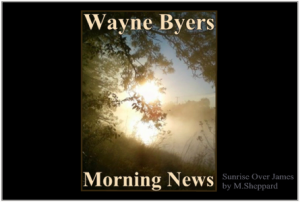 CSi Weather…
.REST OF TODAY…Partly sunny late in the morning then clearing.
Showers and thunderstorms likely late in the morning. Highs in the lower 80s. South winds around 15 mph. Chance of precipitation 60 percent in the Jamestown area, 50 percent in the Valley City area.
.TONIGHT…Clear. Lows in the upper 60s. South winds 10 to 15 mph.
.SATURDAY…Sunny. Highs in the mid 90s. South winds 15 to
20 mph. Heat index 95 to 100.
.SATURDAY NIGHT…Partly cloudy in the evening, then mostly
cloudy with a 50 percent chance of showers and thunderstorms
after midnight. Some thunderstorms may be severe. Lows in the
upper 60s. Southwest winds 5 to 15 mph.
.SUNDAY…Mostly sunny. A 40 percent chance of showers and
thunderstorms in the morning. Highs in the upper 80s. Southeast
winds 5 to 10 mph shifting to the north in the afternoon.
.SUNDAY NIGHT…Mostly clear. Lows in the lower 60s.
.MONDAY…Sunny. Highs in the mid 80s.
.MONDAY NIGHT…Partly cloudy. Lows in the mid 60s.
.TUESDAY…Mostly sunny. Highs around 90.
.TUESDAY NIGHT…Partly cloudy. Lows in the upper 60s.
.WEDNESDAY…Mostly sunny. Highs in the mid 80s.
.WEDNESDAY NIGHT…Mostly clear. Lows in the mid 60s.
.THURSDAY…Sunny. Highs in the mid 80s.
Scattered thunderstorms are expected southwest and south central
this morning. Small hail and dangerous lightning are the primary
threats.
Hot and humid conditions are expected on Saturday, especially
across southwest and much of central North Dakota. Dangerous heat
index values of 100 to 105 degrees are possible. Remember the heat
index is how warm it may feel factoring in the humidity.
Severe thunderstorms are possible Saturday evening and night along
a cold front across southwest and central North Dakota. Large hail
to around 2 inches in diameter, damaging winds to 75 mph, locally
heavy rainfall, and dangerous lightning are the primary threats.
The very warm temperatures, or capping, on Saturday lead to
uncertainty on when storms may form and how numerous they may
become.
Dangerous heat is possible again on Tuesday, especially across
western North Dakota. There is a slight chance of thunderstorms
Tuesday evening and night west and central. This will have to be
monitored for a severe thunderstorm threat.
This Day In History, July 6, 1936 – Jamestown swelters under the heat wave of 1936. . . .  from the 125th Anniversary Calendar of Jamestown History.   Heat wave forced Midwesterners to sleep outside.
City swelters under heat wave. New Jamestown record temperature of 118 degrees set at 4:00 pm this date.
UPDATE….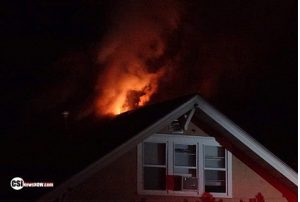 Jamestown  (CSi)  The Jamestown City Fire Department was called out about 11:22 p.m. Thursday to a house fire at 1105 and a half 7th Avenue Southeast, starting in the top floor apartment.
Fire was coming through the roof of the home when the fire units arrived.
Jamestown City Fire Chief Jim Reuther says, damages not officially determined.
One fire fighter suffered a back injury in fighting the blaze.
No occupant was injured, and the Buffalo Valley Red Cross Chapter made arrangements for the occupants to stay at another location.
No official cause was listed, however the fire department's Ready Squad was initially called to the location, and it was determined a wall of the residence was hot and may have indicated the fire was electrical in nature.  A circuit breaker was also tripped.
At that point the fire department units were called to respond to the house.
Five City Fire Department units, and 15 fire fighters were on the scene until 1:45-a.m., Friday.
Photos on scene posted on line at CSiNewsNow.com
Jamestown  (CSi)  Hugo's Family Market Place in Downtown Jamestown on Friday is hosting a fundraiser for the James River Humane Society from 11-a.m., to 3-p.m.
JRHS Board member Jay Nitchke on Friday's Wayne Byers Show on CSi Cable 2 said, a dog or two and a cat from the shelter will be on hand, as Hugo's will match public donations on a dollar for dollar basis.
Humane Society merchandise will be available for sale as part of the fundraiser.
Jamestown   (CSi)  The Medora Musical will host Veterans Appreciation Day on July 8th.
On Thursday's Wayne Byers Show on CSi Cable 2, Stutsman County Veterans Service Officer, David Bratton pointed out that, the Medora Musical website has more information to be place on the schedule.
The event features a free Keg Social at 4:30-p.m., Pitchfork Fondue at 5:30-p.m., with the Medora Musical starting at 7:30-p.m.
All veterans are encouraged to wear their  service caps to honor their branch of the service.
The Warriors on the Water, Flying fishing event is August 11th, at New Town, North Dakota.
Pre-registration is required by going on line to: www.warriorsonthewaternd.com, and on their Facebook page.
The Camp Grafton  Disabled Veterans Hunt is set for November 19 and 20th.
Applications accepted until October 10th at the Barnes County Veterans Service Office in Valley City.  Contact the Barnes County Veterans Serive Officer, Angela Hunt, at 845-8511, or from any Veterans Service Office. Those veterans must have at least a 50 percent disability to participate.
He added that the his office in the lower level of the Law Enforcement Center now has a flag disposal box available for flag that are no longer usable.  Just come down to the office and place the flag in the box.
Flags will then be properly disposed of by the Boys Scouts, or American Legion.
He added that the U.S. House of Representatives has passed House Resolution 299, concerning  the Blue Water Navy, Viet Nam Veterans Act of 2017.
The bill now goes to the U.S. Senate for action.
He noted that the Williston V.A. Clinic has opened the expanded facility.
The facility is twice the size of the old one at 7,500 square feet (697 square meters
The tours featured a new blood drawing room, tele-retinal and tele-health rooms, new patient exam rooms and a room dedicated to women's health.
The clinic will also have a full-time medical doctor on staff.
DEVILS LAKE, N.D. (AP) — An officer-involved shooting in Devils Lake has left one person dead.
WDAY-TV reports officers responded to a call about a suspicious person Thursday. Police say the suspect died after a struggle ended with an officer's gun being fired.
The North Dakota Bureau of Criminal Investigation is handling the case and the officer is on paid administrative leave. Authorities haven't released the identities of the officer or the person who died.
LEONARD, N.D. (AP) — North Dakota authorities say two drivers have been injured after a Fed Ex van driver rear-ended a semi-truck stopped at railroad tracks near Leonard.The Highway Patrol says the accident happened about 9 a.m. Thursday on Highway 46. The patrol says the van driver was looking at a map and didn't realize the semi had stopped.The van was extensively damaged in the collision, and officials say both drivers were treated for non-life threatening injuries.Authorities cited the van driver for distracted driving.
FARGO, N.D. (AP) — Broadcasting personality Ed Schultz, whose career took him from quarterbacking at a Minnesota college to national radio and television, has died. He was 64.
His son, David Schultz, tells The Associated Press that his father died of natural causes Thursday morning in Washington, D.C., where he anchored "News with Ed Schultz" on RT America, formerly Russia Today.
Schultz also hosted "The Ed Show" on MSNBC from 2009 to 2015.
Schultz was a standout quarterback at Minnesota State University-Moorhead in the 1970s. He went on to a career as a sportscaster at TV and radio stations in the area around Moorhead, Minnesota, and Fargo, North Dakota.
He later became a conservative radio talk show host. But he was a fiery liberal by the time he took his show into national syndication in 2004.
AMHERST, S.D. (AP) — The National Transportation Safety Board says a fatigue crack caused last year's rupture of the Keystone oil pipeline in South Dakota.
The NTSB said in a report released Thursday that the crack likely originated from mechanical damage to the pipe exterior caused by a metal-tracked vehicle during installation. Investigators say the crack grew to a "critical size" and resulted in the Nov. 16 rupture near Amherst.
An estimated 210,000 gallons of oil spilled from the TransCanada Corp. pipeline between the Ludden, North Dakota, and Ferney, South Dakota, pump stations. There were no injuries associated with the incident.
TransCanada spokesman Matthew John says the impacted property has been cleaned up and the pipeline has returned to service. John says the company is committed to achieving its goal of "zero incidents."
BISMARCK, N.D. (AP) — North Dakota's Health Department is warning residents to avoid blue-green algae that can develop in bodies of water.
Hot summer weather contributes to the production of the algae that's also known as cyanobacteria. People and animals who ingest affected water can get sick and even die. There's no known antidote for toxins blue-green algae can produce.
People are urged to avoid water that looks discolored or scummy or has a foul odor. Mike Ell of the department's Division of Water Quality says algae blooms are most common in the late summer in North Dakota.
In sports…
SPOKANE, Wash. (AP) — North Dakota's Geno Crandall is moving to Gonzaga as a graduate transfer and will be eligible to play this season.
Crandall, a 6-foot-4, 180-pound guard, is expected to bolster a back court lacking depth.
Crandall averaged 14.3 points and 4 assists for North Dakota in his career, shooting 48 percent from the floor.
Last December, he scored 28 points as North Dakota pushed Gonzaga to overtime in an eventual loss.
Gonzaga point guard Josh Perkins is recovering from a shoulder injury but should be ready for the season. Gonzaga's backup point guard options were incoming freshman Greg Foster Jr. and redshirt freshman Joel Ayayi.
Crandall joins a Bulldogs team coming off of a Sweet 16 finish and a 32-5 record.
American Association…
Fargo-Moorhead 9, Winnipeg 4
WNBA…
MINNEAPOLIS (AP) — Rebekkah Brunson grabbed 12 boards while becoming the leading rebounder in WNBA history, helping the Minnesota Lynx beat the Los Angeles Sparks 83-72. Brunson began the game in third place with 3,306 rebounds. She passed Lisa Leslie (3,307) early on and overtook Tamika Catchings (3,316) when she grabbed Candace Parker's missed 3-pointer with 7:17 left in the fourth quarter.
MLB…
— Aaron Slegers picked up his first big league win by allowing a run and three this over six innings of the Twins' 5-2 decision over the Orioles. Slegers took a shutout into the fifth before Jonathan Schoop (skohp) hit the first of his two home runs. Logan Morrison belted a solo shot and Jake Cave was 3-for-3 with an RBI and a run scored as Minnesota ended a six-game losing streak.
 — The Milwaukee Brewers won a matchup of division leaders on Thursday to move 1 ½ games ahead of the Chicago Cubs in the NL Central.Hernan Perez was 3-for-4 with a two-run homer as the Brewers whipped the Braves, 7-2. Jhoulys Chacin (zhoo-LEES' shah-SEEN') and Dan Jennings combined for a three-hitter and blanked Atlanta after the first inning. Chacin gave up the three hits over seven frames and improved to 7-3.Braves starter and loser Max Fried lasted just three innings, yielding four runs on four hits and three walks.Ozzie Albies hit an RBI triple for the Braves, whose third straight loss cuts their lead in the NL East to one game over the Phillies.
Checking out Thursday's other MLB action:— The Astros blew a 2-0 lead before George Springer and Yuli Gurriel (gur-ee-EHL') provided RBI singles in the bottom of the ninth to give Houston a 4-3 win over the White Sox. Jose Altuve (al-TOO'-vay) launched a two-run homer in the fifth, but Omar Narvaez and Leury Garcia belted solo shots while Chicago was taking a 3-2 lead. Justin Verlander struck out 10 over seven innings of the Astros' third straight win.— Marco Gonzales picked up his ninth win and the Mariners stayed 1 ½ games behind the AL West-leading Astros by downing the Angels, 4-1. Gonzales struck out seven over six innings before three relievers completed a six-hitter. Chris Hermann's solo shot in the seventh gave Seattle breathing room before Jean Segura added an RBI single later in the inning.— The Diamondbacks' 6-3 loss to San Diego leaves Arizona in a virtual first-place tie with the Dodgers in the NL West. Austin Hedges homered for the first time since April 10, Wil Myers drove in a pair and Carlos Asuaje (ah-SWAH'-hay) reached base four times in the Padres' fourth win in 17 games. Eric Lauer limited the DBacks to one run over five innings.— Mired in a five-game skid and losers in 17 of their last 22, the Nationals stormed back from a 9-0 deficit to beat the Marlins, 14-12 in Washington. Trea Turner went 3-for-5 with a go-ahead grand slam, a solo homer and a career-high eight RBIs in the biggest comeback in Nationals history. Matt Adams was 4-for-5 with three runs scored, and Juan Soto had three RBIs for the Nats.— The Cardinals hammered the Giants 11-2 as Jedd Gyorko (JUR'-koh) had three hits, including a home run and five RBIs. Matt Carpenter and Harrison Bader also went deep while Yadier (YAH'-dee-ehr) Molina singled three times as part of the Redbirds' season-high, 18-hit attack. Luke Weaver retired his first 16 hitters and left the game after allowing two hits over eight innings.— Joey Gallo and Ronald Guzman hit two-run homers while the Rangers built a 7-0 lead before holding off the Tigers, 7-5. Yovani Gallardo (yoh-VAH'-nee gy-AHR'-doh) picked up the win despite allowing four runs and eight hits over 5 1/3 innings. Keone Kela gave up a ninth-inning run and had two on with nobody out before notching his 21st save.MLB NEWS— The Twins have signed first-round draft pick Trevor Larnach to a minor league contract that includes a $2.55 million signing bonus. The 20th overall selection hit .327 with 17 home runs and 65 RBIs for Oregon State this season, helping the outfielder send the Beavers to the College World Series title.UNDATED (AP) — Johnny Cueto (KWAY'-toh) is expected to be reinstated from the disabled list and pitch when the Giants open a four-game series at home against the Cardinals.Cueto was placed on the disabled list May 1 with inflammation in his right elbow. He is 3-0 with a 0.84 ERA in five starts this season.Also in the majors:— Mariners pitcher Wade LeBlanc is guaranteed $2.75 million under a new contract covering 2019. The deal includes with three options that would be worth $31.3 million over four years if he pitches 180 innings or more each season. LeBlanc is 4-0 with a 3.19 ERA in 12 starts and five relief appearances this season.

WIMBLEDON

LONDON (AP) — Day 4 at Wimbledon was a disaster for the No. 3 singles seeds. Defending women's champion Garbine Muguruza (moo-gah-ROO'-thah) and 2017 men's finalist Marin Cilic were ousted in the second round, further reducing the number of top-10 seeds still alive in either bracket.

Muguruza was stunned 5-7, 6-2, 6-1 by 47th-ranked Alison Van Uytvanck of Belgium. Van Uytvanck had been just 1-4 in the grasscourt tournament before dominating the last two sets.

The surprise means only two of the top eight seeded women are still in the field after only four days of action at the All England Club.

Cilic blew a two-sets-to-none lead in a 3-6, 1-6, 6-4, 7-6 (3), 7-5 loss to Argentina's Guido Pella. Cilic was cruising when the match was suspended by rain in the third set on Wednesday. His departure leaves No. 8 Kevin Anderson as the highest-seeded player left in Roger Federer's side of the draw,

Women's top seed Simona Halep (HA'-lehp) advanced to the third round with a 7-5, 6-0 rout of Saisai Zheng.

Top-ranked Rafael Nadal advanced with a 6-4, 6-3, 6-4 win over Mikhail Kukushkin of Kazakhstan.

No. 12 Novak Djokovic overcame an apparent thigh problem to beat Horacio Zeballos 6-1, 6-2, 6-3 and reach the third round.

Other winners on the men's side were fifth seed Juan Martin del Potro, eighth seed Kevin Anderson, No. 9 John Isner and No. 15 Nick Kyrgios (KEER'-ee-ohs). Women's No. 11 Angelique Kerber and No. 12 Jelena Ostapenko also reached Round 3.

PGA-GREENBRIER

WHITE SULPHUR SPRINGS, W. Va. (AP) — Webb Simpson is off to a great start at A Military Tribute at The Greenbrier.

He shot a 9-under 61 in the PGA event for a one-stroke lead over Whee Kim. Simpson posted his career-best score after shaking off a two-hour weather delay with six holes left in his round.

Kim had back-to-back bogeys on the front nine on the Old White TPC, and then ran off five birdies over a seven-hole stretch.

Teenager Joaquin Niemann of Chile was another stroke back at 7-under 63 and Kelly Kraft was at 64.

Phil Mickelson shot 66 in his first tournament since the U.S. Open, when he intentionally violated golf rules by hitting a moving ball on the 13th green in the third round.

NBA NEWS

UNDATED (AP) — Nemanja Bjelica is moving from Minnesota to Philadelphia.

A person familiar with the negotiations says Bjelica has agreed to a one-year contract with the 76ers worth nearly $4.5 million.

Bjelica gives Philadelphia more shooting depth, needed in an offseason where the 76ers lost Ersan Ilyasova and Marco Belinelli.

Bjelica shot 42 percent from 3-point range last season, his best clip in his three NBA years.

In other NBA news:

— The Trail Blazers have announced the signing of Nik Stauskas to a one-year, $1.6 million contract. Portland will be Stauskas' fourth team in his five NBA seasons. He's a career 35 percent 3-point shooter.

— The Boston Celtics have signed first-round draft pick Robert Williams, who was selected 12th overall in the NBA draft last month. Williams' signing comes days after the Texas A&M product received a lecture from the team about accountability following a pair of off-the-court incidents.

COLLEGE BASKETBALL

SPOKANE, Wash. (AP) —North Dakota's Geno Crandall is moving to Gonzaga as a graduate transfer and will be eligible to play this season.

The 6-foot-4 guard averaged 14.3 points and 4 assists for North Dakota in his career, shooting 48 percent from the floor. Crandell poured in 28 points against the Bulldogs last December, pushing North Dakota to overtime in an eventual overtime loss.

NHL NEWS

UNDATED (AP) — The Columbus Blue Jackets have worked out a contract with restricted free agent Boone Jenner.

A person with direct knowledge of the contract told The Associated Press that the forward will receive $15 million over the next four seasons.

Jenner had 13 goals and tied his career high with 19 assists for the Jackets last season. The former second-round pick has 86 goals and 161 points in 342 NHL games.

Elsewhere in the NHL:

— The Canadiens say defenseman Shea Weber will be out five to six months after undergoing arthroscopic knee surgery to repair a torn meniscus in his right knee. It's the second surgery this year for Weber, who had a torn tendon in his left foot repaired in March.

— The Hurricanes and defenseman Trevor van Riemsdyk have agreed to a two-year contract worth $4.6 million. Van Riemsdyk led the team with a plus-minus rating of plus-9 last season and had a career-best 13 assists.

— Head coach Barry Trotz has added former Capitals assistant Lane Lambert to his Islanders coaching staff. Lambert will serve as the Isles' associate coach.

— The lawyer representing Ottawa Senators assistant general manager Randy Lee says he will enter a not guilty plea and file a motion to dismiss harassment charges during his client's appearance Friday in Buffalo city court. Lee is accused of making lewd comments and rubbing the shoulders of a 19-year-old male shuttle driver in May. A spokesman for the Erie County district attorney's office says prosecutors will oppose the motion to have the charges dismissed.

COLLEGE ATHLETICS-KANSAS

LAWRENCE, Kan. (AP) — Jeff Long will take over as the Kansas athletic director on Aug. 1.

The longtime Arkansas AD signed a five-year, fully guaranteed contract worth $1.5 million annually. Private funding will cover $1.3 million, with the remaining $200,000 paid by the university.

Long takes over for Sheahon Zenger, who led the department for seven years. Zenger was fired May 21 for what Kansas Chancellor Douglas Girod called "a lack of progress" within the department.
In world and national news…
BEIJING (AP) — The United States and China have hiked tariffs on billions of dollars of each other's goods, launching what Beijing called the "biggest trade war in economic history" in a spiraling dispute over technology. The Trump administration is confronting Beijing over development tactics it says include stealing or pressuring foreign companies to hand over technology.TOKYO (AP) — The executions Friday of a doomsday cult leader and six followers closed a chapter on one of Japan's most shocking crimes, the poison gas attack on rush-hour commuters in Tokyo's subway that killed 13 people, sickened thousands and woke up a relatively safe country to urban terrorism. Cult leader Shoko Asahara, three scientists who led the cult's production of nerve gas, and three other cult members were hanged.WASHINGTON (AP) — The Environmental Protection Agency is being turned over Andrew Wheeler, a former coal industry lobbyist who worked as Scott Pruitt's deputy in helping to run the agency. Pruitt resigned as EPA chief after what he called "unrelenting" and "unprecedented" attacks. Pruitt had worked relentlessly to dismantle government regulations that were aimed to reduce toxic pollution and planet-warming carbon emissions. Wheeler is expected to continue on Pruitt's business-friendly path.SAN ANTONIO (AP) — Some non-citizen members of the U.S. Army and Army Reserve are telling The Associated Press that they've been abruptly discharged from the military. Some were not given an explanation. Others were told that they've been labeled as a security risk because they have relatives abroad. Eligible recruits who are not U.S. citizens are required to have legal status in the U.S., such as a student visa and about 10,000 are currently serving.WASHINGTON (AP) — The list of contenders for the upcoming Supreme Court vacancy is narrowing. President Donald Trump tells reporters: "I think I have it down to four people. And I think of the four people I have it down to three or two." The president has wrapped up the interview process and is moving closer to picking his court nominee amid intense jockeying from various factions seeking to influence the choice. A seat on the high court is opening with the retirement of Justice Anthony Kennedy.