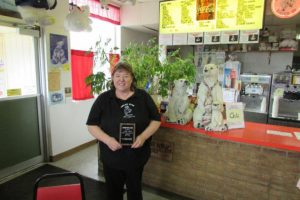 Jamestown  (Chamber) The Young Professionals of Jamestown has given the June Customer Service Award  to Debbie Stroh, owner of the Polar King Drive-In.
"Given in recognition for her outstanding customer service and leadership as the owner of this wonderful eatery."
The nomination letter:
"Debbie does an outstanding job of providing wonderful food and delectable dessert options. They have the best chicken in town! She is patient with her staff, and a great role model for the wonderful customer service that is provided by this establishment. This is the best family-run restaurant in Jamestown! Thank you to Debbie for all you do for your customers and the community."
Deb will be recognized at the Chamber's annual banquet in January 2019 along with all the other monthly winners.
The chamber honors individuals who demonstrate a consistent commitment to delivering products or services that satisfy customers by exceeding their requirements or expectations.
Customer Service Award nomination forms are available at the Chamber office and on their website at www.jamestownchamber.com or call 701-252-4830.