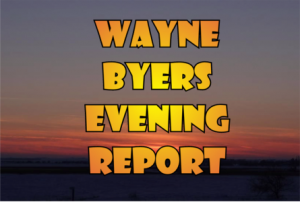 CSi Weather….
.REST OF TODAY…Partly sunny with chance of showers and isolated thunderstorms. Highs in the mid 80s. East winds 5 to 10 mph.
Chance of precipitation 30 percent.
.TONIGHT…Partly cloudy in the evening, then mostly cloudy with
chance of showers and slight chance of thunderstorms after
midnight. Lows in the mid 60s. Southeast winds 5 to 10 mph.
Chance of precipitation 50 percent in the Jamestown area, 40 percent in the Valley City area.
.TUESDAY…Mostly sunny. Chance of showers and slight chance of
thunderstorms in the morning. Highs in the upper 80s. Southeast
winds 10 to 20 mph. Chance of precipitation 30 percent in the Jamestown area, 40 percent in the Valley City area.
.TUESDAY NIGHT…Increasing clouds. Lows in the lower 70s. South
winds 10 to 15 mph.
.WEDNESDAY…Partly sunny. Highs in the upper 80s. Southwest
winds 10 to 15 mph shifting to the west in the afternoon.
.WEDNESDAY NIGHT…Mostly clear. Lows in the mid 60s.
.THURSDAY…Sunny. Highs in the mid 80s.
.THURSDAY NIGHT…Mostly clear. Lows in the lower 60s.
.FRIDAY…Sunny. Highs in the upper 80s.
.FRIDAY NIGHT…Mostly clear. Lows in the upper 60s.
.SATURDAY…Mostly sunny. Highs in the upper 80s.
.SATURDAY NIGHT…Partly cloudy. Lows in the mid 60s.
.SUNDAY…Partly sunny with a 20 percent chance of showers and
thunderstorms. Highs in the upper 70s.
An area of rain showers with embedded thunderstorms across southwest North Dakota, was slowly pushing eastward Monday afternoon.
Expecting these showers and storms to weaken as they push east.
A surface cold front  will move into northwest ND Tuesday evening. This front may have a line of strong to severe storms attached to it, but there are uncertainties regarding the southern extent of storms.
If these storms materialize and the environmental setup becomes more favorable, there could be a significant damaging wind threat.
Expect quiet weather behind the departing cold front/upper low for
mid to late week as weak ridging and a slightly drier air mass build
A return to active weather may be in store for the upcoming
weekend.  There are also hints of a significant cool-down for the weekend, with highs returning to the 70s.
Jamestown  (CSi)  Jamestown Public Schools, Business Manager, and H.R. Director Sally Ost says recently appointed Jamestown School Board Rural representative, Melissa Gleason will serve a full four year term.
She says that stems from the fact that she will fill the seat that Sedric Trevithick,  was running for, which is a four year term.
Previously…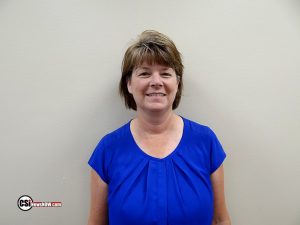 Jamestown (CSi)  After interviewing candidates, the Jamestown Public School Board Monday evening selected a rural school board member.  The vote was unanimous 8-0.
Melissa Gleason will succeed Sedric Trevithick, who while voting in the Jun 12, 2018 school board elections, was found not eligible to be a school board member, having moved out of the school district to the Barnes County North District, after being appointed to serve out a two year term while living in the Jamestown Public School District.
She was the only person to file and intent for the seat by the July 5, 2018 deadline.
The school district opted to appoint the vacant rural seat, in lieu of holding  special election, that would have needed to be held within 60 days of the June election.
In the June 12th elections, no candidate filed to run for the other rural seat, held by Greg Allen who previously decided not to seek re-elected.
Allen received the majority of write-in votes, and he has agreed to serve another term.
He has served more than 20 years on the school board.
Others receiving write-in votes were: Heidi Williams who received 6 write-in votes, and Mark Sherfy who received 5 votes. Melissa Gleason, Kelly Seckerson and Sara Wilson received 2 votes each. There were 27 individuals with 1 vote.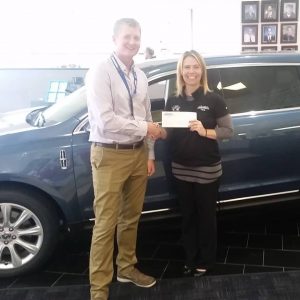 Jamestown  (R.M. Stoudt) – Ford and RM Stoudt recently partnered with Jamestown High School for a Drive 4UR School test drive fundraiser which raised $1630.
The Multi Media club will utilize the funding to provide video and sound equipment for the enhanced communication of school programs.  Makerspace will also receive funding the provide equipment for laser cutting, 3D printing, robotics, fabrication, art and design uses.
Pictured are Adam Gehlhar, JHS Principal and Tara Kapp, RM Stoudt BDC Coordinator.
The fundraiser donated $20 per test drive in new Ford vehicles on the JHS campus.  The event was briefly hampered by a thunderstorm bringing heavy rains but was still able to successfully gain over 70 primary and secondary test drives for the total donation.
R.M. Stoudt, Inc. is a Ford, Lincoln, Chrysler, Dodge, Jeep and Ram dealership that is celebrating their 77th Anniversary in partnering with Jamestown and surrounding areas.
Jamestown, ND, (JRMC)   An outdoor music event is set to benefit two long-time community healthcare organizations.
Concert for CARE, which raises funds for both the Anne Carlsen Center and Jamestown Regional Medical Center will help purchase healthcare equipment.
Concert for CARE is set for Thursday, July 26. The evening features entertainer 32 Below and includes an all-ages barbecue and street dance.
The night begins with a pork loin dinner at 5 p.m. at the Jamestown Elks Lodge, and a concert to follow at 8 p.m., to be held at 2nd Avenue  Southwest in front of Elks Lodge and Bank Forward.
Meals are $10 and also include corn on the cob, coleslaw and ice-cream
Concert admission is $10. Ages 5 and under are free.
Anne Carlsen Center Associate Development Director, Felicia Sargeant says, "We couldn't be more excited to partner together for our fifth annual Concert for CARE.  We didn't look beyond the first year when we knew we wanted to showcase two amazing organizations and our shared desires to provide quality healthcare in Jamestown and across North Dakota."
All proceeds JRMC receives will support the purchase of a "FAST" ultrasound. Commonly used in Emergency Departments, "FAST" ultrasounds identify internal bleeding in trauma patients.
JRMC Foundation Director Lisa Jackson  says, "JRMC and Anne Carlsen Center have a long history of partnering to care for this community.  Jamestown and the surrounding areas are fortunate to have such high-quality healthcare services."
Event sponsors include Bank Forward, Cork & Barrel Liquors, Crop Production Services, Jamestown Elks #995, Midwest Dairy Association, Stutsman Harley-Davidson, Sparks Trailers, Strata Corporation, Valley Plains Equipment, Haut, Williams-Lisko and Eddy Funeral Homes.
To volunteer, sponsor or participate, contact JRMC's Foundation at (701) 952-4880 or foundation@jrmcnd.com.
Fargo (NDHP) – On Friday, July 13, from 8 pm. through 10 pm., the North Dakota Highway Patrol (NDHP) and the Dickey County Sheriff's Department will be conducting a DUI checkpoint in Dickey county.
Saturation patrols will be conducted in Dickey, Logan, and McIntosh counties on July 13 and 14.
The purpose of a checkpoint is to increase awareness of drinking and
driving as well as to deter motorists from choosing to drink and drive. The goal of alcohol enforcment saturation is to remove impaired drivers from roadways.
High-visibility enforcement is one element of a collaborative effort to help meet the goal of zero motor vehicle fatalities and serious injuries on North Dakota roads.
Through July 7, 22.5 percent of North Dakota's 42 fatal crashes have
been alcohol-related.
BISMARCK, N.D. (AP) — Supporters of legalizing recreational marijuana in North Dakota have submitted petition signatures they hope will get a measure on the November general election ballot.Proponents on Monday submitted nearly 19,000 signatures to the secretary of state's office. About 13,500 valid signatures are needed to put the matter to a statewide vote. The secretary of state's office will be making that determination in the next month.The proposal seeks to legalize marijuana for people 21 and older and also seal the records of anyone convicted of a marijuana-related crime that would be made legal under the measure.Supporters of legalizing recreational marijuana failed on a petition drive in 2016.That same year, North Dakota voters approved medical marijuana. The state Health Department is working on setting up a system for the drug.
BISMARCK, N.D. (AP) — Bismarck State College has partnered with a California-based company to address a growing gap in computer safety jobs.
The school is teaming up with Palo Alto Networks to expand its current cybersecurity program, the Bismarck Tribune reported . Palo Alto CEO Mark Anderson announced the partnership at a cybersecurity conference in May.
The college has been known for its energy industry programs, but President Larry Skogen said he'd like to shift focus.
"This is huge that a company … would sign its first education partnership with Bismarck State College to address the issue of cybersecurity in the nation," Skogen said.
Bismarck State will offer classes using curriculum from the cybersecurity firm. It will also add more networking equipment, create an online training center and open a cybersecurity academy for teachers on how to incorporate cybersecurity education into K-12 classrooms.
In world and national news…
LONDON (AP) — Now-former British Foreign Secretary Boris Johnson has slammed Prime Minister Theresa May, accusing her of flying "white flags" of surrender in negotiations with the European Union. Johnson, one of the most vocal proponents of Britain's exit from the European Union, quit as the U.K.'s top diplomat on Monday. Johnson said that May's plan to keep close economic ties with the EU means Britain is heading for a "semi-Brexit" that would leave Britain with the "status of colony."
SAN DIEGO (AP) — A U.S. government attorney says authorities will release roughly half the immigrant children under age 5 who are still in custody after reunifying them with their families under a court-ordered deadline. U.S. Justice Department attorney Sarah Fabian said Monday that the government was prepared to reunify more than 50 children with their parents. In those cases, Fabian says, U.S. Immigration and Customs Enforcement will release parents and children together.
MAE SAI, Thailand (AP) — The official heading the Thai cave rescue operation says the four boys brought out of the flooded cave by divers on Monday are "safe and conscious" and now in a hospital. The official also told a news conference that Monday's operation, which was the second day of a high-stakes rescue effort, took less time than Sunday's because of the experienced accumulated and more people involved. Eight of the 13 trapped people _ a total of 12 boys and their 25-year-old soccer coach _ have now been rescued.
INDIANAPOLIS (AP) — An Indiana lawmaker who alleges that state Attorney General Curtis Hill inappropriately touched her during a party says Hill has betrayed the public trust and lied about his actions. Democratic Rep. Mara Candelaria Reardon released a statement Monday after Hill defiantly rejected calls to resign. She and three legislative staffers say Hill inappropriately touched them during a party in Indianapolis in March. Hill says the allegations are false.
BAGHDAD (AP) — Nearly a third of the sentences handed down in Iraq's trials of accused Islamic State group members are death sentences. But the trials are so fast and the evidence so thin that even the president is wary of approving the execution orders, as the law required before than can be carried out. Often convictions depend on the word of informants, who can sometimes be motivated by personal grudges.