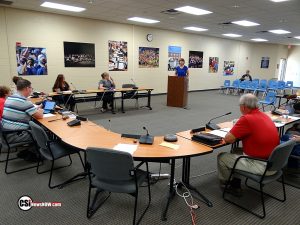 Jamestown  (CSi)  Public School Business Manager Sally Ost says Melissa Gleason will serve a full four year term as the appointed School Board Rural representative, .
She says that stems from the fact that she will fill the seat that Sedric Trevithick,  was running for, which is a four year term.
Previously…
Jamestown (CSi)  After interviewing candidates, the Jamestown Public School Board Monday evening selected a rural school board member.  The vote was unanimous 8-0.
Melissa Gleason will succeed Sedric Trevithick, who while voting in the Jun 12, 2018 school board elections, was found not eligible to be a school board member, having moved out of the school district to the Barnes County North District, after being appointed to serve out a two year term, while living in the Jamestown Public School District.
She was the only person to file and intent for the seat by the July 5, 2018 deadline.
Gleason is employed by the University of Jamestown and lives in Homer Township with her husband, Robert.
The school district opted to appoint the vacant rural seat, in lieu of holding  special election, that would have needed to be held within 60 days of the June election.
In the June 12th elections, no candidate filed to run for the other rural seat, held by Greg Allen who previously decided not to seek re-elected.
Allen received the majority of write-in votes, and he has agreed to serve another term.
He has served more than 20 years on the school board.
Others receiving write-in votes were: Heidi Williams who received 6 write-in votes, and Mark Sherfy who received 5 votes. Melissa Gleason, Kelly Seckerson and Sara Wilson received 2 votes each. There were 27 individuals with 1 vote.