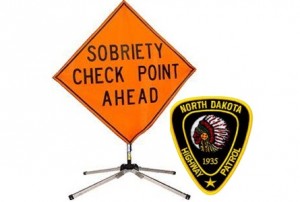 Fargo (NDHP) – On Friday, July 13, from 8 pm. through 10 pm., the North Dakota Highway Patrol (NDHP) and the Dickey County Sheriff's Department will be conducting a DUI checkpoint in Dickey county.
Saturation patrols will be conducted in Dickey, Logan, and McIntosh counties on July 13 and 14.
The purpose of a checkpoint is to increase awareness of drinking and
driving as well as to deter motorists from choosing to drink and drive. The goal of alcohol enforcment saturation is to remove impaired drivers from roadways.
High-visibility enforcement is one element of a collaborative effort to help meet the goal of zero motor vehicle fatalities and serious injuries on North Dakota roads.
Through July 7, 22.5 percent of North Dakota's 42 fatal crashes have
been alcohol-related.