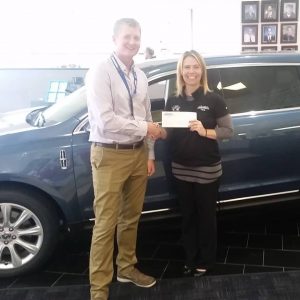 Jamestown  (R.M. Stoudt) – Ford and RM Stoudt recently partnered with Jamestown High School for a Drive 4UR School test drive fundraiser which raised $1630.
The Multi Media club will utilize the funding to provide video and sound equipment for the enhanced communication of school programs.  Makerspace will also receive funding the provide equipment for laser cutting, 3D printing, robotics, fabrication, art and design uses.
Pictured are Adam Gehlhar, JHS Principal and Tara Kapp, RM Stoudt BDC Coordinator.
The fundraiser donated $20 per test drive in new Ford vehicles on the JHS campus.  The event was briefly hampered by a thunderstorm bringing heavy rains but was still able to successfully gain over 70 primary and secondary test drives for the total donation.
R.M. Stoudt, Inc. is a Ford, Lincoln, Chrysler, Dodge, Jeep and Ram dealership that is celebrating their 77th Anniversary in partnering with Jamestown and surrounding areas.