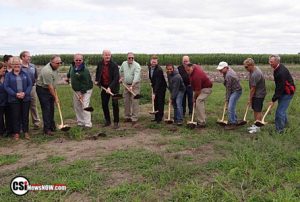 Jamestown (CSi)  The groundbreaking for the Jamestown Airport Business Park was held  Thursday July 26.
The staging area was at  Hwy 20 and 17th   Street.

The park will include 92 acres of  lots with 30 acres are dedicated to aviation-related businesses.
Infrastructure costs  are anticipated to be $2.8 million  paid by the JSDC., with the construction of roads, along with water, sewer and street lights possibly  starting next week an finished  this fall.