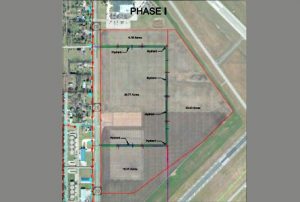 Jamestown  (CSi)  Ground Breaking will be held for the Industrial Park to be located next to Jamestown Regional Airport, on Thursday July 19th, at 2-p.m.
On Tuesday's Wayne Byers Show on CSi Cable 2, JSDC CEO, Connie Ova said, the public is invited.
Also on our show, Connie said at the monthly board meeting, members approved Jamestown Mayor Dwaine Heinrich to the board to replace former Mayor Katie Andersen.
The board also approved Pam Phillips at the City Council representative on the board replacing Ramone Gumke who did not seek re-election to the council, opting to run for a seat on the Stutsman County Commission.
With budgeting, she said the JSDC is requesting a two percent cost of living salary increase for their employees.  She said the request is approved by the Stutsman County Commission, with the request to come before the City of Jamestown during their budget hearings.