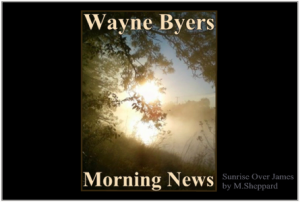 CSi Weather…
.REST OF TODAY…Partly sunny with isolated showers and thunderstorms. Highs in the upper 80s. Southwest winds 10 to 15 mph. Chance of precipitation 20 percent. Heat index 90 to 95.
.TONIGHT…Partly cloudy. A 20 percent chance of showers and
thunderstorms after midnight. Lows in the mid 60s. Northwest
winds 5 to 10 mph.
.THURSDAY…Partly sunny. Highs in the lower 80s. West winds 5 to
10 mph.
.THURSDAY NIGHT…Mostly clear. Lows in the lower 60s. West winds
5 to 10 mph.
.FRIDAY…Sunny. Highs in the upper 80s. Southwest winds around
5 mph.
.FRIDAY NIGHT…Clear. Lows in the mid 60s.
.SATURDAY…Sunny. Highs in the upper 80s.
.SATURDAY NIGHT…Increasing clouds. A 30 percent chance of
showers and thunderstorms. Lows in the lower 60s.
.SUNDAY…Mostly sunny. Highs in the upper 70s.
.SUNDAY NIGHT…Mostly clear. Lows in the upper 50s.
.MONDAY…Sunny. Highs in the upper 70s.
.MONDAY NIGHT…Mostly clear. Lows in the upper 50s.
.TUESDAY…Sunny. A 20 percent chance of rain showers and
thunderstorms in the afternoon. Highs around 80.
Isolated thunderstorms are possible statewide this morning, and
south of Interstate 94 tonight. Severe weather is not expected.
A surface cold front is forecast to move through western and central North Dakota Saturday afternoon into Sunday morning. This could set the stage for another severe thunderstorm episode, but details remain far from certain at this time.
A much cooler and drier air mass will build in behind the weekend
cold front, with a likely return to highs in the 70s. The cool down
may only last a couple days though as long-range guidance is hinting
at another building ridge by mid-week.
Jamestown (CSi) According to the Stutsman County Correctional Center inmate roster,
25 year old Justice Lange is being held there.
She was transferred Monday from a Fargo hospital.
She is being held on unpaid Jamestown Municipal Court fines in the amount of $56, and a hold from Foster County, in an unrelated case.
The Stutsman County Sheriff's Offices says it is still awaiting  autopsy  results of the baby found dead near Woodworth on Saturday.
After a two day search, law enforcement officials found the body of the 4-month-old near a slough in rural northwestern Stutsman County Saturday.
Law enforcement say they were unsure of how the baby died.
The baby's mother, 25 year old Justice Lange, along with the baby were reported missing on July 2. Law enforcement found Lange on Friday without the infant. She was taken to the hospital for unknown reasons.
Stutsman County Sheriff Chad Kaiser says they will not be posting charges until they have the autopsy report.
Kaiser says possible charges could be coming sometime this week. But  first, they have to get the autopsy and talk it over with the state's attorney's office.
See Bismarck Tribune story on the baby
Jamestown (CSi)  Due to above average mosquito count in the NE area of the City, fogging operations for adult mosquitoes is scheduled to begin Wednesday, July 11, 2018.
Fogging operations will take place between approximately 8:30 PM (dusk) until approximately 6:00 AM.
Parents are advised to keep children out of the streets and away from the fogging machines.
Motorists are urged to use caution when traveling in the vicinity of the fogging units.
All fogging operations are contingent upon weather conditions. 
For more information visit jamestownnd.org, click on Departments/Vector Control
Jamestown  (CSi)  Ground Breaking will be held for the Industrial Park to be located next to Jamestown Regional Airport, on Thursday July 19th, at 2-p.m.
On Tuesday's Wayne Byers Show on CSi Cable 2, JSDC CEO, Connie Ova said, the public is invited.
Also on our show, Connie said at the monthly board meeting, members approved Jamestown Mayor Dwaine Heinrich to the board to replace former Mayor Katie Andersen.
The board also approved Pam Phillips at the City Council representative on the board replacing Ramone Gumke who did not seek re-election to the council, opting to run for a seat on the Stutsman County Commission.
With budgeting she said the JSDC is requesting a two percent cost of living salary increase for their employees.  She said the request is approved by the Stutsman County Commission, with the request to come before the City of Jamestown during their budget hearings.
Jamestown  (CSi)  Jamestown Public Schools, Business Manager, and H.R. Director Sally Ost says recently appointed Jamestown School Board Rural representative, Melissa Gleason will serve a full four year term.
She says that stems from the fact that she will fill the seat that Sedric Trevithick, was running for, which is a four year term.
Jamestown  (CSi)  Jamestown Tourism has established a virtual tour of sites in Jamestown.
On line go to https://tours.bemorecolorful.com/v/d5VjYM8ljob and click on the drop down to menu to visit selected site for the virtual tour.
This link is also available on our website www.discoverjamestownnd.com
Explore the tour on desktop, tablet and mobile devices.  To navigate,  either use the text drop down menu in the upper left hand corner of your screen, or search for hotspots that allow you to jump to new scenes.
Spin each scene around by clicking and dragging with your mouse, by swiping with your finger, or just by moving around with your device.
Be sure to look around each scene, some of the most exciting might just be behind you.
Jamestown  (JRMC)   — Jamestown Regional Medical Center (JRMC) recently announced Susan Matthiesen as its most recent Legend Award recipient.
The Legend Award is the most prestigious distinction for a JRMC employee. The Legend Award recognizes employees who exceed expectations and make THE difference in the lives of those they serve.
JRMC Foundation Office Coordinator Penny Holland nominated Matthiesen because of Matthiesen's everyday philanthropic care for JRMC's staff, patients and guests.
Holland wrote, "Patients who come to JRMC for audiology services are beneficiaries of Sue's professionalism, expertise and dedication to them. Sue has been known to go on 'house calls' to visit patients who are unable to make it to our campus. There are many days Sue juggles a full day to fit yet another patient into her busy schedule. As a member of the Sertoma Club, Sue shares club offerings with her patients and investigates every avenue to find ways to help them get hearing aids and other devices they need to improve their quality of life. With Sue as their audiologist, JRMC patients get the best care by a compassionate person,"
Matthiesen joined the JRMC team in 1996. She lives in Jamestown with her husband, Jim.
JRMC's 350 employees cast anonymous votes to select the Legend Award winner.
The purpose of the Legend Award is to inspire, motivate and capture the moments that define JRMC. The goal is to help employees and volunteers connect to the sense of purpose that brought them to the organization. This award is for employees who've made extreme efforts to benefit their patients and colleagues.
JRMC Chief Executive Officer K.C DeBoer,  says, "The nominations inspire staff members to continually be the best, exceed expectations and make THE difference in the lives of those we serve," said JRMC Chief Executive Officer K.C DeBoer.
Once nominated, both JRMC administration and employees voted on their favorite nominees and their stories.
JRMC Chief Operating Officer Ricki Ramlo, saysm "JRMC goes above and beyond for its staff from our Legend Awards each quarter to employee engagementWe are grateful for our employees' commitment to caring for our patients and our community."
The Legend Award first began in 2012. Since then, more than 30 individuals were named Legends and more than 100 employees were nominated.
To read Matthiesen's full story, visit www.jrmcnd.com.
Update…
WATFORD CITY, N.D. (AP) — A crowdfunding campaign has raised more than $13,000 for a couple who lost their week-old baby when a tornado hit a North Dakota town.
McKenzie County Sheriff Gary Schwartzenberger says the boy died after the storm flipped his family's trailer Tuesday morning at an RV park in Watford City.
The baby's name has not been released. The Bismarck Tribune says Schwartzenberger reported to Gov. Doug Burgum and other officials late Tuesday that the boy was the son of Marisa Reber and Will Maguire.
A GoFundMe account set up for the couple shows more than 225 people had donated as of early Wednesday.
Previously…
WATFORD CITY, N.D. (AP) — A newborn baby was killed and more than two dozen people were injured when a tornado whipped through a North Dakota oil patch city early Tuesday, overturning recreational vehicles and demolishing more than 100 structures.
The storm moved through Watford City, in the northwestern part of the state, shortly after midnight, hitting an RV park the hardest, according to sheriff's officials. About 20 of the reported 28 injured were staying at the Prairie View RV Park where high winds overturned some campers and damaged mobile homes.
The McKenzie County Sheriff's Office said in a news release late Tuesday that a 1-week-old boy died from injuries sustained when the family's trailer home flipped in the storm. The child's name was not immediately released.
ALEXANDER, N.D. (AP) — A teacher facing drug and child endangerment charges in McKenzie County must surrender her state teaching license as part of a deal with prosecutors to avoid trial.
Regie Hill was charged in February after sheriff's deputies said they found drugs and related items in reach of Hill's children in her home. Hill at the time was a science teacher in Alexander.
Superintendent Leslie Bieber tells The Bismarck Tribune that Hill resigned in March.
Under Hill's deal with prosecutors, the criminal charges against her will be dismissed if she stays out of trouble for the next 1 ½ years, submits to random drug testing, surrenders her state teaching license and testifies in another criminal case.
BISMARCK, N.D. (AP) — In a story July 6 about farm programs and foreign trade, The Associated Press, based on information from the Bismarck Tribune, reported erroneously that the North Dakota Farmers Union is seeking adjustments to crop insurance. The group is seeking changes to a different farm program called Price Loss Coverage, not the separate crop insurance program.A corrected version of the story is below:

North Dakota farmers seek change in crop program payments

North Dakota's largest farm group is pushing for adjustments to crop program payments to protect farmers from international trade retaliations

BISMARCK, N.D. (AP) — North Dakota's largest farm group is pushing for adjustments to crop program payments to protect farmers from international trade retaliations.

The U.S. House and Senate versions of a new farm bill are headed to a conference committee. The North Dakota Farmers Union sees the bill as an opportunity to raise reference prices for the Price Loss Coverage program, the Bismarck Tribune reported.

"We should do it now," said Mark Watne, president of the group. "If you want to keep us whole, this is the best tool."

Price Loss Coverage, or PLC, is a safety net program that provides payments when a commodity's marketing year average price falls below the reference price set by Congress in the 2014 Farm Bill. The marketing year average is determined through U.S. Department of Agriculture survey data from about 1,900 mills and elevators across the country of how much they paid for a given crop. Producers are then paid the difference.

Farmers are facing an unfriendly market as negotiations for new agreements with U.S. trade partners flounder. Canada announced new tariffs this week and China imposed $34 billion in retaliatory tariffs on U.S. products Friday.

"(President Donald Trump) has instructed me to craft a strategy to support our farmers in the face of retaliatory tariffs," wrote Agriculture Secretary Sonny Perdue. "At the U.S. Department of Agriculture, we have tools at our disposal to support farmers faced with losses that might occur due to downturns in commodities markets."

Many producer groups expressed interest in Watne's proposal, which he said would trigger earlier payments. The House and Senate have done work on another major farm subsidy program, called Agriculture Risk Coverage, which is based on yields, but there are oilseed and wheat producers in North Dakota who opted for PLC who could benefit, Watne said.

North Dakota Democratic Sen. Heidi Heitkamp said the proposal is a new idea and that she was unsure whether it would be addressed in conference committee.
BISMARCK, N.D. (AP) — Highway fatalities in North Dakota during the first half of the year were the lowest in eight years.The state Transportation Department's Safety Division says there were 39 motor vehicle fatalities in the state through June 30, down from 54 during the same period last year.It was the lowest number since 2010, when there also were 39 fatalities in the first six months.Safety Division Director Karin Mongeon says the drop from last year is encouraging, but the number is still too high.State officials earlier this year launched a "Vision Zero" strategy to try to reduce crash injuries and fatalities.
BISMARCK, N.D. (AP) — North Dakota Attorney General Wayne Stenehjem (STEHN'-juhm) is suing the developer of the Dakota Access oil pipeline over agricultural land the company owns.
Texas-based Energy Transfer Partners bought the ranchland in 2016 in an area where thousands of pipeline opponents had gathered to protest.
Large corporations can't own farmland under North Dakota law. But Stenehjem reached a deal with the company under which he didn't immediately sue because he deemed the purchase temporarily necessary to provide a safer environment for pipeline workers.
The deal expired June 30. Stenehjem wants the court to fine the company $25,000 and order it to sell the land within a year or face more fines.
ETP spokeswoman Lisa Dillinger declined comment Tuesday. The company has about three weeks to file a formal response in court.
BISMARCK, N.D. (AP) — Sen. Heidi Heitkamp and Republican challenger Rep. Kevin Cramer have agreed to at least three debates in the month leading up to the November election.
Their campaigns say the first confirmed debate will be held on Oct. 5 in Fargo. It is sponsored by Prairie Public Broadcasting and AARP.
The North Dakota Newspaper Association will sponsor a debate in Bismarck on Oct. 18. The third confirmed debate is scheduled for Oct. 26 in Fargo. It will be hosted by the North Dakota Broadcasters Association.
The Heitkamp-Cramer matchup is one of the toughest Senate races in the U.S., with Republicans hoping to hold onto a razor-thin majority.
GRAND FORKS, N.D. (AP) — Officials say the first trans-Atlantic flight by a medium-altitude, long-endurance unmanned aircraft has lifted off from an aviation park in North Dakota.
The General Atomics Aeronautical Systems Inc. drone departed from the Grand Sky park at the Grand Forks Air Force Base Tuesday afternoon. The flight will cover more than 3,000 miles before landing in Gloucestershire, England, where the Royal Air Force is holding its centennial celebration.
The aircraft is an MQ-9B Predator, which is 38 feet long with a wingspan of 79 feet. The plane recently flew continuously for more than 48 hours.
General Atomics spokeswoman Melissa Haynes says the flight is meant demonstrate the technology that allows the plane to fly alongside private and commercial aircraft.
In sports…
The Dakota Anglers will be holding a Fish Fry Tournament at Pelican Point Landing on Saturday, July 14th.  This is a fishing tournament for the contestants followed by a fish fry and potluck meal for the membership.
Two person teams may enter; at least one team member must be a Dakota Anglers member or pay $20 dues to become a member.  Registration is from 7-8 at Four Winds Sharpening.  Fishing starts at 8 am.  Weigh in at Pelican Point Landing at 3 pm sharp.
Teams may fish any one legal North Dakota water that must be declared at registration.  Payback is 100%.  Plaques will be awarded for each winning team member and for largest walleye and largest northern.  Call Nathan at 701-200-2327 if you have any questions.
Jamestown   Hillcrest Golf Course will be hosting the Hillcrest Open, a four-person golf scramble, on Saturday, July 14, starting at 9 a.m.
The cost is  $40 per person including cash prizes for first place in both the scratch and handicap divisions.
Participants can register at the Hillcrest Pro Shop. For any questions contact John at 252-4320.
American Association…
Wichita 8, Fargo-Moorhead 3
MLB
— Adalberto Mondesi had a three-run homer and a career-high four RBIs, and the Kansas City Royals snapped a 10-game skid with a 9-4 win over the Minnesota Twins. The Royals scored more than five runs for the first time since June 4 and improved to 26-65 overall, percentage points ahead of Baltimore to avoid owning baseball's worst record. Mondesi went deep in the second inning and added an RBI single in the sixth.
 — The Boston Red Sox keep improving their major league best record, beating the visiting Texas Rangers 8-4 in and extending their winning streak to eight games. Andrew Benintendi bolstered his All-Star credentials with a pair of doubles and two RBIs in his final game before fan votes are tallied. Jackie Bradley Jr. hit a pair of RBI doubles and Xander Bogaerts (ZAN'-dur BOH'-gahrtz) hit a two-run triple as Boston scored five runs in the third.
Elsewhere around the majors:
— Kole Calhoun and Andrelton Simmons each had three hits and two RBIs to lead the Los Angeles Angels over the Seattle Mariners 9-3. The Angels got 15 hits and overcame an injury to starting pitcher Garrett Richards, who left in the third inning with right forearm irritation.
— Victor Caratini hit an RBI double during a decisive seventh inning, helping the Chicago Cubs back Jose Quintana in a close game and beat the San Francisco Giants 2-0. A night after losing 2-1 in 11 innings despite a strong start from Kyle Hendricks, the Cubs had enough offense for Quintana. The left-hander allowed three hits in six scoreless innings to beat the Giants for the first time in his career after going 0-3 with a 5.82 ERA over his first three starts.
— Andrew Benintendi bolstered his All-Star credentials with a pair of doubles and two RBIs in his final game before fan votes are tallied, and the Boston Red Sox beat the Texas Rangers 8-4 on Tuesday night to extend their winning streak to eight games. Jackie Bradley Jr. hit a pair of RBI doubles and Xander Bogaerts hit a two-run triple as Boston scored five runs in the third and won for the 15th time in 18 games.
— Alex Bregman homered twice and his tapper just in front of the plate in the 11th inning led to a bizarre play that ended the game, as catcher Jonathan Lucroy's throwing error handed the Houston Astros a 6-5 victory over the Oakland Athletics. Justin Verlander pitched six sharp innings and the Astros took a 4-0 lead into the ninth before Oakland tied it.
— David Peralta and A.J. Pollock homered in Arizona's four-run seventh inning, and the Diamondbacks beat the Colorado Rockies 5-3. Nick Ahmed also went deep as the Diamondbacks won for the fourth straight time at Coors Field. Arizona was held in check by Colorado starter Tyler Anderson but a high pitch count ended his night after six innings. The Diamondbacks pounced on the Rockies' bullpen in the seventh.
— Rookie left-hander Eric Lauer came within one out of his first career complete game before allowing Max Muncy's home run, and Wil Myers homered for the sixth time in four games to lead the San Diego Padres over the Los Angeles Dodgers 4-1. Austin Hedges had a three-run shot for the Padres.
— Manny Machado hit two home runs, Jonathan Schoop (skohp) singled in the winning run with two outs in the ninth inning, and the Baltimore Orioles rallied past the New York Yankees 6-5. Greg Bird homered and drove in four runs for the Yankees, who own an inexplicable 4-5 record against the last-place Orioles.
— Enyel De Los Santos won his major league debut and the Philadelphia Phillies got home runs from Maikel Franco and Odubel Herrera in a 7-3 victory over the New York Mets. Franco drove in four runs as the Phillies, who began the day tied with Atlanta atop the NL East, won for the 10th time in 13 games. Nick Williams had three hits and two RBIs, and Rhys Hoskins also got three hits.— Russell Martin's sharp single in a five-run eighth drove in the go-ahead run for Toronto as the Blue Jays beat Atlanta 6-2. That knocks the Braves out of first place in the NL East. The Braves have lost six of their last seven.— Joey Votto hit a go-ahead three-run double during a seven-run ninth inning and the Cleveland Indians bullpen wasted a gem from Trevor Bauer in a 7-4 loss to the Cincinnati Reds. Indians closer Cody Allen allowed six runs with two outs in the ninth. Cleveland's bullpen entered Tuesday with a 5.13 ERA, better only than the Rockies and Royals.— Christian Yelich had three hits and four RBIs, Travis Shaw homered and the Milwaukee Brewers beat the Miami Marlins 8-4. Shaw and Tyler Saladino had two RBIs each, and Milwaukee won for the seventh time in nine games. Jhoulys Chacin (joh-LEES' cha-SEEN') allowed four runs and seven hits in 5 2/3 innings. He struck out three and walked three. Corbin Burnes pitched two perfect innings in his major league debut for the save.— Wilson Ramos hit a three-run homer, five Tampa Bay pitchers combined on a five-hitter and the Rays beat the Detroit Tigers 5-2. The Rays moved three games above .500 for the first time since Aug. 6 last year after posting their 13th win in the last 14 home games.— Anthony Rendon hit a two-run homer, Daniel Murphy doubled twice and had four hits, and the Washington Nationals beat the Pittsburgh Pirates 5-1. Rendon hit his 13th homer off Pirates' starter Joe Musgrove in the fifth inning, and Washington added three more runs in the sixth against the bullpen. Jeremy Hellickson pitched five strong innings, and the bullpen closed it out from there.— Slumping outfielder Dexter Fowler hit his fourth career grand slam, All-Star Miles Mikolas tossed six innings of three-hit ball and the St. Louis Cardinals routed the Chicago White Sox 14-2. Kolten Wong had four hits, including a two-run homer and a double, as every St. Louis starter except catcher Yadier Molina got at least one hit.

MLB-NEWS

UNDATED (AP) — The Washington Nationals have placed All-Star closer Sean Doolittle on the 10-day disabled list with left toe inflammation. Doolittle hasn't pitched since July 6. The following day, he tripped over a pitching mound and first experienced discomfort in his left toe. The left-hander has a 1.45 ERA and has converted 22 of 23 save opportunities this season. He will not pitch in the 2018 MLB All-Star Game, which is being held at Nationals Park on July 17.

The Nationals also optioned right-handed pitcher Jefry Rodriguez to Triple-A Syracuse and recalled right-handed pitchers Wander Suero and Austin Voth from Syracuse.

— The Boston Red Sox say infielder Marco Hernandez and catcher Christian Vazquez each had surgery. Hernandez had surgery on his left shoulder and will miss the rest of the season. Vazquez had surgery on his right pinky finger and will miss 6 to 8 weeks.

— Indians right fielder Lonnie Chisenhall will miss 8 to 10 weeks with a strained left calf muscle. Chisenhall suffered a Grade 3 strain while warming up before a July 2 game in Kansas City.

— The Chicago White Sox have placed outfielder Avisail (ah-vee-SY'-eel) Garcia on the 10-day disabled list with a Grade 1 right hamstring strain. Garcia missed two months earlier this season with a more serious strain to the same hamstring muscle.

WORLD CUP

ST. PETERSBURG, Russia (AP) — France advanced to the World Cup final for the first time since 2006 with a 1-0 win over Belgium on Tuesday.

Samuel Umtiti scored the only goal with a header in the 51st minute.

France, the 1998 champion and 2006 runner-up, will play either Croatia or England in Sunday's final in Moscow. England and Croatia will meet Wednesday in Moscow in the second semifinal.

France President Emmanuel Macron and King Philippe of Belgium shook hands in the VIP section before the match. Mick Jagger was also on the official list of guests.

Paris erupted in firecrackers, flares and shouts and tears of joy after France advanced. Red smoke rose up from flares fired by fans on the Right Bank esplanade outside City Hall, where crowds watched a broadcast of the match on huge screens.

Fans poured onto streets around the city, from the Champs-Elysees to working-class neighborhoods on the edge of town, with chants of "On est en finale!" or "we're in the final!"

WIMBLEDON

LONDON (AP) — Roger Federer, Rafael Nadal and Novak Djokovic (NOH'-vak JOH'-kuh-vich) headline the men's quarterfinal lineup at Wimbledon today as the trio bid to all reach the last four at the same Grand Slam for the time since the 2012 French Open.

Defending champion Federer will play in the unfamiliar surroundings of Wimbledon's No. 1 Court as he takes on eighth-seeded Kevin Anderson. It is the first time since 2015 that the eight-time champion will play away from Centre Court.

Having played three of his opening four matches away from Centre Court, three-time champion Djokovic's request to have his quarterfinal with 24th-seeded Kei Nishikori played in the main stadium was granted.

Two-time champion Nadal is through to the last eight at Wimbledon for the first time since 2011. He faces fifth-seeded Juan Martin del Potro, who has reached the last eight at consecutive Grand Slams for the first time since 2012.

2016 runner-up Milos Raonic faces ninth-seeded John Isner, who is playing in his first Wimbledon quarterfinal.

NFL-ANTHEM POLICY-GRIEVANCE

NEW YORK (AP) — The NFL Players Association has filed a grievance with the league challenging its national anthem policy.

The union says that the new policy, which the league imposed without consultation with the NFLPA, is inconsistent with the collective bargaining agreement and infringes on players' rights.

In May, the NFL approved its national anthem policy at its owners meetings in Atlanta. The policy allows players to protest during the national anthem by staying in the locker room, but forbids them from sitting or taking a knee if they're on the field or the sidelines.
NHL-
LIGHTNING-KUCHEROVTAMPA, Fla. (AP) — The Tampa Bay Lightning have signed forward Nikita Kucherov to an eight-year contract extension worth an average of $9.5 million in salary and annual bonuses.The team announced the deal Tuesday. The 25-year-old would have been a restricted free agent next summer with one year left on a deal that will pay him nearly $4.8 million for the 2018-19 season. Now he is set to stay with the Lightning through the 2026-27 season.The two-time All-Star had 39 goals and 100 points with a plus-15 rating last season. That was third in the NHL in points, sixth in assists and tied for ninth in goals. He averaged 19:49 in ice time to lead all forwards for the Lightning, who lost in Game 7 of the Eastern Conference finals.
NBA
MOVESEL SEGUNDO, Calif. (AP) — The Los Angeles Lakers have signed veteran Lance Stephenson and second-round pick Svi Mykhailiuk.The Lakers announced the deals Tuesday.Stephenson agreed to a one-year, $4.5 million deal to join LeBron James, Rajon Rondo and JaVale McGee in the Lakers' influx of veteran talent.Stephenson appeared in all 82 games for Indiana last season, averaging 9.2 points, 5.2 rebounds and 2.9 assists per game. The Lakers are his seventh NBA franchise entering his ninth season.The Lakers chose Mykhailiuk with the 47th overall pick in last month's draft. The Ukrainian shooter averaged 14.6 points, 3.9 rebounds and 2.7 assists per game for Kansas last season while setting the Jayhawks' single-season record with 115 3-pointers.FORMER NBA PLAYER-CHARITY FRAUDKANSAS CITY, Mo. (AP) — Former NBA player Kermit Washington has been sentenced to six years in federal prison for spending hundreds of thousands of dollars in charity donations on vacations, shopping sprees and plastic surgery for his girlfriend.The U.S. attorney's office says the 66-year-old Las Vegas man also was ordered Monday to pay nearly $970,000 in restitution. Washington pleaded guilty in November in federal court in Kansas City, Missouri, to making a false statement in a tax return and aggravated identity theft.Washington played for several NBA teams in the 1970s and 1980s and is best known for throwing a punch that fractured Houston Rockets player Rudy Tomjanovich's face and left him unconscious during a 1977 game. Washington was playing for the Los Angeles Lakers at the time.

OBIT-BILLY KNIGHT

PHOENIX (AP) — Authorities say former UCLA basketball player Billy Knight has died in Phoenix.

The Maricopa County Medical Examiner's Office hasn't released a cause of death.

Phoenix police say Knight's body was found on a roadway early Sunday near downtown and there was no evidence of foul play.

The 39-year-old Knight was a guard/forward at UCLA from 1998-2002, averaging 14.1 points and 3.5 rebounds per game as a senior.

He wasn't picked in the 2002 NBA draft and played professionally in France and Japan.

Knight was a basketball operations assistant for the Northern Arizona Suns of the developmental G League in the 2016-17 season. The team is affiliated with the NBA's Phoenix Suns.

Northern Arizona Suns officials issued a statement Tuesday evening saying they were "deeply saddened by the passing."
In world and national news..
BRUSSELS (AP) — President Donald Trump has arrived at NATO headquarters in Brussels for the first of two days of summit talks with allies. Trump is planning to press his counterparts to increase their spending on defense, having publicly criticized many European nations for failing to meet their commitments to the mutual defense alliance.
BEIJING (AP) — The U.S. ambassador to the World Trade Organization is calling for the global trade body to update its rules to deal with complaints about Chinese industrial policies that he said harm other countries. Dennis Shea has accused China of causing "serious harm" to WTO partners by failing to live up to free-trade principles. He said that "must be addressed" by the trade body or others.
MAE SAI, Thailand (AP) — A Thai health official says the soccer teammates rescued from a flooded cave lost weight during their two-week ordeal but had water and are in good health. The official says the 12 boys and their coach rescued over the three previous days "took care of themselves well in the cave." One member of the final group of four boys and the coach rescued had a slight lung infection. The official told reporters they were able to obtain water dripping inside the cave.
MAE SAI, Thailand (AP) — A leader of a U.S. contingent that was part of the operation to rescue 12 Thai boys and their soccer coach who were trapped inside a cave says the boys endured dives in zero visibility lasting up to a half-hour, calling it a "once in a lifetime rescue." Derek Anderson, a rescue specialist with the U.S. Air Force, told The Associated Press in an interview Wednesday that the boys and their coach were "incredibly resilient."
SAN DIEGO (AP) — Some immigrant toddlers are back in the arms of their parents, but others remain in detention facilities as federal officials fell short of meeting a court-ordered deadline to reunite dozens of youngsters forcibly separated from their families at the U.S.-Mexico border. A federal judge in San Diego set a 14-day deadline to reunite children under 5 with their parents. It wasn't immediately clear how many families had been reunited Tuesday and how many children were still detained.