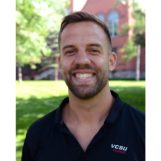 Valley City, ND.  (VCSUVikings.com)- VCSU athletic director Jill DeVries announced Wednesday that cross country and track and field coach Chris Johnson has resigned to take a position at Tulane University.
DeVries said a search for his replacement at VCSU will begin immediately.
DeVries says,  "We want to thank Chris for the job he did as the head coach of Viking cross country and track and field, and we wish him the very best at Tulane.  The program is in great shape and the future is bright for VCSU track and cross country."
Johnson had been head coach of VCSU's cross country and track and field programs for the past three seasons. Under his direction, the rosters for both programs have grown significantly and the teams have become competitive at the conference and national levels. The VCSU women's program had its first ever national champion during Johnson's tenure as he coached Seri Geisler to national titles in the women's javelin in both 2016 and 2017.