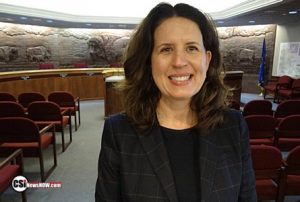 Now Showing on CSi 67:  Jamestown  (CSi)  The Jamestown City Council's Budget Committee, Thursday afternoon at City Hall, heard from department heads, and heard more about the projected 2019 city budgets.
Mayor Heinrich was not present, out of the country on vacation.
City Administrator Sarah Helleckson told the committee, due to a new state law which requires submittal by August 10th, earlier than past years.   The budget can be decreased but not increased from the submital.
She said the General Fund for 2019 includes a two percent cost of living increase in wages for city employees, along with step increases, an overall 4.5 percent increase over 2018, amounting to a point nine million dollar increase for salaries and benefits.
For 2019 the property value increase is put at 1.7 percent.
City Building Inspector, Tom Blackmore said the building permits in 2018 were down.
The draft Preliminary General Fund Budget ending balance is  targeted at $1,867,339.
The preliminary General Property Tax is $3,247,000, and increased value of 1.7 percent.
With the City Fire Department the Preliminary Budget is $838,366, including a cost of living salary increase, along with step adjustments.
Other benefit increases are also included.
Fire Chief Jim Reuther said the budget request includes equipment replacement costs, estimated at 57,000, including SCBA, protective gear, radios and repeater, and other fire fighter items.
He added that the city fire department is in need of eight fire fighters, hampering fire fighting efforts, although the existing fire fighters have stepped up when fire calls come in.
He said recruitment efforts have not been successful.
He said at least one additional fire fighter is needed, now.
Helleckson said the cost of hiring an additional fire fighter will be added in the updated budget.
Correction provided by Jamestown Police Chief Scott Edinger.
The Police Department preliminary budget for 2019, is $2.048 million.
The preliminary budget increase for 2019 with wages and step is $88,000.
Police Chief Scott Edinger said, equipment replacement is requested for $103,000.  It includes replacing radios, office computers, software, repeater, all portable and mobile radios.
He said officers, and detectives are provided with cell phones to be able to track the units, and for other police work.
With the Jamestown Civic Center, the 2019 Preliminary Budget is  $643.464, including $150,000 in cost of living salary increases, and step, for regular employees  in addition to benefits.  $35,000 for COL adjustments for hourly employees.  The projected revenue is $7,440,140.
Equipment replacement is $3,000 for a new commercial coffee maker.
With the Street department, the regular employees salaries, including  cost of living and step adjustments are $606,000, seasonal employees including the cost of living  adjustment, $30,000, the total projected budget is $1,808,105.
The Municipal Court Preliminary Budget Fund, Draft shows 152,117, including the judge's salary of $49,084,and  including the cost of living salary increase.
A copy of the entire Preliminary Budget Draft is available at City Hall.
The budget meeting was shown live on CSi 67.
Another budget committee  meet is set for Friday July 20th, at City Hall, at 8-a.m.