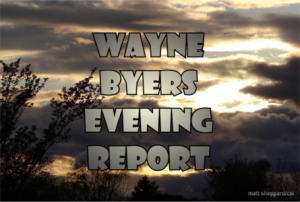 CSi Weather…
TONIGHT…Clear. Lows in the mid 60s. West winds around 5 mph.
.FRIDAY…Sunny. Highs in the mid 80s. Northwest winds around
5 mph shifting to the southwest around 5 mph in the afternoon.
.FRIDAY NIGHT…Mostly clear. Lows in the mid 60s. South winds
around 5 mph.
.SATURDAY…Sunny. Highs in the upper 80s. South winds 5 to
15 mph.
.SATURDAY NIGHT…Increasing clouds. A 30 percent chance of
showers and thunderstorms in the Jamestown area, 40 percent in the Valley City area. Lows in the lower 60s. South winds
5 to 10 mph shifting to the northwest after midnight.
.SUNDAY…Partly sunny. A 20 percent chance of showers and
thunderstorms in the morning. Highs in the upper 70s.
.SUNDAY NIGHT…Mostly clear. Lows in the upper 50s.
.MONDAY…Sunny. Highs in the upper 70s.
.MONDAY NIGHT…Mostly clear. Lows in the upper 50s.
.TUESDAY…Sunny. Highs around 80.
.TUESDAY NIGHT…Mostly clear. Lows in the lower 60s.
.WEDNESDAY…Mostly sunny with a 20 percent chance of showers and
thunderstorms. Highs in the lower 80s.
.WEDNESDAY NIGHT…Partly cloudy. Lows around 60.
.THURSDAY…Mostly sunny. Highs around 80.
Saturday night and Wednesday night thunderstorms are possible
however details are still uncertain with this activity so severe
weather can not be ruled out.
Jamestown  (CSi)  On Thursday morning, Southeast District Court Judge Jay Schmitz set bond for Justice Lange at $250,000 cash or $500,000 surety, at her initial court appearance.
She remains incarcerated in the Stutsman County Correctional Center.
Lange is charged with manslaughter, a Class B felony, and child neglect, a Class C felony accused with the death of her infant son..
The judge ordered her  not leave the state of North Dakota if she is released.
Lange informed the court that she applied for a court appointed attorney however no attorney was  present at Thursday's initial court appearance.
Her next court date, a preliminary hearing, will be scheduled when a court appointed attorney has been assigned to her.
Lange has been  accused of recklessly causing the death of her four month-old son on or about July 4 in rural Stutsman County, along with failing to provide proper parental care, control and subsistence.
Last Friday, Lange was found wandering on a road east of Woodworth by a farmer. She was taken to a hospital in Fargo, while authorities launched a search for the baby.
His body was found on Saturday afternoon after a two-day search on the edge of a slough in some reeds.
Authorities were unsure how long he had been there.
Jamestown  (CSi)  The Jamestown City Council's Budget Committee, Thursday afternoon at City Hall, heard from department heads, and heard more about the projected 2019 city budgets.
Mayor Heinrich was not present, out of the country on vacation.
City Administrator Sarah Helleckson told the committee, due to a new state law which requires submittal by August 10th, earlier than past years.   The budget can be decreased but not increased from the submital.
She said the General Fund for 2019 includes a two percent cost of living increase in wages for city employees, along with step increases, an overall 4.5 percent increase over 2018, amounting to a point nine million dollar increase for salaries and benefits.
For 2019 the property value increase is put at 1.7 percent.
City Building Inspector, Tom Blackmore said the building permits in 2018 were down.
The draft Preliminary General Fund Budget ending balance is  targeted at $1,867,339.
The preliminary General Property Tax is $3,247,000, an increased property value of 1.7 percent.
With the City Fire Department the Preliminary Budget is $838,366, including a cost of living salary increase, along with step adjustments for the regular employees at $362,675, and $94,376, for volunteer fire fighters including the cost of living increase.
Other benefit increases are also included.
Fire Chief Jim Reuther said the budget request includes equipment replacement costs, estimated at 57,000, including SCBA, protective gear, radios and repeater, and other fire fighter items.
He added that the city fire department is in need of eight fire fighters, hampering fire fighting efforts, although the existing fire fighters have stepped up when fire calls come in.
He said recruitment efforts have not been successful.
He said at least one additional fire fighter is needed, now.  Helleckson said the cost of hiring an additional fire fighter will be added in the updated budget.
Correction provided by Jamestown Police Chief Scott Edinger.
The Police Department preliminary budget for 2019, is $2.048 million.
The preliminary budget increase for 2019 with wages and step is $88,000.
Police Chief Scott Edinger said, equipment replacement is requested for $103,000.  It includes replacing radios, office computers, software, repeater, all portable and mobile radios.
He said officers, and detectives are provided with cell phones to be able to track the units, and for other police work.
With the Jamestown Civic Center, the 2019 Preliminary Budget is  $643.464, including $150,000 in cost of living salary increases, and step, for regular employees  in addition to benefits.  $35,000 for COL adjustments for hourly employees.
Equipment replacement is $3,000 for a new commercial coffee maker.
With the Preliminary Convention Promotion Fund is $158,615, with additonal revenues estimated at $182,500 from the City Motel tax, $331,660 from the Restaurant tax.
A copy of the entire Preliminary Budget Draft is available at City Hall.
The budget meeting was shown live on CSi 67.
Another budget committee meeting is set for Friday July 20th, at City Hall, at 8-a.m.
Jamestown  (CSi)  The Jamestown AAUW announces the date of the 29th Annual Garden Tour as Wednesday, July 18, 4-8 pm.
On Thursday's Wayne Byers Show, on CSi Cable 2, Kelly Krien said, locations on this year's  garden tour include:
Gary & Cathy Carlson, 506 8th St SW
Mike & Colleen Dronen, 1301 8th Ave SW; Shaun & Deanna Fischer, 805 16 1/2 St NE and
Jon & Connie Lillejord, 1604 Evergreen Dr NW.
Refreshments will be served between 6-8 PM at The Arts Center, 115 2nd Ave SW.  View their photo exhibit entitled "Dakotaland" with photos by Marie Flood. Completed tickets can also be dropped off there to qualify for door prizes.
Advance tickets are $10.00 available to purchase at The AAUW Used Bookstore and Dakota Store, 605 1st Avenue South
The Arts Center, 115 2nd Street  Southwest.  Refreshments will be served there from 6-p.m., to 8-p.m.   Completed tickets can be dropped off there to qualify for door prizes.
Country Gardens Floral, 106 Business Loop West
Lloyd's Toyota, 500 17th Street Southwest,  and all AAUW members.
Tickets are $12 the day of the tour and after 3 PM on tour day, they will only be available at
The AAUW Used Book Store or at each tour site during tour hours.
Hours at the AAUW Used Book Store are: Monday-Friday 10-a.m. to 5-p.m., and the second Saturday of each month, 10-a.m., to 2-p.m.
Proceeds from the garden tour support the AAUW Endowment Fund at the University of
Jamestown and the AAUW Foundation which provides grants and funding for projects that
promote equity for women and girls.
For more information and maps showing the host sites, visit the Jamestown AAUW website https://jamestown-nd.aauw.net/branch-activities/garden-tour/  or call Kelly Krein, 252-4690 or 4107.
Update:
(KFYR) The former LaMoure police chief was sentenced on Tuesday to life in prison with the possibility of parole for continuous sexual abuse of a child.
James Watson was charged with continuous sexual abuse of a child in both Golden Valley and Stark counties, as well as gross sexual imposition in Hettinger County during the summer of 2017. Watson entered an Alford plea in March to the charges in Hettinger and Stark counties.
Watson was sentenced to life with the possibility of parole for both the Stark and Golden Valley county charges. He was also sentenced to five years for the Hettinger crime. All sentences were to  run concurrent.
In February, a jury in Golden Valley County convicted him of continuous sexual abuse of a child.
Stark County state's attorney Tom Henning says life with the possibility of parole means serving 30 years, minus time for good behavior before parole is considered.
Update:
Dickinson  (WDAY)  In a last second change of opinion late Thursday afternoon, Judge William Herauf, who presided over the case, issued a letter to counsels citing an oversight in his judgement and sentencing.
According to the letter, Herauf expressed the intent of the court to effectively turn the management of Watson's cases over to the North Dakota Department of Corrections – without restrictions imposed to when they would be able to release him.
While resentencing has not been formally scheduled, the letter said a hearing will be slated for early next week.
BISMARCK, N.D. (AP) — The U.S. Fish and Wildlife Service says nearly 29,000 American white pelicans have returned to nest in south central North Dakota.
Biologists say the nesting colony at Chase Lake National Wildlife Refuge is the largest in North America.
Biologist Brandon Oksendahl says the number of breeding adults at the refuge is down slightly from last year but it's still among the highest on record.
A record 35,466 birds were counted in 2000.
The white pelicans are among the largest bird
s in North America, measuring 6 feet from bill to tail. They normally arrive at the refuge north of Medina in early April.
The birds usually stay at the refuge through September, raising their young and feasting on fish and foot-long salamanders from small ponds in the area.
GRAND FORKS, N.D. (AP) — Grand Forks police say a woman has died after being found unresponsive in a swimming pool.Officers were called to a home on the north side of Grand forks just before 9 p.m. Wednesday. Authorities say a man found the woman, who was a relative, in an aboveground pool.WDAY-TV reports the man along with emergency medical technicians tried to revive the woman before she was brought to a Grand Forks hospital. But police say she died.Her name and other details have not been released. 
DEVILS LAKE, N.D. (AP) — Authorities have identified a man who was shot and killed last week by a Devils Lake police officer.
The Devils Lake Journal reports that 26-year-old Daniel Fuller was killed on July 5 after officers responded to a call about a suspicious person. Police say Fuller died after a struggle ended with an officer's gun being fired.
Devils Lake Police Chief Joe Knowski says the officer has been placed on paid administrative leave, which is standard policy. The name of the officer has not been released.
Knowski says the shooting was a "real tragedy for everyone and the city."
The state Bureau of Criminal Investigation is handling the case.
GRAND FORKS, N.D. (AP) — Vice President Mike Pence is planning another visit to North Dakota.U.S. Rep. Kevin Cramer tells The Associated Press that Pence is attending a Grand Forks fundraiser for him on July 25. Cramer is trying to unseat Democratic U.S. Sen. Heidi Heitkamp.The Heitkamp-Cramer matchup is seen by Republicans as one of their top pickup chances as they try to hang onto a thin majority.It will be the third trip to North Dakota in less than a year for Pence. He appeared at a Fargo fundraiser for Cramer in March and visited Minot Air Force Base last October to review the base's nuclear missions.BISMARCK, N.D. (AP) — North Dakota is joining a long list of states that require health insurers to provide coverage for the treatment of autism.North Dakota Insurance Commissioner Jon Godfread issued a bulletin Wednesday that said treatments for autism can't be excluded from an insurance policy.Autism is a range of disorders that hinder the ability to communicate and interact. The Centers for Disease Control and Prevention estimates 1 in 68 American children are diagnosed with it.Lorri Unumb, a spokeswoman for the national advocacy group called Autism Speaks, tells KFGO radio that North Dakota is the 48th state to require health insurers to provide coverage for the treatment of autism.
BISMARCK, N.D. (AP) — Increased traffic due to oil activity and population growth in western North Dakota has prompted state wildlife and transportation officials to work on safe road crossings for wildlife.
A recent U.S. Highway 85 expansion near Williston included an underpass designed for moose, and two more underpasses are being sought by state transportation officials for bighorn sheep, mule deer and other animals, the Bismarck Tribune reported . The new recommendations were made to the Federal Highway Administration.
"With the widening of the road, it creates a larger barrier for the movement of animals," said Bruce Kreft, a conservation biologist with the North Dakota Game and Fish Department. "A two-lane highway is a lot easier for the animals to cross."
Safe wildlife crossings weren't previously an issue in the state's western region because traffic counts were lower, Kreft said. But that's changed due to more oil activity and people.
The ultimate goal from the state Department of Transportation "was to provide a safe roadway for the traveling public," he said. "From the Game and Fish standpoint, we were looking to reduce collisions on the roadway and provide habitat connectivity."
Cameras that monitor the moose underpass completed last fall have shown the animals entering the underpass but not going through it. Kreft said it's too soon to evaluate the effectiveness of the crossing partly because construction in the area was still creating a disturbance.
In world and national news…
WASHINGTON (AP) — A Texas congressman is using a joint hearing of the House Judiciary and Oversight committees to browbeat an FBI agent about an extramarital affair he had with another FBI employee. Rep. Louie Gohmert says FBI special agent Peter Strzok (struhk) is a "disgrace" and is speculating about whether he looked "so innocent" when he looked into his wife's eyes and lied about the affair. Strzok says Gohmert's comments say a lot about the congressman's own character and "what is going on inside" Gohmert.
SAN ANTONIO (AP) — Detaining immigrant children is a growing business for private contractors, who stand to earn $1 billion this year _ a tenfold increase from 2007. An Associated Press analysis has found steady growth in taxpayer-funded migrant children shelters and welfare. This week, the Department of Health and Human Services is reviewing new bids to shelter kids, despite criticism from both parties that holding young people in such facilities places them at risk.
WASHINGTON (AP) — Nearly half of the children under 5 who were separated from their families at the southern border aren't being reunited with their families because of safety concerns and other issues. The Trump administration says it has reunited all eligible small children _ 57 _ separated as a result of its "zero tolerance" policy. But the others remain separated because their parents were deported or because of safety issues and other concerns. The administration is under a court mandate to reunify families.
COLUMBUS, Ohio (AP) — Stormy Daniels' lawyer says the porn star "refuses to be intimidated" following her arrest at an Ohio strip club and has decided to perform Thursday. Michael Avenatti tweeted Daniels will perform as scheduled, hours after she cancelled after the arrest. Avenatti said Daniels "never ceases to impress!" Daniels was arrested Wednesday night and accused of illegally rubbing undercover police officers' faces against her bare breasts during her performance. Prosecutors dropped the charges Thursday.
BIRMINGHAM, Ala. (AP) — The author of a book that included new revelations about the killing of Emmett Till says he shared all of his research materials with the FBI last year. Timothy Tyson said at a news conference Thursday that he was contacted by the FBI several weeks after his book came out in January 2017. He says he assumes his book helped prompt the renewed investigation of the black teen's brutal slaying.