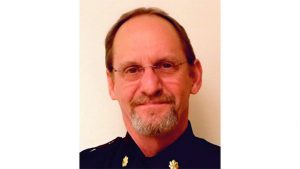 John F. Johnson Jr., 63, of Jamestown passed away on Wednesday, July 25, 2018 at his home surrounded by his loving family after a hard-fought battle with cancer.
John was born on January 29, 1955 in New Haven, Connecticut, to John Sr. and Doris (Norboe) Johnson. He was raised and educated in Naugatuck, Connecticut. In 1972 he enlisted in the US Army. He served as an Air Traffic Controller with the 8th Infantry Division Pathfinders from 1972 to 1975 in Bad Kreuznach, Germany. He came to North Dakota in 1977 and found his new home.
He married Susan Block on December 6, 1980 and they raised two children, Jessica and Nicholas. John was employed by the Jamestown Police Department, Burlington Northern Railroad, and returned to the Jamestown Police Department where he worked for 37 years until illness forced him to retire from his position as Assistant Chief of Police in March 2018.
John is survived by his wife of 37 years, Susan; daughter, Jessica (Matt) Lee of Fargo; son, Nicholas of Fargo; sisters, Estelle (Joe) Vanacore of Guilford, CT, Irene (Ken) LiPuma-Murphy of Albany, New York, Joni (Rich) Lester of Burlington, NC; brothers, Jeffrey (Diane) of Sun City Center, Florida, and Joel of Torrington, CT; mother-in-law, Elinore Block; numerous brothers and sisters-in-law, nieces, nephews, great nieces and nephews, and his rescue dogs; Emma and Bentley and his grand-dogs; Chewy and Leia.
He was preceded in death by his parents; John Sr. and Doris Johnson.
John will always be remembered for his quick wit, his great sense of humor, and his affinity for long sleeved button-down shirts as long as they were blue. He was a music lover, an avid Vikings fan, and Christmas was his most favorite time of the year. He loved golfing with his son and son-in-law and watching TV shows with his daughter that he had no particular interest in, just because he loved spending time with her. The most important thing in John's life was his family and he will be deeply missed by those that knew and loved him.
The family would like to give a special thank you to Hospice of the Red River Valley as well as Doug and Sheila Block for all of their love and support.
Prayer Service: 7:00 p.m., Wednesday, August 1, 2018 at Eddy Funeral Home.
Memorial Service: 2:00 p.m., Thursday, August 2, 2018 at Trinity Lutheran Church with Pastor Susan Haukaas officiating.
Arrangements are in the care of Eddy Funeral Home.