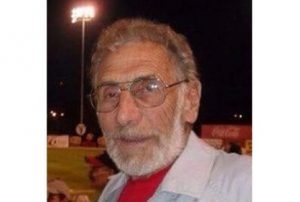 William 'Bill' Fetzer, 84, Jamestown, ND passed away peacefully Tuesday afternoon at his home surrounded by his family.William Lewis Fetzer was born on January 18, 1934 in Anamoose, ND to Wilhelm and Karolina (Sonnenberg) Fetzer.He married the love of his life, Regina (Fettig) on March 30, 1959 in Harvey, ND.  They made their home in Jamestown, ND and later moved to Eldridge, where they had a Hobby Farm where he loved to garden and raise chickens, ducks, pigs, cows and horses.  They later sold the farm and moved back into Jamestown.

He served in the Army during the Korean War from August 1954 until May 1956 Battery  B48th Field Artillery Battalion and discharged as a SP 3 (T).     Upon returning he worked for the railroad and later worked 30+ years in carpentry/construction first in partnership with Charlie Goodroad (B & C Builders) and Great Plains Supply later retiring from Rosen's as a truck driver.  He was a Life time member of the Veterans of Foreign Wars, District Commander of the Veterans of Foreign War from 1970-71

William is survived by his children Barbara (Dan) Tollefson, Lorrie (Ray) Goodroad, Sharon (Barry) Eckart and Brian (Abbey) Fetzer, brother Victor (Shirley) Fetzer, New Jersey,  sisters-in-law Florence Selensky, Anaconda, MT, Mary (John) Burgard, Page, ND, Julie Sullivan, Latoona, IA, bothers-in-law Joe Fetting, MPLS,MN, Manny Fettig (Bernice) Fargo, ND, David Fettig, Broomfield, CO and John Fettig, 5 grandchildren Jeremy Chura, Evan and Taylor Tollefson, Haylee and Emily Eckart, 1 great-grandson Weston Chura, 2 step-grandchildren Jodi and Justin Eckart, 3-step grandchildren Aiden Eckart, Blake and Ophelia Fearon, a very special Niece Vangie (David) Baardson, along with several nieces and nephews.

William is preceded in death by his parents Wilhelm and Karolina (Sonnenberg) Fetzer, his wife, Regina in 2017, brothers Walter and Edward Fetzer, brother-in-law's Leonard (Slim) Siebold and William Buckley,  sisters Edna Seibold, Alice Buckley and Linda Fetzer,  sister-in-law Marie Fetzer, father and mother-in-law Emmanuel and Rose Fettig, brother-in-law's Edward, Edmund, Adam, Louie and Herbert, sister-in-law Alice Volk.