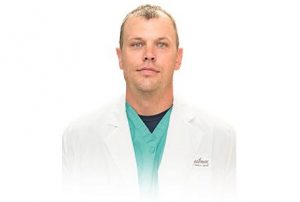 Jamestown  (JRMC)  — Jamestown Regional Medical Center is pleased to welcome Medina-native Dr. Steve Inglish to its team of JRMC Emergency Department physicians.
Dr. Inglish has advanced emergency medicine training and valuable experience at major trauma centers. In addition, Dr. Inglish also has almost two decades of military experience with the United States Army and North Dakota National Guard.
"We are thrilled to onboard Dr. Inglish," said K.C. DeBoer, JRMC President & CEO. "JRMC's mission is to be the best rural hospital in the country. This is one more step in that direction."
Dr. Inglish joins fellow emergency department physicians Dr. Scott Goecke, Dr. Ben Muscha and most recently, Dr. Kent Diehl. Dr. Diehl joined JRMC in July. JRMC previously covered unfilled emergency department shifts with agency-contracted physicians.
"Contract physicians are highly skilled and well-trained, however, adding full-time providers like Dr. Inglish and Dr. Diehl create a continuity of care that is best for both our patients and the medical community," DeBoer said. "In the past, the community had expressed concern about our emergency department providers and their levels of quality and consistency. We take those concerns seriously. Now — more than ever — expect a consistent, high-quality experience in our emergency department."
A native North Dakotan, Dr. Inglish grew up in Medina. He graduated from Bismarck State College, Bismarck, with an associate degree in paramedicine and University of Mary, Bismarck, with a bachelor's degree in biology and minor in chemistry. He studied medicine at University of North Dakota, Grand Forks and completed his emergency medicine residency at the University of Nebraska Medical Center, Omaha, Neb.
Dr. Inglish and his wife have five children.
In his free time, Dr. Inglish enjoys hunting, fishing and time with his family on their hobby farm.
Learn more at www.jrmcnd.com.
About Jamestown Regional Medical Center
Jamestown Regional Medical Center is located at 2422 20th St. SW, Jamestown, ND and serves approximately 55,000 people in nine counties. JRMC was named a "Top 100 Critical Access Hospital" as well as a "Best Places to Work in Healthcare" in 2017 and 2018. For more information on services at JRMC, visit www.jrmcnd.com or call 701-952-1050.