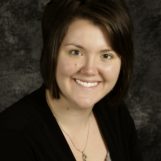 Jamestown  (Chamber)   Becky Thatcher-Keller, the Jamestown Area Chamber of Commerce Executive Director for the past four years, will be retiring from this position effective the end of August.  The chamber board of directors has chosen Emily Bivens of Jamestown to succeed her as the new chamber executive director.
Emily is currently the office manager for Jamestown Tourism, and an alumnus of NDSU.  She brings a wealth of experience and skills to the chamber position, including event planning, expertise in building social networks within the community, and supporting collaborative partnerships with the local community organizations and entities.  She has been a member of the Jamestown Downtown Association, the chamber Young Professionals and several other community groups.  She has been instrumental in helping Tourism and the JDA expand their social media presence and marketing efforts in the community, the region and the state. Her experience with Tourism will great a great opportunity for collaboration and community growth as she assumes this new position.
Emily, along with her husband Jason, and their two children, moved to Jamestown in 2015 to be closer to their families.  They moved the family home that she grew up in, previously located in Hannaford, ND, to property in Jamestown; and they have continued working to make this house their home.
"I would like to thank the chamber board for this opportunity.  I am excited to create even stronger connections among businesses in the Jamestown area, and foster the future growth of the Jamestown Area Chamber of Commerce", she stated about taking over her new role.  She will begin working for the chamber officially on September 4th.