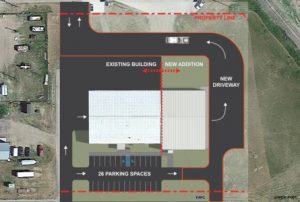 Jamestown  (CSi)  The Jamestown Rural Fire Department staff invites the public to an Open House,  August 16th at 7-p.m., at the present fire hall, at 205 3rd Avenue Northwest, in Jamestown.
Residents can see views of the new fire hall project, and get questions answered about the project including economic and environmental impacts, along with the fire department's service area, and project alternatives.
The new Rural Fire Hall will be at 1209 9th Street Southeast, with a planned addition
Following the recent special vote, where patrons approved a five mill levy to help fund the project, for the first year, the fire district is now applying for a USDA 30 year loan, and is gathering support for the application from the county and townships.