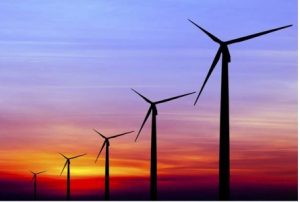 Ellendale  (Sen. Heitkamp's Office)   – U.S. Senator Heidi Heitkamp Thursday, spoke at Xcel's Foxtail Wind Farm groundbreaking ceremony near Ellendale that will support good paying wind energy jobs and deliver affordable power to communities across the region.
Heitkamp spoke about the importance of wind energy as part of a true all-of-the-above energy strategy and congratulated Xcel on this new wind farm that shows the continued growth of wind energy development across the state. In total, Xcel Energy's proposals will develop 1,850-megawatts of wind energy across North Dakota, Minnesota, South Dakota, and Iowa with 150-megawatts coming from the Foxtail Wind Farm, and it will power about 80,000 homes.
She also visited an Otter Tail Power Company and NextEra Energy Resources wind farm near Edgeley in October 2014.