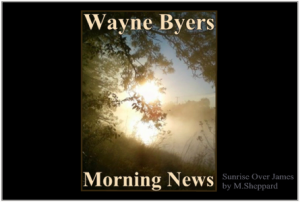 CSi Weather…
.REST OF TODAY…Sunny. Patchy smoke. Highs in the lower 90s. East winds around 5 mph.
.TONIGHT…Clear. Patchy smoke. Lows in the lower 60s. Southeast winds around 5 mph.
.SATURDAY…Sunny. Patchy smoke. Highs in the lower 90s. South winds 5 to 15 mph.
.SATURDAY NIGHT…Clear. Patchy smoke. Lows in the upper 60s.
South winds around 10 mph.
.SUNDAY…Sunny. Patchy smoke. Highs in the mid 90s. South winds
10 to 15 mph.
.SUNDAY NIGHT…Clear. Lows in the upper 60s.
.MONDAY…Sunny. Highs in the upper 80s.
.MONDAY NIGHT…Partly cloudy with chance of rain showers and
slight chance of thunderstorms. Lows in the upper 50s. Chance of
precipitation 30 percent.
.TUESDAY…Mostly sunny. Highs in the mid 70s.
.TUESDAY NIGHT…Mostly clear. Lows in the mid 50s.
.WEDNESDAY…Sunny. Highs in the upper 70s.
.WEDNESDAY NIGHT…Partly cloudy. A 20 percent chance of rain
showers and thunderstorms after midnight. Lows in the upper 50s.
.THURSDAY…Sunny. Highs in the mid 80s.
Wildfire smoke from Canada will linger over the area through
Saturday morning. Additionally thunderstorms are possible as a
cold front moves through the area Monday night into Tuesday.
Near record temperatures are forecast for both Saturday and Sunday:
Station       Saturday`s high        Sunday`s high
record   forecast      record    forecast
Williston…..102      101           102       103
Dickinson…..102      100           102       102
Minot………101      101           101       103
Bismarck……104      101           102       102
Jamestown…..103       93           102        95
A cold front moves southeast slowly across the state Monday, with
a chance of thunderstorms developing along the front mainly Monday
evening and night.
Jamestown  (CSi)  The Jamestown Water Department informs residents Friday, that it is possible there will be temporary water outages along 4th Ave NW between 10th St & 13th St NW.
Crews will be working in the area due to utility repairs in progress. Please watch for road detour signage. Water service will be resumed as soon as possible.
PLEASE CALL THE WATER TREATMENT PLANT AT 252-5131 FOR FURTHER INFORMATION.
Jamestown  (CSi)  The City of Jamestown will begin the reconstruction of 15th Street Southwest near Louis L'Amour School, on Monday August 13th.
Adam Hanson report the area includes between 11th Avenue and 13th Avenue Southwest.
The reconstruction is followed by a mill and overlay, and then chip sealed, scheduled for the last week in August, along with other Southwest paving projects.
25th Street between Highway 281 and Edgewood Senior Living has been overlayed and then to be chip sealed.
The street between R.M. Stoudt's and Menards starting at the stop sign, will start to be overlayed on Friday August 10th.
Jamestown  (Sen. Heitkamp's Office) – U.S. Senator Heidi Heitkamp Thursday toured Mary's Place, a new facility to provide emergency shelter, resources, and transitional services for victims of domestic and sexual violence in the Jamestown area. Following the tour, Heitkamp convened Mary's Place staff, local law enforcement, health care professionals, and Jamestown leaders to discuss the needs of the community as it works to address domestic violence and provide shelter and services for survivors.
Like many other communities in North Dakota, Jamestown's affordable housing opportunities have decreased— which exacerbates the difficulty in finding safe transitional or permanent housing for victims of domestic or sexual violence. After opening in June 2018, Mary's Place now provides additional safe housing opportunities for victims in Stutsman, and Foster, counties.
Heitkamp talked about how critical it is to combat domestic violence at both the local and federal levels. She also discussed with the group the progress that has been made to stop domestic violence and better support survivors as a result of the Violence Against Women Act (VAWA) – legislation Heitkamp helped implement statewide when she served as North Dakota's Attorney General. Reauthorizing VAWA was one of the first bills she cosponsored and helped pass as a U.S. senator in 2013. She worked to include a key provision in VAWA to strengthen existing programs and provide tribal governments the authority and tools necessary to prosecute non-Indian perpetrators who commit these crimes on tribal land. Largely due to VAWA, according to the Justice Department, the annual incidences of domestic violence have fallen more than 60 percent since 1993.
"Since my time as Attorney General and in the U.S. Senate, I've continued to see the urgent need to help domestic violence victims find safe and reliable housing to escape their abusers," said Heitkamp. "In addition to providing women and children with safety and residential stability, we also must focus on giving victims and their families the counselling, legal services, and other resources they need to get back on their feet. Today, I heard from community leaders, victims' advocates, and law enforcement about how the important services offered at Mary's Place will give the Jamestown community additional tools to provide critical transitional housing and other services for victims of domestic violence in the area. Community efforts like this one— combined with federal efforts I've supported like the Violence Against Women Act— make huge differences in reducing incidents of domestic violence, keeping our communities strong and safe, and giving hope to those looking to leave dangerous and traumatic situations."
"Too many victims of domestic violence don't receive the comprehensive support they need to escape the violence and permanently leave an abusive relationship," said Lynne Tally, Executive Director, Mary's Place at Safe Shelter. "Thankfully, the Jamestown community has graciously stepped up to help address this challenge, and Mary's Place will provide temporary housing options and wraparound services that best support survivors in our area. We greatly appreciate Senator Heitkamp visiting the new facility today and working to raise awareness about the need for emergency and transitional housing and supportive services across North Dakota. As we work together to stop the spread of family violence, she continues to stand up for domestic violence survivors and their families in our state."
In one survey, 51.5 percent of U.S. domestic violence victims who sought housing services did not receive them, meaning they may have been forced to stay in or return to an abusive environment. And on just one day in 2016, 80 percent of unmet requests for emergency domestic violence services in North Dakota were related to housing.
Heitkamp has continued to prioritize transitional housing for domestic violence victims in North Dakota while seeking justice against their abusers. In December 2017, Heitkamp introduced her bipartisan bill—the HEALS Act—  to increase transitional housing support and encourage community housing options that best support survivors. And in October 2017 as part of Domestic Violence Awareness Month, Heitkamp toured the Minot Domestic Violence Crisis Center and helped present additional funding for its transitional housing facilities.
Update
Jamestown  (CSi)  The North Dakota Patriot Guard, Annual Ride in remembrance and celebration of fallen American Heroes will be held August 17 & 18, 2018  at the Jamestown Civic Center.
For more information contact George Quigley  at 701-320-5355.
This is a public event, with all families welcome.
The North Dakota Veterans, Memorial/Reunion and Honor Ride activities:
Friday the 17th, there will be a social hour at 5-p.m.,  and the All North Dakota Veterans Steak Fry at 6-p.m, with live music by Joe Schmidt.  Additional entertainment by School of Rock.
A Silent Auction and Cash Bar.  Must be 21 or older to enter designated alcohol  sales premises.
Tickets are $20.  There will be 2 $500 cash prizes, and 6 $250 cash prizes.
Proceeds to for memory and honor of soldiers, and toward the Honor Flights.
Saturday the 18th Activities Schedule:
Jamestown Civic Center
8am-10am Free will offering Pancake Breakfast, served by the Sonshine Riders
8-a.m. – 11-a.m. Registration for the Honor Ride
11-a.m.,  Honor ride leaves Civic Center heading to the Lisbon Veterans Home, having lunch and returning to the Jamestown Civic Center.
Transportation available for non-riders, cars are welcome to join.
5:30pm Free meal for Honor Ride Participants and families of fallen
7-pm Music by School of Rock.
Cash Bar all evening. Must be 21YOA to enter designated alcohol sales premises.  The  Silent Auction and Raffle will be held assisted by the Cub Scouts.
The Patriot Guard attends funeral services of fallen American heroes as invited guests of the family.
They show support for the heroes, families, and their communities.  When necessary they also act as a barrier or shield for the mourning families and friends, from protestors.  They do so through legal and non-violent means.
For more on the North Dakota Patriot guard on line go to ndpg.org
Ellendale  (Sen. Heitkamp's Office)   – U.S. Senator Heidi Heitkamp Thursday, spoke at Xcel's Foxtail Wind Farm groundbreaking ceremony near Ellendale that will support good paying wind energy jobs and deliver affordable power to communities across the region.
Heitkamp spoke about the importance of wind energy as part of a true all-of-the-above energy strategy and congratulated Xcel on this new wind farm that shows the continued growth of wind energy development across the state. In total, Xcel Energy's proposals will develop 1,850-megawatts of wind energy across North Dakota, Minnesota, South Dakota, and Iowa with 150-megawatts coming from the Foxtail Wind Farm, and it will power about 80,000 homes.
She also visited an Otter Tail Power Company and NextEra Energy Resources wind farm near Edgeley in October 2014.
Valley City  (KVLY)  A preliminary autopsy states that cause of death of a Valley City man arrested for DUI was delayed consequences of a broken neck, but it's unknown how the injury occurred.
72-year-old Warren Lindvold died six days after he was arrested for a DUI by Valley City police on July 15th.
While in jail, Lindvold complained of back pain. Lindvold had ankylosing spondylitis, a type of arthritis where there is long term inflammation of the joints of the spine. To help with the condition, Lindvold's spine had previously been fused – leaving him unable to turn his neck. He was taken to Mercy CHI Health in Valley City, North Dakota where he was "medically cleared" and was taken back to the Barnes County Correctional Facility.
The next morning, Lindvold was found down in his cell and was transported to Sanford Medical Center in Fargo. There he was found to have a broken neck. He underwent surgery, but his condition deteriorated and he later died.
Valley News Live received dashcam footage of the night of Lindvold's arrest available on their web site.
Valley City  (CSi)  The North Dakota Highway Patrol reports, a car semi accident on Thursday at 4:40-p.m., on I-94 six miles west of Valley City led to property
The report says  a Volvo towing a flatbed trailer driven by 52 year old Raymond Hilgers of Barnesville, Minnesota, had merged into the right lane of eastbound I-94 from the shoulder. The Kenworth operated by 21 year old Jacob Sperr of Donnelly, Minnesota was eastbound on I-94 and approached the Volvo from the rear, rear ending the trailer being towed by the Volvo. After the collision, the Volvo stopped on the eastbound shoulder of I-94. The Kenworth came to rest on the eastbound shoulder as well, partially blocking the right lane of eastbound I-94
Both drivers refused medical treatment. Sperr was cited on scene for Following Too Close. The right lane of eastbound I-94 was closed for about 45 minutes while the vehicles were removed.
The Barnes County Sheriff's Office assisted at the scene.
Carrington  (KVLY)  Carrington man is facing up to a possible 105 years in prison if found guilty on  20 charges.
56 year old Brian John Wagner  was arrested Tuesday morning, after a search of his home by the  Foster County Sheriff's Office with obtained warrants from the Drug Task Force.
The search located  drugs and cash.
Oakes  (KVLY)  An Oakes man faces felony assault and drug charges stemming from a domestic incident in town last weekend.
A criminal complaint alleges 30 year old Francisco Eugenio Bethancorth assaulted and choked his sister in an apartment the night of August 4, resulting in the sister sustaining bruises and temporary unconsciousness. Authorities say they later found a baggy in the apartment which contained cocaine and "several devices' used to ingest the drug.
Bethancorth has been assigned a court-appointed attorney, remains in the Barnes County Jail in Valley City, and is due back in Dickey County District Court in Ellendale September 11.
He plead guilty last December to a charge of False Information or Report to Law Enforcement. Records show he failed to register as a sex offender in Oakes after moving from Oregon.
FARGO, N.D. (AP) — The former general manager of an events center in Fargo is accused of embezzling from the business.
The Cass County State Attorney's Office has charged Richard Pallay with felony theft. Pallay was the first general manager of Sanctuary Events Center developed by Gov. Doug Burgum's Kilbourne Group. KFGO says he was fired in January.
Police say Pallay embezzled nearly $17,000 while Sanctuary management puts the amount at more than $19,000.
Authorities say Pallay used the money for gambling and entertainment.
BISMARCK, N.D. (AP) — A Fort Totten man serving life in prison for a killing on the Spirit Lake Indian Reservation two years ago has lost an appeal.Dallas Thundershield was convicted of fatally stabbing 52-year-old Richard DeMarce in the heart on April 9, 2016, and critically injuring another man. Authorities said he used his vehicle, his booted foot and a knife as weapons during a fight.Thundershield appealed to the 8th U.S. Circuit Court of Appeals, arguing that evidence in the case was insufficient and that the district court erred by allowing evidence of a prior conviction in tribal court.Appeals court judges rejected the arguments, saying in part that "the evidence against Thundershield was overwhelming on all counts." 
BISMARCK, N.D. (AP) — Gov. Doug Burgum has appointed Bismarck attorney and former North Dakota solicitor general Doug Bahr to a judgeship in the South Central Judicial District.Bahr succeeds the retired Sonna Anderson. He begins his duties Sept. 1, with his chambers based in Bismarck.Bahr has nearly three decades of experience in the legal realm, including more than 25 years in state government. He's currently with a private law firm. He holds a law degree from the University of South Dakota.The South Central Judicial District includes nine counties, including Burleigh and Morton. 
BISMARCK, N.D. (AP) — Republican Secretary of State Al Jaeger has turned in signatures to his own office to be placed on the November ballot as an independent candidate.
Will Gardner beat Jaeger for the GOP endorsement for the seat but withdrew after news surfaced of a 2006 disorderly conduct conviction for peeping through windows at the North Dakota State University women's dorm.
Jaeger needs 1,000 valid signatures to be placed on the ballot. He says he turned in more than 1,300 signatures on Thursday. His office is tasked with certifying the signatures. Jaeger says he will have no part in that process.
The November ballot will not list a Republican candidate.
Fargo Rep. Josh Boschee is the Democrat's endorsed candidate for the seat.
BISMARCK, N.D. (AP) — A proposal to expand a natural gas processing plant in northwestern North Dakota aims to keep up with growing volumes of Bakken gas production and reduce wasteful flaring.
Kinder Morgan has filed an application with the state Public Service Commission to expand the Roosevelt Gas Plant in McKenzie County, The Bismarck Tribune reported . The expansion would add 150 million cubic feet per day of processing capacity at the plant.
Companies in North Dakota flared more than 400 million cubic feet per day of natural gas in May, according to the Department of Mineral Resources. The state produced 2.3 billion cubic feet per day of natural gas that month, and those volumes are projected to continue increasing to eventually exceed 4 billion cubic feet per day, according to Justin Kringstad, director of the North Dakota Pipeline Authority.
The Kinder Morgan proposal estimates the expansion will cost $150 million. Operations could begin by November 2019, pending regulatory approvals.
The Public Service Commission will need to approve the expansion. A public hearing on the proposal hasn't been scheduled.
BISMARCK, N.D. (AP) — Republican members of North Dakota's congressional delegation say U.S. Energy Secretary Rick Perry is scheduled to tour the state's biggest coal mine and adjacent power plant next week.North Dakota Sen. John Hoeven and Rep. Kevin Cramer say the former Texas governor is scheduled to tour North American Coal's Falkirk Mine and Great River Energy's Coal Creek power station near Underwood in west-central North Dakota.Hoeven and Cramer say Perry also is participate in discussions with local energy officials.North Dakota has six coal-fueled electric power plants and a factory that produces synthetic natural gas from low-grade lignite coal. The state's lignite mines in west-central North Dakota produce close to 30 million tons of fuel annually.
BISMARCK, N.D. (AP) — North Dakota Democratic Sen. Heidi Heitkamp and her Republican challenger, Rep. Kevin Cramer, are filling the airwaves with campaign ads arguing who is a better friend to veterans.
Veterans are a key constituency in North Dakota, representing almost 9 percent of the population.
Earning their support is pivotal for the Senate seat Heitkamp won six years ago by fewer than 3,000 votes in the deeply conservative state.
North Dakota Veterans Affairs Commissioner Lonnie Wangen says the attack ads have been disappointing and unfair. He says both Cramer and Heitkamp have been strong advocates for veterans and the military.
Eighty-two-year old Army veteran Les Linssen says he's tired of the politicians attacking each other. He says he's glad he has a mute button on his TV.
TIOGA, N.D. (AP) — The U.S. Equal Employment Opportunity Commission has filed a lawsuit in North Dakota accusing a petroleum company of subjecting a black employee to racial harassment.
According to the lawsuit, Derrick Jenkins worked for Murex Petroleum Corp. from April to September 2014 at its Tioga facility. The EEOC says Jenkins' co-workers directed racial slurs at him and made racially derogatory comments. It says Jenkins' supervisor witnessed the harassment, but did nothing about it.
The lawsuit says another African-American employee complained to a high-level executive at the company about the harassment, but no action was taken. The EEOC is seeks compensatory and punitive damages in the case.
A spokeswoman for Murex Petroleum, based in Houston, Texas, did not immediately return a call for comment.
In sports…
VALLEY CITY, N.D. (VCSU) – Valley City State University athletic director Jill DeVries announced today that Daniel Scheff has been hired as head coach of the university's track and field and cross country programs. 
A former runner at St. Cloud State University, Scheff takes over the Viking programs after five seasons as an assistant coach for the University of Wisconsin-Stout, an NCAA Division III school in Menomonie, Wis. He officially starts his duties at VCSU on Monday, Aug. 13.
"We are pleased to welcome Daniel to the Viking family," said DeVries. "During his time at Stout, Daniel has demonstrated an ability to recruit student-athletes who are successful in the classroom and in competition."
Scheff was an assistant coach for both the cross country and track and field programs at UW-Stout. He also served as the recruiting coordinator, developing and implementing a nationally successful recruiting campaign. On the track, he specialized in coaching athletes in the sprints, hurdles and relays. While at Stout he coached five national qualifiers and two All-Americans in those events.
Prior to his time at Stout, Scheff was a graduate assistant coach for two years at the University of Northern Colorado, working with student-athletes in all events. From 2007-11, Scheff was head coach of the cross country, track and field and nordic skiing teams at Math and Science Academy in Minnesota. The track and field and skiing programs were brand new teams that Scheff was tasked with starting and building from scratch.
In the opening-round  of the Class AA state amateur baseball tournament.
Jamestown Greyhound 10
Fairview 0
Jamestown  plays Tolna  Saturday at noon, seeking a state title in 3 of the past 4 seasons.
Also on Saturday…
Cass County goes up against  Valley City, at 10-a.m.
American Association….
Sioux Falls 3, Fargo-Moorhead 1
MLB…
UNDATED (AP)— Michael Brantley's RBI single in the bottom of the ninth gave the Indians a 5-4 victory over Minnesota and an 11-game lead over the Twins in the AL Central. Francisco Lindor had three RBIs for Cleveland, one night after his three-run, walk-off homer completed a 5-2 win against the Twins. Jorge Polanco tied the game with a three-run blast in the sixth inning of his first game since completing an 80-game suspension for violating baseball's drug program.
— The Milwaukee Brewers wasted a great opportunity to inch closer to first place in the NL Central.
The Brewers led 4-2 yesterday until Corey Knebel (kuh-NAY'-bul), Joakim Soria (SOHR'-ee-uh) and Jacob Barnes combined to allow six runs in the ninth inning of an 8-4 loss to the Padres. Hunter Renfroe delivered a go-ahead grand slam off Soria, one batter before Franmil Reyes went deep against Barnes.
Jonathan Schoop (skohp) hit a two-run double and came around to score on Lorenzo Cain's single later in the fourth inning, putting the Brew Crew ahead, 4-1.
The outcome drops the Brewers two games behind the division-leading Chicago Cubs.
Checking out yesterday's other major league action:
— The Dodgers' 8-5 win at Colorado puts Los Angeles in a first-place tie with Arizona in the NL West, 3 ½ games ahead of the Rockies. The game was tied 5-5 in the ninth until Chris Taylor and Brian Dozier homered. Cody Bellinger, Joc Pederson and Max Muncy also went deep for the Dodgers, who trailed 5-3 following Chris Ianetta's (eye-ah-NEH'-tuhz) two-run blast in the seventh.
— The Phillies' lead in the NL East is one game over Atlanta following the Braves' 6-3 loss at Washington. Gio Gonzalez allowed one run and six hits over seven innings for his first win since May 28, helping the Nats pull within 5 ½ games of the NL East lead. Anthony Rendon (rehn-DOHN') and Daniel Murphy each had two hits and an RBI as the Nationals gained a split of the four-game series.
— Mitch Haniger, Denard Span and Jean Segura homered off Justin Verlander while the Mariners built a 6-0 lead over the first two innings of an 8-6 victory at Houston. James Paxton pitched into the sixth inning and helped Seattle get within 2 ½ games of Oakland for the second AL wild-card berth. Marwin Gonzalez and Tyler White drove in two runs apiece for the Astros, whose lead in the AL West is 4 ½ games over Oakland.
— Randal Grichuk (GRIH'-chuhk) slammed a two-run homer and had three RBIs as the Blue Jays ended the Red Sox's six-game winning streak, 8-5. Teoscar (tay-AHS'-kur) Hernandez also homered and Justin Smoak was 3-for-4 with two RBIs to help Toronto stop a three-game skid. J.D. Martinez belted his major league-leading 35th home run and Mookie Betts hit for the cycle, but Boston's lead in the AL East dropped to eight games over the Yankees.
— Neil Walker hit two of the Yankees' five home runs in their fourth consecutive win, 7-3 against the Rangers. Giancarlo Stanton slammed his 28th home run, Aaron Hicks hit his 20th and Miguel Andujar (an-DOO'-hahr) added his 16th. J.A. Happ came off the disabled list and allowed three runs and four hits while striking out nine over six innings to improve to 12-6.
— David Freese (freez) crushed a three-run homer and Ivan (ee-VAHN') Nova allowed two runs over six innings of the Pirates' 10-5 drubbing of San Francisco. Pittsburgh also received second-inning homers by Elias Diaz and Josh Bell in earning its third straight win and moving four games behind Atlanta for the second NL wild-card berth. Joe Panik (PAN'-ihk) and Steven Duggar drove in two runs apiece for the Giants, who have dropped three straight and 13 of 20 since getting within three games of the NL West lead.
— Jake Bauers provided a go-ahead, two-run single in the seventh to lift the Rays over the Orioles, 5-4. Bauers had three RBIs and Ji-Man Choi homered after Baltimore grabbed a 3-0 lead.
MLB-NEWS
Jansen hospitalized with irregular heartbeat
UNDATED (AP) — Dodgers closer Kenley Jansen is scheduled for more tests after going to a Denver hospital for an irregular heartbeat before yesterday's game against the Rockies.
Jansen has dealt with an irregular heartbeat in the past. Manager Dave Roberts said the right-hander will visit his cardiologist in Los Angeles, adding that the team is holding out hope that Jansen's condition isn't serious.
In other MLB news:
— Seattle's Felix Hernandez has lost his spot in the rotation in the wake of his latest terrible start. Hernandez has a career-high 5.73 ERA this season and is 0-4 in his last five starts. He surrendered a career-high 11 runs – seven earned – on eight hits over six innings during Tuesday's start against the Rangers.
— Indians outfielder Leonys Martin has been placed on the 10-day disabled list with a non-baseball condition. Martin became sick Tuesday night and didn't play Wednesday night against the Minnesota Twins. Martin is batting .333 with two home runs and four RBIs in six games since being acquired from Detroit at the trade deadline.
— The Red Sox have moved struggling left-hander Drew Pomeranz to the bullpen and will keep right-hander Brian Johnson in the rotation once ace lefty Chris Sale returns from the disabled list. Pomeranz is 1-5 with a 6.31 ERA this season and is winless in eight starts since a May 2 victory over Kansas City. Johnson worked a season-high seven innings in winning his second straight start last night in Toronto.
PGA CHAMPIONSHIP
ST. LOUIS (AP) — Gary Woodland started slowly before taking the first-round lead at the PGA Championship in St. Louis.
He fired a 6-under 64 that gives him a one-stroke lead over Rickie Fowler. Woodland was 1-over before making birdie at the par-5 eighth. He also birdied the next hole and added five more on the back nine to pass Fowler, who emerged as the early leader.
Brandon Stone and Zach Johnson are two shot back and one ahead of world No. 1 Dustin Johnson, who was tied atop the leaderboard before faltering late in his round.
Tiger Woods is six off the pace following an even-par 70.
Meanwhile, Golfweek is reporting the PGA of America is trying to regain control of computer servers that have kept officials from accessing files for the PGA Championship.
The magazine says on its website that PGA staff members discovered their systems had been compromised when attempts to access files generated a message that the network had been penetrated and that any attempt to break the encryption could cause files to be lost.
ANTHEM DEMONSTRATIONS
UNDATED (AP) — Player demonstrations took place during the national anthem at several early NFL preseason games Thursday night.
In Philadelphia, Eagles safety Malcolm Jenkins and cornerback De'Vante Bausby raised their fists during the anthem, and defensive end Chris Long placed his arm around Jenkins' shoulder. Jenkins had stopped his demonstration last December.
Defensive end Michael Bennett walked out of the tunnel during the anthem and walked toward the bench while it played. It appeared all the Steelers stood.
At Miami, Dolphins receivers Kenny Stills and Albert Wilson and defensive end Robert Quinn protested during the anthem. Stills and Wilson kneeled behind teammates lined up standing along the sideline. Quinn stood and raised his right fist. There were no apparent protests by the Buccaneers.
NFL-NEWS
UNDATED (AP)— The Minnesota Vikings say left guard Nick Easton's neck injury has landed him on the injured reserve list, likely ending his season. Coach Mike Zimmer says Easton has a bulging disc in his neck. He hasn't practiced since Aug. 3. Easton started 12 games in 2017.
— The first two picks in this year's NFL draft looked pretty good in their professional debuts at the Meadowlands.
First overall choice Baker Mayfield was 11 of 20 for 212 yards and two touchdowns to help the Cleveland Browns beat the New York Giants, 20-10. He finished his debut with a completion on a 54-yard slant and run to fellow rookie Antonio Callaway.
Giants running back and second overall pick Saquon Barkley took a handoff from Eli Manning on the opening play from scrimmage and turning no apparent hole into a 39-yard run down the sideline in front of the Giants' bench. The Penn State running back finished with 43 yards on five carries.
Callaway played despite being cited for marijuana possession and driving with a suspended license last weekend.
In other NFL news:
— Three Seattle Seahawks players ran into the tunnel leading to the team's locker room prior to the national anthem. Defensive linemen Branden Jackson and Quinton Jefferson, and offensive lineman Duane Brown left the field following team introductions and before the start of the anthem. They returned to the sideline immediately after it concluded.
— Kenny Stills and two other Miami Dolphins protested during the national anthem before their exhibition game against the Buccaneers. Receivers Stills and Albert Wilson kneeled behind teammates lined up standing along the sideline. Defensive end Robert Quinn stood and raised his right fist, as he did during the anthem last season with the Los Angeles Rams.
— In Philadelphia, Eagles safety Malcolm Jenkins and cornerback De'Vante Bausby raised their fists during the anthem, and defensive end Chris Long placed his arm around Jenkins' shoulder. Jenkins had stopped his demonstration last December.
COLLEGE FOOTBALL-NEWS
LSU linebacker Taylor implicated in burglary, suspended
UNDATED (AP) — LSU has suspended sophomore linebacker Tylor Taylor, apparently after learning he'd been arrested about two months ago in connection with a firearms theft from a pawn shop in Georgia.
An official university statement says only that the suspension stems from a violation of team rules. However, police records in Cumming, Georgia, show that authorities suspect Taylor drove four suspected burglars to and from the pawn shop where the theft occurred on Jan. 8.
The 6-foot-2, 242-pound Taylor played in all 13 LSU games last season, starting five.
Also in college football:
— The first College Football Playoff rankings of the season will be released Oct. 30 and the four-team field will be set Dec. 2, the Sunday after conference championship games are played. The selection committee's top 25 will be revealed on ESPN each Tuesday for five weeks, starting the day before Halloween.
COLLEGE BASKETBALL-WAKE FOREST-COACH
Deacons coach kills man with punch
UNDATED (AP) — Police say a Wake Forest assistant basketball coach threw a punch that killed a New York City tourist who knocked on his car window thinking it was his Uber ride.
Police say Jamill Jones confronted Sandor Szabo on a Queens street around 1:15 a.m. Sunday. They say the punch caused Szabo to fall and hit his head on a sidewalk.
The 35-year-old Jones was arrested Thursday and charged with assault before pleading not guilty.
Elsewhere in college basketball
— Michigan assistant coach Saddi Washington says coach John Beilein (BEE'-lyn) is doing well in his recovery from a double-bypass heart procedure. Washington didn't give too many details about Beilein before Thursday's practice. Washington is serving as interim coach for the time being. Beilein's operation took place Monday at the University of Michigan's Samuel and Jean Frankel Cardiovascular Center.
HOCKEY HALL OF FAME
Predators GM Poile tops US Hockey Hall of Fame class
UNDATED (AP) — Nashville Predators general manager David Poile headlines the class of the U.S. Hockey Hall of Fame.
Poile has run an NHL team the past 36 seasons, including 15 with the Washington Capitals and 21 with the Predators. He has the most victories of any GM in league history.
Former University of Michigan coach Red Berenson, star forward Natalie Darwitz, retired NHL referee Paul Stewart, and the late Leland "Hago" Harrington will be inducted on Dec. 12 at a ceremony in Nashville, Tennessee.
In other hockey news:
— The Coyotes have signed center Christian Dvorak (duh-VOHR'-ak) to a six-year, $26.7 million extension through the 2024-25 season. The 22-year-old Dvorak was Arizona's third-leading goal scorer with 15 last season and fifth in points with 37.
In world and national news…
TAOS, N.M. (AP) — A well-known New York City imam says he doesn't know his 40-year-old son to be "radical." Siraj Wahhaj's son and two daughters are among five adults being held in New Mexico following the discovery of 11 children living on a squalid compound. Authorities say the son was found armed with multiple firearms, and the remains of a small child also were found on the compound.
ALEXANDRIA, Va. (AP) — Prosecutors expect to rest their case Friday in the trial of former Trump campaign chairman Paul Manafort. Prosecutors Thursday presented a bank official and Manfort emails as they sought to show he obtained millions of dollars in bank loans under false pretenses. Manafort is charged with bank fraud and tax evasion.
LAKE ELSINORE, Calif. (AP) — California's governor has declared a state of emergency for Orange and Riverside counties as a four-day-old fire carves its way along ridges and hillsides of the Cleveland National Forest. Evacuation orders are in effect for more than 20,000 people south of Los Angeles. Thousands of homes are threatened by fire in the foothills above Lake Elsinore and nearby communities.
MATARAM, Indonesia (AP) — A wave of aftershocks on Indonesia's Lombok island is fueling a sense that the crisis from a powerful earthquake last weekend is far from over _ and that the worst may be yet to come. Officials have recorded a staggering 450 aftershocks since Sunday's magnitude 7.0 quake killed hundreds of people and displaced 270,000. Before that, another strong earthquake on July 29 killed 16. "It never stops," said Jami-ah, who was injured by a strong aftershock. "I'm afraid the next earthquake will kill me."
TOPEKA, Kan. (AP) — Kansas Secretary of State Kris Kobach says he'll make the "symbolic" move of removing himself from further vote counting following Tuesday's Republican primary. Kobach is leading incumbent Gov. Jeff Colyer by a slim margin, and the margin is tightening. Colyer demanded that Kobach stop advising county election officials, who are in charge of the vote counting.