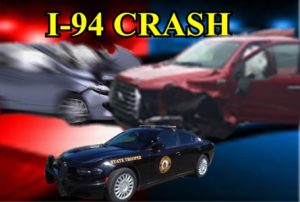 Valley City  (CSi)  The North Dakota Highway Patrol reports, a car semi accident on Thursday at 4:40-p.m., on I-94 six miles west of Valley City led to property damage.
The report says  a Volvo towing a flatbed trailer driven by 52 year old Raymond Hilgers of Barnesville, Minnesota, had merged into the right lane of eastbound I-94 from the shoulder. The Kenworth operated by 21 year old Jacob Sperr of Donnelly, Minnesota was eastbound on I-94 and approached the Volvo from the rear, rear ending the trailer being towed by the Volvo. After the collision, the Volvo stopped on the eastbound shoulder of I-94. The Kenworth came to rest on the eastbound shoulder as well, partially blocking the right lane of eastbound I-94
Both drivers refused medical treatment. Sperr was cited on scene for Following Too Close. The right lane of eastbound I-94 was closed for about 45 minutes while the vehicles were removed.
The Barnes County Sheriff's Office assisted at the scene.