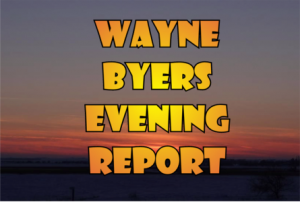 CSi Weather…
.TONIGHT…Clear. Patchy smoke. Lows in the lower 60s. Southeast winds around 5 mph.
.SATURDAY…Sunny. Patchy smoke. Highs in the lower 90s. South winds 5 to 15 mph.
.SATURDAY NIGHT…Clear. Patchy smoke. Lows in the upper 60s.
South winds around 10 mph.
.SUNDAY…Sunny. Patchy smoke. Highs in the mid 90s. South winds
10 to 15 mph.
.SUNDAY NIGHT…Clear. Lows in the upper 60s.
.MONDAY…Sunny. Highs in the upper 80s.
.MONDAY NIGHT…Partly cloudy with chance of rain showers and
slight chance of thunderstorms. Lows in the upper 50s. Chance of
precipitation 30 percent.
.TUESDAY…Mostly sunny. Highs in the mid 70s.
.TUESDAY NIGHT…Mostly clear. Lows in the mid 50s.
.WEDNESDAY…Sunny. Highs in the upper 70s.
.WEDNESDAY NIGHT…Partly cloudy. A 20 percent chance of rain
showers and thunderstorms after midnight. Lows in the upper 50s.
.THURSDAY…Sunny. Highs in the mid 80s.
Wildfire smoke from Canada will linger over the area through
Saturday morning. Additionally thunderstorms are possible as a
cold front moves through the area Monday night into Tuesday.
Near record temperatures are forecast for both Saturday and Sunday:
Station       Saturday`s high        Sunday`s high
record   forecast      record    forecast
Williston…..102      101           102       103
Dickinson…..102      100           102       102
Minot………101      101           101       103
Bismarck……104      101           102       102
Jamestown…..103       93           102        95
A cold front moves southeast slowly across the state Monday, with
a chance of thunderstorms developing along the front mainly Monday
evening and night.
Jamestown  (CSi)  Jamestown City Fire Chief, Jim Reuther reports that  on July 20, 2018, at approximately 9:23 AM, the Jamestown Fire Department in conjunction with the Jamestown Police Department responded to a report of a fire at 1008 7th Ave SE (Single Family Dwelling), Jamestown. When emergency crew arrived on scene they found heavy smoke coming from the vents of the structure.
Person (occupant) checked for smoke inhalation at the scene.
The structure received approximately $75,000.00 worth of damage.
Police and Fire Investigators began an investigation into the fire and have determined that there is a high probability that this is an intentionally set fire in nature. This investigation is ongoing.
If you have information about this crime, contact the Jamestown Police Department at 701-252-2414 or the Jamestown Fire Department 701-252-1441
Jamestown  (CSi)  The community is invited to help celebrate the career of Becky Thatcher-Keller, as she retires from 25 year of economic development service to regional communities on Tuesday August 21 from 2-4-p.m.
The celebration will be at the JSDC/Chamber, lower level conference room.
For the past four years Becky has been the Jamestown Area Chamber of Commerce Executive Director.
Succeeding her in the Chamber post will be Emily Bivens.
Airport Business Park Construction
Bismarck  (NDDOT)  Construction began Friday on eastbound I-94 from reference point 221 to 240 near Medina. The projects consists of pavement repair work.
During construction:
Eastbound I-94 will be reduced to one lane in the work zone
Speeds reduced
A width restriction of 14 feet will be in place
Flaggers will be present
The project is expected to be complete in late August.
The NDDOT would like to remind motorists to use caution through the work zone, slow down and minimize distractions while driving through construction zones. For more information about construction projects and road conditions throughout North Dakota, call 511 from any type of phone or visit the Travel Information Map on the NDDOT website at  http://www.dot.nd.gov/travel-info-v2/.
BISMARCK, N.D. (AP) — Supporters of changing the North Dakota Constitution to explicitly bar non-U.S. citizens from voting have gathered enough signatures to get it on the ballot.The amendment's supporters needed almost 27,000 signatures from voters to put the measure on the November ballot.Secretary of State Al Jaeger (JAY'-gur) on Friday announced that more than 32,000 were accepted.Gary Emineth, a state Senate candidate in Bismarck, submitted more than 35,000 signatures to the secretary of state's office last month for review.The state constitution already defines a voter as a U.S. citizen. But Emineth says the wording is "ambiguous" and another section is proposed for clarity.
BISMARCK, N.D. (AP) — North Dakota Gov. Doug Burgum is clarifying remarks he made to President Donald Trump about the rate of addiction among the state's inmates.
Trump met with some governors and state attorneys general in New Jersey Thursday to discuss prison reform.
Burgum told Trump that "100 percent of the women" and "85 percent of men" in North Dakota's prison system have the "disease of addiction."
Burgum spokesman Mike Nowatzki says the Republican governor meant to say that in some months, all women and up to 85 percent of men who enter the prison system suffer from addiction. Nowatzki says a corrected statement is being sent to the White House.
Nowatzki did not know the actual percentage of inmates who suffer from some form of addiction.
BISMARCK, N.D. (AP) — North Dakota's health department says it has received 19 applications to open medical marijuana dispensaries in Fargo and Bismarck.
The health department says eight of the applications are for the Bismarck/Mandan area and 11 are for Fargo. WDAY-TV reports the application period for those two regions ended Tuesday.
Health department officials expect to select the dispensaries around Sept. 21 and the plan is to have the businesses open by mid-2019.
Voters legalized medical marijuana in 2016. The health department designated eight zones across the state where the dispensaries can operate and the application process is being staggered.
NEW TOWN, N.D. (AP) — The family of an American Indian woman who went missing in North Dakota for nine months before her body was found in a lake wants to help develop a comprehensive missing person protocol for tribes.
Thirty-two-year-old Olivia Lone Bear went missing on the Fort Berthold Reservation last October. Her body was found earlier this month in a pickup truck pulled from Lake Sakakawea.
The FBI is investigating what happened to the mother of five children.
Brother Matthew Lone Bear says it's difficult in Indian Country to launch a missing person investigation. The family wants to help streamline the process.
North Dakota Indian Affairs Commissioner Scott Davis tells the Bismarck Tribune that his office plans to discuss drafting missing person guidelines for tribes and other ways to improve searches.
FARGO, N.D. (AP) — Wheat production in North Dakota is forecast to be up dramatically from last year's drought-plagued crop.The latest forecast from the federal Agriculture Department puts the durum wheat crop up 31 percent to about 38 million bushels, the spring wheat crop up 50 percent to 312 million bushels and the winter wheat crop more than double at 2.8 million bushels.Production of barley, oats, corn, soybeans and alfalfa hay also is projected to be up from 2017. Production of dry beans is expected to be down, and the sugar beet crop appears relatively stable at down just 2 percent.
In sports…
BISMARCK, N.D. (AP) — A reprieve from drought this summer in North Dakota is good not only for farmers but also duck hunters.
The Game and Fish Department says duck broods in the state are up 37 percent from last year.
The outlook wasn't so bright last spring, when a department survey estimated the number of breeding ducks was down 5 percent from 2017 due mainly to the deterioration of wetlands during last summer's drought.
But Mike Szymanski (shuh-MAN'-skee) with Game and Fish says most of the state received abundant rainfall from late May through early July.
The amount of water available to ducks in the state is up 11 percent from 2017. Last summer, the amount was down 38 percent from the previous year, as smaller, seasonal wetlands dried up during the drought.
In world and national…
JERUSALEM (AP) — Israel's military says its forces have struck a Hamas position in Gaza after Palestinians rallying at the Gaza border threw a grenade and explosive devices at troops stationed there. The violence came as Gaza's militant Islamic Hamas rulers and Israel had been honoring a cease-fire. Hamas has led weekly border protests aimed in part at drawing attention to the Israeli-Egyptian blockade imposed after Hamas took control of Gaza.
TOPEKA, Kan. (AP) — Secretaries of state from middle America aren't generally household names. Kansas' Kris Kobach is the exception. The Republican is in a too-close-to-call race for the nomination for governor. Kobach holds a lead of just 121 votes out of 311,000 cast in Tuesday's primary. Despite holding what is usually a low-profile state post, Kobach has a national following, thanks to his tough stance on immigration and his push for stricter voter ID laws.
ANKARA, Turkey (AP) — Turkey's trade minister says Turkey is "deeply disappointed" by the decision of U.S. President Donald Trump's administration to double steel and aluminum tariffs on imports from Turkey. Ruhsar Pekcan said in a statement the move would not only have an impact on Turkey but affect U.S. companies as well. She called on Trump to return to the negotiating table, saying "this can and should be resolved through dialogue and cooperation."
FREDERICTON, New Brunswick (AP) — Police in Canada say there is no further threat to the public after four people were killed in a shooting in the eastern province of New Brunswick. A lockdown is over, but no motive for the incident was given. Local health authorities said the Dr. Everett Chalmers Regional Hospital is treating multiple people. Earlier on Friday, Fredericton police said that two of those killed were police officers.
LAKE ELSINORE, Calif. (AP) — Teresita Reyes and her husband are among some 20,000 people under evacuation orders in Southern California as a forest fire swept through foothill neighborhoods. The 51-year-old state health inspector says she had to leave a friend's wedding Wednesday to pack another suitcase of clothes and grab her passport. She says she and her husband were on edge after learning the arson fire reached about a half mile (0.8 km) from their Lake Elsinore home.