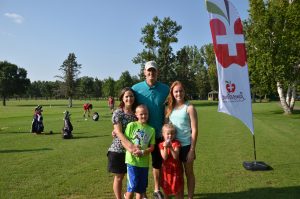 Jamestown  (JRMC)  — A child who dies in the womb knows only its parents love. He knows no pain.
Those were the words of the Rev. Jeffrey Wald, St. James Basilica, at Jamestown Regional Medical Center's GOLF "fore" ANGELS event on Aug. 4.
"We will always be a parent to that child – whether in our arms or in our hearts as angels in heaven," he said.
The 9-hole ANGELS tournament benefits infant bereavement care at JRMC.
Every year, families experience the loss of an infant due to an unexpected circumstance. The Dr. Mandy and Dave Sorlie ANGELS fund helps pay medical bills for those parents through the JRMC Foundation. The fund is available to anyone who experiences infant loss at JRMC at the gestation of 16 weeks or greater up to 4 months of age due to unavoidable circumstances.
ANGELS stands for Advocating for Neonatal Grief and Early Loss Support (ANGELS). ANGELS grant amounts and recipients are determined by the availability of funds. The grant covers the labor and delivery charges after insurance payments. On average, families that have insurance would otherwise have to pay more than $1,500 for these medical services. ANGELS removes this financial burden and helps families grieve.
Since it started three years ago, ANGELS has helped 10 families.
"It is a wonderful feeling to be surrounded by people who care so deeply about others who experience the loss of a child," said JRMC Foundation Director Lisa Jackson. "GOLF 'fore' ANGELS support is in remembrance of our angels."
In 2017, the tournament raised about $9,000. This year, the tournament raised $12,700 thanks to the support of more than 20 teams – the biggest in the ANGELS event history.
Tournament results:
Tourney Winners (Lowest Gross Score)

Ulland Team
Moser Team
Sorlie Team

50/50 Cash Raffle: Mary Meyer. She donated it back to the fund.
Dustin Jensen had a hole in one on #12
Hole 10: Ladies Longest Drive: Katie Dumphy
Hole11: Longest Putt Gary Weis
Hole 12: Closest to the Pin: Dustin Jensen
Hole 14: Par 3 Speed hole completed by the Wanzek team in 1.28 minutes
Hole 15: Men's Longest Drive: Dustin Jensen
Hole 16 Shortest Drive: Sara Odin
Hole 17 Longest Drive: Skyler Oberlander
Hole 18 Closest in 2: Eric Volk
Sponsors:
Angel

Mandy and Mr. Dave Sorlie Family
Timothy Volk, in memory of Capri
Nill Construction, in memory of Adam Lee Nill

Advocate

Sanford Health
Reis Above Aviation
Jason & Meghan Braun Family
Jamestown Country Club
Zen Sleep Consulting Annie Schlecht, in honor of my sleeping angel, Kyan. Auntie loves you.

Hole

Essentia Health
Sue & Jim Matthiesen in loving memory of Tenley Elizabeth Henning; Mike & Erin's Angel
Two Rivers Printing
Jory & Missy Hansen Family in memory of Hayden & Kade
Collins Family in memory of Julie Ann Collins
Collins Family in memory of Claire Karen Patnaude
The Medicine Shoppe
Triumph Inc.
Ryan, Jess & Gavin Skjeret
Kent & Jeanne Sortland
Dale & Wendy Thompson in memory of Kyan Lauby, # 9
Not There But Still Care

Steve & Amie Aesoph
Gary & Marit Petrek
Reuben & Clarice Liechty
Deb Bitz
Cara Schagunn-Lere
Wanda Walker in memory of Kami Jo Walker
Brandi Dockter in memory of Johanna Rae Dockter
Steve and Rosi Suko
Sarah Schatz McGale and Mr. Thomas McGale
Rory Timm
Learn more at www.jrmcnd.com/giving.
About Jamestown Regional Medical Center
Jamestown Regional Medical Center is located at 2422 20th St. SW, Jamestown, N.D. and serves approximately 55,000 people in nine counties. In 2018, it was named a "Top 100 Critical Access Hospital" as well as a "Best Places to Work in Healthcare."  For more information, visit www.jrmcnd.com or call (701) 952-1050.