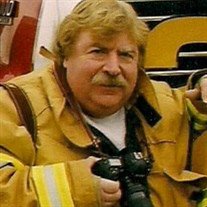 Larry Phillips  April 10, 1948 – Sept. 12, 2018
Lawrence (Larry) Earl Phillips, 70, of Jamestown, ND, beloved Father and Brother, was called to his eternal resting place on September 12, 2018. He entered this world on April 10, 1948 in New York City, NY, born to Arthur and Peggy Phillips. He is survived by his daughters Sarah Galbraith (Frank Galbraith) and Erin Phillips (Jill Gerszewski); brother Art Phillips.Jr. (Mary Ann Phillips).
Schools included Northedge School in Long Island, NY, Central High School in Fargo, and North Dakota State University. Larry's lifetime love of the fire service started at an early age. At age 3 his father placed him in front of an FNDY pumper at Engine Company 241 and he instantly knew that all things fire related were going to be his passion for the rest of his life.
Larry was a training officer for the Jamestown Fire Department from 1972 to 1980 before he became a regional seven-state fire/rescue instructor,teaching classes in North Dakota, South Dakota, Minnesota, Wisconsin, Montana, Wyoming and Nebraska. He started his own company, Signal 10 Group, in Jamestown and was Chief Instructor at Northwest Region Fire/Rescue, where he carried a Level IV instructor rating through the state of Minnesota.
But Larry's true passions were in his model fire truck collection and photography. He was a long time columnist for Toy Trucker and Contractor Magazine and three time author of American LaFrance Photos Archives. His collection represents everything from the early 1800s cast-iron horse-drawn models to the modern Fire Replicas museum-grade detailed models. His collection also includes an extensive reference library of materials from 9-11. With firefighter friends who were at the scene in New York City that day, Larry was particularly close to this tragedy.
Larry is preceded in death by his parents and many brothers and sisters in the fire service.In lieu of flowers, donations can be made to the Nassau County Francis X. Pendl Fire Museum,
www.ncfiremuseum.org
To send flowers or a memorial gift to the family of Lawrence "Larry" Earl Phillips please visit our Sympathy Store.
The FUNERAL SERVICE for Larry Phillips will be held at the First United Methodist Church, 115 3rd St SE, Jamestown, ND 58401 at 11 AM on September 20th, with visitation at 10 AM.
Burial will be in Sunset Memorial Gardens in Fargo.
A PRAYER SERVICE will be held on Sept 19, at 7:00 PM, with visitation between 5:00 PM – 7:00 PM, at the Hanson-Runsvold Funeral Home at 215 7th St S, Fargo, ND 58103.
Please come join his family in celebrating his life.