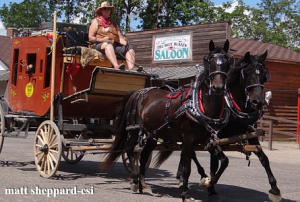 (CSi)  The Frontier Village Association will request funding from Jamestown Tourism for a second greeter at the Village.  Association, secretary-treasurer Tina Busche reported the request at this month's meeting.
Executive Director Nichole Mosolf's has indicated the request will be readied for the Jamestown Tourism October meeting.  Tina Busche  pointed out that  a Frontier Village Association consultant along with an assessment of the Stutsman County Emergency Manager's office recommend a second greeter in the interest of public safety,  to better cover the public space of Frontier Village, and  in the interest of tourism.
At the meeting the board approved the use of unused shingles to reduce the cost of a roofing project.
The Frontier Village Association will change its monthly meetings to the second Tuesday of each month at 5:30 p.m.