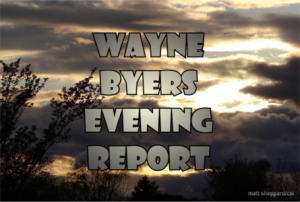 CSi Weather…
.TONIGHT…Mostly cloudy. Chance of rain showers and slight chance of thunderstorms in the evening. Lows in the mid 50s.
North winds 5 to 10 mph. Chance of precipitation 40 percent.
.FRIDAY…Partly sunny, then clearing. Highs in the lower 70s. Northeast winds around 10 mph.
.FRIDAY NIGHT…Partly cloudy in the evening, then mostly cloudy
a chance of rain showers and slight chance of thunderstorms
after midnight. Lows in the mid 50s. Northeast winds around
10 mph. Chance of precipitation 20 percent in the Jamestown area, 40 percent in the Valley City area.
.SATURDAY…Partly sunny with a 20 percent chance of rain showers
and thunderstorms.  Highs in the mid 70s. East winds around 10 mph.
.SATURDAY NIGHT…Partly cloudy. Lows around 60.
.SUNDAY…Mostly sunny. Highs in the lower 80s.
.SUNDAY NIGHT…Partly cloudy. Lows in the mid 50s.
.MONDAY…Mostly sunny. Highs in the upper 60s.
.MONDAY NIGHT…Partly cloudy. Lows in the upper 40s.
.TUESDAY…Mostly sunny. Highs in the mid 60s.
.TUESDAY NIGHT…Increasing clouds. Lows in the mid 40s.
.WEDNESDAY…Partly sunny with a 30 percent chance of rain
showers. Highs in the lower 60s.
Scattered rain showers and thunderstorms are expected Thursday
afternoon and early evening. Severe weather is not anticipated, but some lightning, pea sized hail, and brief downpours will be possible from Valley City and east.
There will be periods of showers and thunderstorms on and off
throughout the end of this week into the weekend.
Severe weather is not expected at this time.
Bismarck  (CSi)  In August this year, Jamestown airline boardings were up 9.6 percent, compared to August 2017 figures.
In August this year there were 1,085 boardings at Jamestown Regional Airport compared to 990 in August of 2017, up 9.6 percent.
Year to date through August 2018 there were 8,366 boardings, compared to 8,879 through August of 2017, down 5.78 percent.
Jamestown  (CSi)  The Frontier Village Association will request funding from Jamestown Tourism for a second greeter at the Village.  Association, secretary-treasurer Tina Busche reported the request at this month's meeting.
Executive Director Nichole Mosolf's has indicated the request will be readied for the Jamestown Tourism October meeting.  Tina Busche  pointed out that  a Frontier Village Association consultant along with an assessment of the Stutsman County Emergency Manager's office recommend a second greeter in the interest of public safety,  to better cover the public space of Frontier Village, and  in the interest of tourism.
Mosolf's will also request a maintenance position..
At the meeting the board approved the use of unused shingles to reduce the cost of a roofing project.
The Frontier Village Association will change its monthly meetings to the second Tuesday of each month at 5:30 p.m.
Valley City  (Chamber)  The Todd Heck Memorial  Scholarship Fundraising, Tailgate Event is September 14, at 5:30-p.m., till kickoff of the football game at Hanna Field, as the Hi-Liners host Wahpeton.
A Baked Potato Bar will be offered for a free will offering.
Special thanks to Cleaver Cookin' & Catering, Dean and Charlene Stenson, High Plains Water, American Family, Elliot Farms, Affordable Promo.
Jamestown (CSi) The public is invited to support the Jamestown High School Cheer Team with a car wash Saturday September 15, at R.M. Stoudt, from 10-a.m., to 2-p.m.
Cheer Team Coach Heather Lawrence says proceeds will go toward new and additional uniforms and supplies, as cheer has expanded in members.
She says the suggested cost is a minimum of $15 per car, however no one will be turned away donating less dollars.
During the car wash hot dogs and refreshments will be served for those getting their car washed.
Jamestown   (CSi)  Come to OKTOBERFEST…A celebration of beer, brats and lederhosen, Saturday, September 15 from 5:30 – 9:00 pm
in The Hansen Arts Park.
Oktoberfest is a Munich tradition since 1810, when it celebrated the betrothal of the Bavarian King Ludwig I to Princess Therese.  Since that time, Oktoberfest has grown to a worldwide phenomenon, a celebration of all things German… in particular the especially potent Oktoberfest beer!
On September 15th, The Arts Center is proud to sponsor our own annual Oktoberfest celebration!  This year, for the first time we are holding Oktoberfest downtown in our own Hansen Arts Park, the perfect venue for this popular fundraiser.  This year's celebration includes:
Authentic German Oktoberfest beers on tap.
North Dakota Microbreweries offering tastings of their products.
Authentic German bratwurst and snacks as part of the admission price.
Live music from Matt Hodek and the Dakota Dutchmen, performing authentic  "old time" music.
A genuine "Beer Tent" for a real Oktoberfest feel.
German games and raffles.
It's as close as you can come to a trip to Bavaria without leaving ND… a real Oktoberfest celebration right here in downtown Jamestown!
Enjoy great beer and food, live music and best of all, genuine German gemütlichkeit… all at The Arts Center's Oktoberfest!  We hope to see on September 15th!
Tickets are $35 and are available from Cork & Barrel, The Arts Center, Arts Center Board members and at the gate.
As mentioned, the home base of all Oktoberfest celebrations takes place in Munich, Germany each year and spans 16 – 18 days running from late September to the first weekend in October. It is one of the most famous events in Germany and the world's largest fair, with more than 5 million people attending every year. The Oktoberfest is an important part of Bavarian culture. Other cities across the world also hold Oktoberfest celebrations, modeled after the Munich event.
All proceeds from this event will go to support programing at The Arts Center. Oktoberfest is sponsored by Jamestown Tourism, Cork & Barrel, Bergseth Brothers, Beverage Wholesalers, and Valley Sales.
Jamestown  (CSi)  The Walk to Silence the Stigma will be held on September 15 at Nickeus Park.
Registration begins at 9:30 with the program at 10 am.
There will be a walk, with participants making a loop around the downtown area, north of he railroad tracks, returning to the park for a time of sharing.
The event will conclude with a balloon release.
Unite to Silence the Stigma's mission is  to eliminate the stigma surrounding suicide.
The organization includes  local individuals who have had an experience with suicide, whether that's a family member or friend.
Jamestown  (JPS)  Jamestown Music Boosters fundraiser, "Music Through the Ages", is Sunday September 16th at 3-p.m., at the Jamestown High School Theater.
Featuring local community musicians with Jamestown High School students and directors.
Tickets at the door are: $10 for adults, $5 for students, $25 for a family ticket.
Check on the music boosters Facebook page for details.
Mandan (NDHP)   – On Thursday, September 13, 2018 at 11:44 am CST, North Dakota Highway Patrol troopers were called to Exit 153 eastbound on-ramp in Mandan regarding a brown sticky substance on the roadway. The substance was spread out along the on-ramp and had spilled onto Mandan Avenue. The substance was also found on Memorial Highway and Collins Avenue in Mandan. The scene was closed for safety reasons due to it being an unknown substance and possible health risk.
Mandan Avenue was closed for approximately 3 hours. The North Dakota Department of Health and Bismarck HazMat team responded to the scene. The substance was found to be 87% maple syrup and possibly used for cattle feed and deemed not to be hazardous. Cleanup was completed by ND Department of Transportation. The cause of the incident is still under investigation.
Agencies involved include the North Dakota Highway Patrol, Mandan Police Department, ND Department of Health, ND Department of Emergency Services, Bismarck Fire HazMat Team, Mandan Fire Department, and ND Department of Transportation.
Anyone with information is asked to  contact the Highway Patrol at 844-474-6347  or know the responsible party that leaked the substance.
Bismarck (NDHP)  On Wednesday, Sept. 12, the North Dakota Highway Patrol investigated a possible hit and run crash between exit 157 and exit 159 in Bismarck. The crash, which was property damage only, occurred near a lane closure in the eastbound roadway around 5:30-5:40 pm.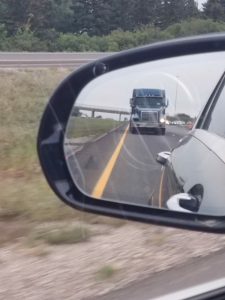 The pictured commercial motor vehicle was possibly involved in the crash. NDHP is seeking additional information from the public regarding this truck.
If you have any information about the truck, please contact the NDHP at 701-328-1081 or N.D. State Radio at 701-328-9921. You can also submit information via the NDHP mobile app using the Crime/Suspicious activity tab.
facebook.com/ndhighwaypatrol twitter.com/NDHighwayPatrol
DEVILS LAKE, N.D. (AP) — Hundreds of people attended hearings to voice concerns over a proposed hog operation in Ramsey County.
Grand Prairie Agriculture wants to build a 2,500-hog and pig operation about 10 miles west of Devils Lake. Opponents worry about property values and environmental problems, while proponents see a potential boost to the economy.
WDAZ-TV reports Spirit Lake Nation tribal leaders worry about potential pollution to the lake and groundwater. Hog farm supporters say technology is available to prevent that.
The state Health Department will eventually decide whether to permit the facility. The agency held hearings in Devils Lake and at St. Michael on Wednesday.
BISMARCK, N.D. (AP) — An economic consultancy hired by the North Dakota Legislature predicts the state's economy next year could surpass the record set in 2014.Economist Jim Diffley of IHS Markit told the Legislative Revenue Advisory Committee Thursday that the state's economy is expected to reach 6 percent growth in 2019.Diffley told reporters the growth would increase North Dakota's gross domestic product to $61.9 billion, up $1 billion from 2014. GDP measures total economic production.The eight-member panel that includes Republican and Democratic leaders hired the firm last year to give the Legislature a second opinion on state revenue.The consultancy's general fund revenue forecast for the current two-year budget cycle and the next are tracking consistent with earlier state predictions.
In world and national news…
MYRTLE BEACH, S.C. (AP) — Power outages already are creeping up along the North Carolina coast as tropical storm-force winds started sweeping over land. Electric utilities and cooperatives reported about 12,000 outages statewide as of early Thursday afternoon, with nearly all of them at the coast.
MIAMI (AP) — Hurricane Florence is at the doorstep of North and South Carolina, and she's not going away anytime soon. Outer bands from the hurricane are now lashing land, at least a full day before the National Hurricane Center expects the slow-moving storm's eye to blow ashore around the North Carolina-South Carolina line. Florence will likely drench the coast for days. Officials say people refusing to evacuate could truly end up alone in the dark, as rescue crews won't go out to help in high winds.
WASHINGTON (AP) — Rep. Gerald Connolly of Virginia says that if Democrats win back the House they will investigate the "failures of FEMA and the response of the administration" after Hurricane Maria in Puerto Rico. Connolly says Democrats would have subpoena power to compel testimony if necessary. Connolly is a senior member of the House Oversight and Government Reform Committee. He was reacting to President Donald Trump's tweets that dispute the projected death toll from Hurricane Maria last year.
SEATTLE (AP) — Amazon founder and CEO Jeff Bezos says he will start a $2 billion charitable fund to help homeless families and open new preschools in low-income neighborhoods. Bezos, whose stake in Amazon is worth more than $160 billion, says that he'll call it the Bezos Day One Fund.
WASHINGTON (AP) — Sen. Dianne Feinstein says she's notified federal investigators about information she received concerning Supreme Court nominee Brett Kavanaugh. She says the person "strongly requested confidentiality, declined to come forward or press the matter further, and I have honored that decision." Feinstein _ who's on the Senate Judiciary Committee, which just finished confirmation hearings for Kavanagh _ says she has "referred the matter to federal investigative authorities."