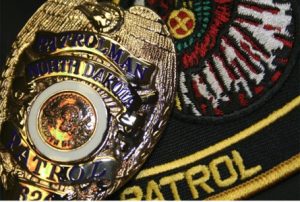 Mandan (NDHP)   – On Thursday, September 13, 2018 at 11:44 am CST, North Dakota Highway Patrol troopers were called to Exit 153 eastbound on-ramp in Mandan regarding a brown sticky substance on the roadway. The substance was spread out along the on-ramp and had spilled onto Mandan Avenue. The substance was also found on Memorial Highway and Collins Avenue in Mandan. The scene was closed for safety reasons due to it being an unknown substance and possible health risk.
Mandan Avenue was closed for approximately 3 hours. The North Dakota Department of Health and Bismarck HazMat team responded to the scene. The substance was found to be 87% maple syrup and possibly used for cattle feed and deemed not to be hazardous. Cleanup was completed by ND Department of Transportation. The cause of the incident is still under investigation.
Agencies involved include the North Dakota Highway Patrol, Mandan Police Department, ND Department of Health, ND Department of Emergency Services, Bismarck Fire HazMat Team, Mandan Fire Department, and ND Department of Transportation.
Anyone with information is asked to  contact the Highway Patrol at 844-474-6347  or know the responsible party that leaked the substance.