Update…
Bismarck (NDHP)  The North Dakota Highway Patrol is no longer seeking information on a hit and run crash that occurred on Wednesday, Sept. 12, in the Bismarck area. Information provided by the public helped to determine that the truck pictured in the news release was not involved in the crash. We appreciate the public's willingness to assist us with this investigation. Have a safe weekend!
Previously…
Bismarck (NDHP)  On Wednesday, Sept. 12, the North Dakota Highway Patrol investigated a possible hit and run crash between exit 157 and exit 159 in Bismarck. The crash, which was property damage only, occurred near a lane closure in the eastbound roadway around 5:30-5:40 pm.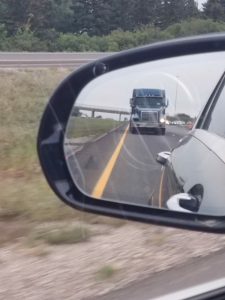 The pictured commercial motor vehicle was possibly involved in the crash. NDHP is seeking additional information from the public regarding this truck.
If you have any information about the truck, please contact the NDHP at 701-328-1081 or N.D. State Radio at 701-328-9921. You can also submit information via the NDHP mobile app using the Crime/Suspicious activity tab.
facebook.com/ndhighwaypatrol twitter.com/NDHighwayPatrol