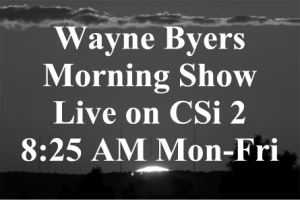 CSi Weather…
.REST OF TODAY…Mostly sunny.  Highs in the lower 70s. Northeast winds 5 to 10 mph.
.TONIGHT…Cloudy with chance of rain showers and slight chance
of thunderstorms. Lows in the mid 50s. Northeast winds around
10 mph. Chance of precipitation 40 percent.
.SATURDAY…Mostly cloudy with a 30 percent chance of rain
showers and thunderstorms. Highs in the mid 70s. East winds
around 10 mph.
.SATURDAY NIGHT…Mostly cloudy with a 20 percent chance of
showers and thunderstorms in the evening, then partly cloudy
after midnight. Lows in the lower 60s. East winds around 15 mph.
.SUNDAY…Sunny, warmer. Highs around 90. South winds 15 to
25 mph shifting to the southwest in the afternoon.
.SUNDAY NIGHT…Partly cloudy. Lows in the mid 50s.
.MONDAY…Mostly sunny. A 20 percent chance of rain showers and
thunderstorms in the morning. Highs in the mid 60s.
.MONDAY NIGHT…Partly cloudy. Lows in the mid 40s.
.TUESDAY…Mostly sunny. Highs in the mid 60s.
.TUESDAY NIGHT…Partly cloudy. Lows in the mid 40s.
.WEDNESDAY…Mostly cloudy with a 40 percent chance of rain
showers. Highs in the lower 60s.
.WEDNESDAY NIGHT…Mostly cloudy with a 40 percent chance of rain
showers. Lows in the upper 40s.
.THURSDAY…Mostly cloudy with a 50 percent chance of rain
showers. Highs in the lower 60s.
Scattered thunderstorms are possible late Friday afternoon and
evening across south central North Dakota and the James River
Valley. A few storms may have small hail.
The cold front which moved through on Thursday will begin to
return northward Friday night.
Scattered thunderstorms will develop north of the front in southeastern and east central North Dakota into northern Minnesota this evening, with hail to one inch the main threat.
Saturday there continues to be the chance for thunderstorms the
strongest of which appear to be possible in the evening across
northern Minnesota. A few of these storms may be strong enough to
become severe with hail up to an inch in size. Elsewhere severe
weather is not expected but some lightning and brief downpours
will be possible.
There is a chance of thunderstorms on Monday. Severe weather is not expected at this time.
Bismarck  (CSi)  In August this year, Jamestown airline boardings were up 9.6 percent, compared to August 2017 figures.
In August this year there were 1,085 boardings at Jamestown Regional Airport compared to 990 in August of 2017, up 9.6 percent.
Year to date through August 2018 there were 8,366 boardings, compared to 8,879 through August of 2017, down 5.78 percent.
Jamestown  (CSi)  The Frontier Village Association will request funding from Jamestown Tourism for a second greeter at the Village.  Association, secretary-treasurer Tina Busche reported the request at this month's meeting.
Executive Director Nichole Mosolf's has indicated the request will be readied for the Jamestown Tourism October meeting.  Tina Busche  pointed out that  a Frontier Village Association consultant along with an assessment of the Stutsman County Emergency Manager's office recommend a second greeter in the interest of public safety,  to better cover the public space of Frontier Village, and  in the interest of tourism.
Mosolf's will also request a maintenance position..
At the meeting the board approved the use of unused shingles to reduce the cost of a roofing project.
The Frontier Village Association will change its monthly meetings to the second Tuesday of each month at 5:30 p.m.
Valley City  (Chamber)  The Todd Heck Memorial  Scholarship Fundraising, Tailgate Event is September 14, at 5:30-p.m., till kickoff of the football game at Hanna Field, as the Hi-Liners host Wahpeton.
A Baked Potato Bar will be offered for a free will offering.
Special thanks to Cleaver Cookin' & Catering, Dean and Charlene Stenson, High Plains Water, American Family, Elliot Farms, Affordable Promo.
Jamestown (CSi) The public is invited to support the Jamestown High School Cheer Team with a car wash Saturday September 15, at R.M. Stoudt, from 10-a.m., to 2-p.m.
Cheer Team Coach Heather Lawrence says proceeds will go toward new and additional uniforms and supplies, as cheer has expanded in members.
She says the suggested cost is a minimum of $15 per car, however no one will be turned away donating less dollars.
During the car wash hot dogs and refreshments will be served for those getting their car washed.
Jamestown  (CSi)  OKTOBERFEST A celebration of beer, brats and lederhosen.
Will be held Saturday, September 15 from 5:30 – 9:00 pm in The Hansen Arts Park, in Downtown Jamestown.
Oktoberfest is a Munich tradition since 1810, when it celebrated the betrothal of the Bavarian King Ludwig I to Princess Therese.  Since that time, Oktoberfest has grown to a worldwide phenomenon, a celebration of all things German… in particular the especially potent Oktoberfest beer!
On September 15th, The Arts Center is proud to sponsor our own annual Oktoberfest celebration!  This year, for the first time we are holding Oktoberfest downtown in our own Hansen Arts Park, the perfect venue for this popular fundraiser.  This year's celebration includes:
Authentic German Oktoberfest beers on tap.
North Dakota Microbreweries offering tastings of their products.
Authentic German bratwurst and snacks as part of the admission price.
Live music from Matt Hodek and the Dakota Dutchmen, performing authentic  "old time" music.
A genuine "Beer Tent" for a real Oktoberfest feel.
German games and raffles.
It's as close as you can come to a trip to Bavaria without leaving ND… a real Oktoberfest celebration right here in downtown Jamestown!
Enjoy great beer and food, live music and best of all, genuine German gemütlichkeit… all at The Arts Center's Oktoberfest!  We hope to see on September 15th!
Tickets are $35 and are available from Cork & Barrel, The Arts Center, Arts Center Board members and at the gate.
As mentioned, the home base of all Oktoberfest celebrations takes place in Munich, Germany each year and spans 16 – 18 days running from late September to the first weekend in October. It is one of the most famous events in Germany and the world's largest fair, with more than 5 million people attending every year. The Oktoberfest is an important part of Bavarian culture. Other cities across the world also hold Oktoberfest celebrations, modeled after the Munich event.
All proceeds from this event will go to support programing at The Arts Center. Oktoberfest is sponsored by Jamestown Tourism, Cork & Barrel, Bergseth Brothers, Beverage Wholesalers, and Valley Sales.
Jamestown (CSi) The Walk to Silence the Stigma will be held on September 15 at Nickeus Park.
Registration begins at 9:30 with the program at 10 am.
There will be a walk, with participants making a loop around the downtown area, north of he railroad tracks, returning to the park for a time of sharing.
The event will conclude with a balloon release.
Unite to Silence the Stigma's mission is  to eliminate the stigma surrounding suicide.
The organization includes  local individuals who have had an experience with suicide, whether that's a family member or friend.
Jamestown  (JPS)  Jamestown Music Boosters fundraiser, "Music Through the Ages", is Sunday September 16th at 3-p.m., at the Jamestown High School Theater.
Featuring local community musicians with Jamestown High School students and directors.
Tickets at the door are: $10 for adults, $5 for students, $25 for a family ticket.
Check on the music boosters Facebook page for details.
Mandan (NDHP)   – On Thursday, September 13, 2018 at 11:44 am CST, North Dakota Highway Patrol troopers were called to Exit 153 eastbound on-ramp in Mandan regarding a brown sticky substance on the roadway. The substance was spread out along the on-ramp and had spilled onto Mandan Avenue. The substance was also found on Memorial Highway and Collins Avenue in Mandan. The scene was closed for safety reasons due to it being an unknown substance and possible health risk.
Mandan Avenue was closed for approximately 3 hours. The North Dakota Department of Health and Bismarck HazMat team responded to the scene. The substance was found to be 87% maple syrup and possibly used for cattle feed and deemed not to be hazardous. Cleanup was completed by ND Department of Transportation. The cause of the incident is still under investigation.
Agencies involved include the North Dakota Highway Patrol, Mandan Police Department, ND Department of Health, ND Department of Emergency Services, Bismarck Fire HazMat Team, Mandan Fire Department, and ND Department of Transportation.
Anyone with information is asked to  contact the Highway Patrol at 844-474-6347  or know the responsible party that leaked the substance.
Jamestown  (CSi) – With the centennial of the end of WWI, on November 11, this year,  there will be major events related to the end of World War I across North Dakota starting at the end of September and seminars  sponsored in the major cities across the state.
WWI North Dakota Centennial chairman, Darrell Dorgan, says the public is encouraged to take part in scheduled events.
The North Dakota WWI Centennial Committee has received support from the North Dakota Humanities Council for a series of community events leading up to the armistice ending WWI, 100-years ago on November 11. Lectures and community discussions will be heled in six North Dakota cities during October and the first week of November including Jamestown.
Susan Wefald or Darrell Dorgan will moderate each of the events. The programs will begin with a 10-minute video overview of WWI, followed by a 20- to 30-minute talk about how the war began, how the U.S. became involved, the effort on the home-front, North Dakota's participation and the impact on the world today. That will be followed by 30 minutes of audience Q & A.
The event in Jamestown will be at 7:30 p.m. Oct. 30 at the 1883 Stutsman County Courthouse with professor Carol Barrett conducting the event.
MINOT, N.D. (AP) — A judge has refused to accept a proposed plea deal for a Minot man accused of handcuffing a 9-year-old boy as punishment.
The Minot Daily News reports that 24-year-old Christian Ratliff is now scheduled to stand trial beginning Monday on a felony child abuse charge that carries a maximum punishment of five years in prison.
The state and the defense had recommended Ratliff be allowed to plead guilty to a lesser charge of child neglect in the 2016 case and be given no jail time.
Judge Gary Lee said he couldn't sign off on the deal "in the interest of justice."
BISMARCK, N.D. (AP) — A federal jury in North Dakota has begun deliberating the fate of a Rhode Island woman accused in a Jamaican lottery scam that authorities say bilked at least 90 mostly elderly Americans out of more than $5.7 million.Twenty-eight-year-old Melinda Bulgin of Providence, Rhode Island, faces conspiracy, fraud and money laundering charges. The case went to the jury Thursday in the fourth day of her trial.The case is believed to be the first large-scale Jamaican lottery scam tried in U.S. courts. It began in 2011 when an elderly North Dakota woman lost her life savings. Authorities eventually charged 27 people. All except Bulgin pleaded guilty or were convicted earlier.Bulgin is accused of collecting money and funneling it between the U.S. and Jamaica, taking advantage of cheap flights she got through her airline job. 
BISMARCK, N.D. (AP) — Security at the North Dakota Capitol that was beefed up in 2016 due to protests involving the Dakota Access pipeline should remain in place, the North Dakota Highway Patrol told lawmakers Thursday.
Capt. Jody Skogen told a legislative panel the enhanced security measures that include metal detectors and more troopers patrolling the Capitol and outside the governor's office have proven "effective and unobtrusive."
Skogen said up to 1,000 visitors daily pass through the security checkpoint at the Capitol when lawmakers are in session. Some weapons have been discovered at the checkpoint, he said.
The appeal by the Highway Patrol, which always has been assigned to provide security for the governor and the Capitol, comes as some lawmakers questioned the need for the increased measures after protests ended in North Dakota for the four-state, $3.8 billion pipeline.
Republican House Majority Leader Al Carlson, who heads the committee that includes GOP and Democratic floor leaders, said he doesn't like the increased security but signaled lawmakers would keep it in place.
BISMARCK, N.D. (AP) — An economic consultancy hired by the North Dakota Legislature predicts the state's economy next year could surpass the record set in 2014.
Economist Jim Diffley of IHS Markit told the Legislative Revenue Advisory Committee Thursday that the state's economy is expected to reach 6 percent growth in 2019.
Diffley told reporters the growth would increase North Dakota's gross domestic product to $61.9 billion, up $1 billion from 2014. GDP measures total economic production.
The eight-member panel that includes Republican and Democratic leaders hired the firm last year to give the Legislature a second opinion on state revenue.
The consultancy's general fund revenue forecast for the current two-year budget cycle and the next are tracking consistent with earlier state predictions.
BISMARCK, N.D. (AP) — A bipartisan legislative panel has adopted a policy regarding workplace and sexual harassment in North Dakota's Capitol.The Legislative Procedure and Arrangements Committee that includes Democratic and Republican floor leaders finalized the policy on Thursday.The updated proposal includes a checklist for legislative leaders designated to field complaints. It also would require a 25-day deadline for investigations, although that could be extended up to 75 days in some cases.The policy is for all forms of workplace harassment, including sexual harassment and harassment based on such things as race or religion.Legislative leaders have said they aren't aware of any sexual harassment allegations in the Capitol. But they decided late last year to update existing policy that bars harassment but provides no process for the formal reporting of complaints. 
BISMARCK, N.D. (AP) — Native American tribal leaders' biennial address to the North Dakota Legislature will resume in 2019, two years after it was cancelled due to security reasons involving the Dakota Access pipeline protests.
A bipartisan panel of lawmakers decided Thursday to allow the address when the Legislature reconvenes in January.
Lawmakers voted two years to cancel the speech and one by North Dakota's chief justice at the state Capitol due to security reasons involving the Dakota Access pipeline protests.
By tradition, lawmakers hear speeches during the first week of each odd-numbered-year session, including from North Dakota's chief justice and by one leader from the state's tribes — Spirit Lake Sioux, Three Affiliated Tribes the Turtle Mountain Band of Chippewa and the Standing Rock Sioux.
FARGO, N.D. (AP) — North Dakota's 2017 potato crop totaled 24.4 million hundredweight, up 13 percent from the previous year.
The Agriculture Department says harvested acres were up 3 percent from 2016, and the average yield increased 10 percent.
The value of potatoes sold from the 2017 crop totaled $223 million, about the same as the year before. The average price during the marketing year was down more than a dollar per hundredweight.
In sports…
High School Football…
Jamestown/Medina/Montpelier Co-op 46, Turtle Mountain 14
The Blue Jays are 2-2 on the season
High School Volleyball…
Jamestown def. Turtle Mountain, 25-6, 25-14, 25-9
Valley City def. Grand Forks Red River, 25-12, 28-26, 25-16
Harvey-Wells County def. Midkota, 25-21, 25-24, 19-25, 17-25, 17-15
Napoleon def. Barnes County North, 25-21, 25-18, 25-14
Bismarck Century def. Minot, 25-7, 25-10, 25-15
Bismarck St. Mary's def. Bismarck Legacy, 25-18, 19-25, 31-29, 27-29, 15-11
Breckenridge, Minn. def. Wahpeton, 26-24, 19-25, 25-15, 25-13
Carrington def. New Rockford-Sheyenne, 25-16, 25-12, 25-8
Devils Lake def. Fargo North, 26-24, 25-22, 19-25, 25-21
Enderlin def. Sargent Central, 25-20, 25-22, 25-18
Fargo Davies def. Sheyenne, 25-23, 23-25, 23-25, 25-20, 15-11
Fargo Oak Grove Lutheran def. Central Cass, 28-26, 20-25, 19-25, 25-18, 15-4
Fargo Shanley def. Grand Forks Central, 25-16, 25-12, 25-16
Finley-Sharon/Hope-Page def. Hillsboro/Central Valley, 18-25, 20-25, 25-22, 25-20, 15-12
Hankinson def. Lisbon, 25-14, 25-21, 25-21
Kindred def. Tri-State, 25-17, 25-17, 25-27, 25-13
Mandan def. Dickinson, 25-12, 25-18, 25-12
May Port CG def. Griggs County Central, 25-15, 25-22, 26-28, 25-11
Minot Our Redeemer's def. Bishop Ryan, 3-0
Northern Cass def. Maple Valley, 25-16, 25-15, 25-18
Oakes def. Edgeley-Kulm, 25-15, 25-9, 25-23
Park River/Fordville Lankin def. Midway-Minto, 25-15, 25-17, 25-12
Underwood def. Turtle Lake-Mercer-McClusky, 25-22, 25-18, 25-16
Valley City def. Grand Forks Red River, 25-12, 28-26, 25-16
West Fargo def. Fargo South, 25-23, 25-17, 26-28, 25-17
Wyndmere-Lidgerwood def. Milnor-North Sargent, 25-20, 25-9, 26-24
High School Soccer
Fargo Davies 4, WF Sheyenne 2.
Grand Forks Central 1, Shanley 0.
West Fargo 7, Fargo North 0.
GF Red River 1, Fargo South 1.
Bismarck 4, Bismarck Legacy 1.
Minot 2, Mandan 1.
College Volleyball…
(RV) Jamestown 3, Briar Cliff 1
BC 17 25 21 20
UJ 25 13 25 25
MLB…
UNDATED (AP) — — Salvador Perez and Jorge Bonifacio (boh-nih-FAH'-see-oh) hit back-to-back homers during a four-run sixth as the Royals topped the Twins, 6-4. Heath Fillmyer matched a career high with six strikeouts and allowed four runs and five hits over 7 1/3 innings. Minnesota's loss drops the Indians' magic number to two for winning the AL Central for the third straight year.
The Chicago Cubs needed 10 innings to add a half-game to their lead in the National League Central.Kris Bryant doubled and scored on a bunt single by Javier Baez with one out in the 10th to give the Cubs a 4-3 victory over the Nationals in Washington. Baez also belted a solo shot in the sixth to break a 2-2 tie, but the Nats forced extra innings on Trea Turner's seventh-inning double.Pedro Strop (strohp) improved to 6-1 and was the eighth of nine pitchers used by manager Joe Maddon. However, Strop also pulled a hamstring while running the bases.The outcome gives the Cubs a 1 ½-game edge over the idle Milwaukee Brewers.Checking out the rest of Thursday's matinee action around the ballparks:— Boston's magic number to win the AL East is down to six following the Red Sox's 4-3 win over the Blue Jays. The Red Sox blew a 3-1 lead in the eighth before an error by second baseman Yangervis Solarte (yahn-HEHR'-vihs soh-LAHR'-tay) allowed Xander Bogaerts to score the go-ahead run in the bottom half. J.D. Martinez and Rafael Devers (DEH'-vurz) hit solo homers to back Eduardo Rodriguez, who was in line to get the win after allowing one run over six frames.— Oakland's 5-3 loss at Baltimore gives the Astros a 3 ½-game lead over the Athletics in the AL West. The A's never caught up following Tim Beckham's two-run single in the first inning. Stephen Piscotty homered for the Athletics, who had won six in a row before falling 1 ½ games behind the Yankees for the first AL wild card.— Colorado kept its 1 ½-game lead over Los Angeles in the NL West as Trevor Story and Nolan Arenado (ar-eh-NAH'-doh) homered in the Rockies' 10-3 rout of the Diamondbacks. David Dahl had three hits and two RBIs to back Kyle Freeland, who carried a two-hitter into the seventh and allowed three runs and four hits over 6 1/3. The Diamondbacks are 3-12 this month and 4 ½ games behind the Rockies.— Manny Machado was 3-for-4 with a solo homer and three RBIs as the Dodgers knocked off the Cardinals, 9-7 to keep pace with Colorado. David Freese (freez) poked a two-run triple against his ex-team to opening the scoring. Clayton Kershaw delivered an RBI single and struck out eight while allowing three earned runs in six innings.— Nelson Cruz slammed a three-run homer and Mike Leake worked seven strong innings in the Mariners' 8-2 romp over the Angels. Leake was reached for only one run and four hits as Seattle ended a two-game skid.— Michael Conforto and Todd Frazier hit back-to-back homers with two out in the bottom of the ninth to send the Mets to a 4-3 victory over the Marlins in Game 1 of a twinbill. Mets starter Steven Matz smacked his first career home run, a two-run blast right after he surrendered back-to-back homers to Peter O'Brien and Isaac Galloway in the second. Matz left the game tied 2-2 in the seventh, but he was on the hook for the loss before Conforto and Frazier went deep.

— Conforto kept up the offense in the nightcap by going 2-for-4 with three RBIs in the Mets' 5-2 victory. Thomas Nido belted his first career home run, Amed Rosario was 3-for-4 and Jason Vargas limited Miami to two runs and three hits over six innings.

MLB NEWS

Mets' Wright set to play on Sept. 29

NEW YORK (AP) — David Wright is going to play one more game, but it will likely be his last.

The New York Mets say their longtime third baseman will be activated before their final homestand and start Sept. 29 against the Marlins, the team's penultimate game of the season.

Wright hasn't played since May 2016 while dealing with neck, back and shoulder injuries that have required surgery. He is the team's all-time leader with 1,777 hits, 390 doubles, 970 RBIs, 761 walks and 949 runs scored, while ranking second with 242 home runs and tied for third with a .296 batting average.

In other MLB news:

— Diamondbacks right-hander Clay Buchholz was scratched from his start Thursday because of tightness in his right arm. Buchholz is 7-2 with a 2.01 ERA since signing a minor league contract on May 4, and 5-1 with a 1.66 ERA in his late nine starts following a stint on the disabled list. Matt Koch started in his place and was reached for four runs and eight hits in three innings.

— Former Major League pitcher Billy O'Dell has died in South Carolina at 85. O'Dell went straight from Clemson to the majors with the Orioles in 1954 and was 105-100 with a 3.29 ERA in 479 games over 13 seasons. He won a career-high 19 games while helping the 1962 Giants get within one victory of a World Series championship.

NFL-BENGALS/RAVENS

Bengals knock off Ravens

CINCINNATI (AP) — A.J. Green and the Cincinnati Bengals are 2-0 after beating a division rival.

Green grabbed three touchdown passes in the first half while the Bengals were building an early 21-point lead in a 34-23 victory over the visiting Baltimore Ravens. He set the tone with scoring receptions of four, 28 and seven yards on consecutive possessions.

Andy Dalton threw all four of his scoring strikes in the first half and finished 24 of 42 for 265 yards. It was his fifth career game with at least four touchdown passes.

Joe Flacco couldn't do anything against Cincinnati until the Bengals led by three touchdowns. He threw for 356 yards and a pair of touchdown passes, including a 21-yarder to John Brown that cut it to 28-23 with 9:35 left.

Flacco also fumbled with 2:42 remaining to set up a game-clinching field goal by Randy Bullock.

The Ravens are 1-1.

NFL NEWS

Big Ben sits out practice again

UNDATED (AP) — The Pittsburgh Steelers aren't saying much about the status of quarterback Ben Roethlisberger (RAWTH'-lihs-bur-gur) for Sunday's home opener against the Chiefs.

Roethlisberger skipped practice for a second straight day due to an issue with his right elbow. The 36-year-old Roethlisberger injured the elbow on Pittsburgh's next-to-last offensive snap in a Week 1 tie with Cleveland. Offensive coordinator Randy Fichtner declined to get into specifics about Roethlisberger's status for Sunday.

In other NFL news:

— The Titans limited Marcus Mariota (mar-ee-OH'-tah) at practice today and gave more work to backup Blaine Gabbert in preparation for Sunday's game against Houston. Coach Mike Vrabel says they want to evaluate which quarterback will give them the best chance against the Texans. Mariota practiced fully yesterday after an injured elbow knocked him out of Tennessee's 27-20 opening loss in Miami.

— Leonard Fournette is running again and feeling "better and better" about his strained right hamstring. The Jaguars running back also is hopeful he will be able to play against the Patriots on Sunday. Fournette cautions, though, that "it'll be a game-time decision."

— Chargers defensive end Joey Bosa will sit out a second straight game because of a bone bruise in his left foot. Bosa hurt the foot during training camp and reinjured it during practice last week. He missed the opener against Kansas City and will be sidelined for Sunday's game at Buffalo.

— Dolphins left guard Josh Sitton was held out of a second straight practice with a shoulder issue, casting doubt about his availability for Sunday's game at the New York Jets. Dolphins coach Adam Gase (gays) said receiver DeVante Parker should be able to play after sitting out the opener with a broken finger on his right hand.

— Falcons running back Devonta Freeman has again been held out of practice with a sore knee, leaving his status uncertain this weekend's game against Carolina. Coach Dan Quinn says he'll know more about Freeman's status on Friday.

— A person with knowledge of the deal told The Associated Press the Seahawks are expected to sign linebacker Mychal Kendricks to a one-year contract despite his recent guilty plea on insider trading charges. His sentencing is not expected to take place until January.

— Dolphins wide receiver Kenny Stills says he's committed to activism 'forever.' That means he plans to continue to be among the handful of NFL players participating in protests during the national anthem. Stills met with some veterans this week to explain his position. He says they understood his stand.

NHL-NEWS

Sharks acquire Erik Karlsson from Senators

SAN JOSE, Calif. (AP) — The San Jose Sharks now have two-time Norris Trophy winner Erik Karlsson on their blueline.

Karlsson was acquired from the Ottawa Senators for a package of young players and several high draft picks. The Sharks also received forward Francis Perron and sent forwards Chris Tierney, Josh Norris and Rudolfs Balcers to Ottawa, along with defenseman Dylan DeMelo.

The Senators also get a first-round pick in 2019 or 2020, a second-round pick next year and two conditional selections. San Jose will also send Ottawa a second-rounder in 2021 if Karlsson re-signs with the Sharks.

The four-time, First Team All-Star is coming off one of his worst seasons, scoring nine goals and 62 points with a minus-25. The 28-year-old defenseman has scored 126 goals and 518 points in 627 NHL games, all with Ottawa.

In other NHL news:

— Five-time All-Star center Tyler Seguin (SAY'-gihn) has signed an eight-year $78.8 million extension with the Dallas Stars through the 2026-27 season. The 26-year-old was entering the final year of his contract after scoring 40 goals and 78 points for the Stars last season. The 26-year-old center has furnished 229 goals and 505 points in 590 NHL games.

— The Blues have activated forward Robby Fabbri off injured reserve before their first training camp practices. Fabbri missed all of last season after re-tearing the ACL in his left knee.

— A trial date has been set in a harassment case against former Senators assistant general manager Randy Lee, who resigned in August after 23 years with the organization. A Buffalo judge scheduled a non-jury trial for Nov. 9 on a violation charge of harassment stemming from an incident at the NHL scouting combine in May.

— The Hurricanes have picked forward Justin Williams as their captain and said center Victor Rask had surgery on two fingers he injured while slicing food in his kitchen. General manager Don Waddell says Rask will be out indefinitely after having the procedure on the fourth and fifth fingers on his right hand.

NBA NEWS

Milwaukee officer involved in NBA player's arrest fired

MILWAUKEE (AP) — A Milwaukee police officer involved in the stun gun arrest of Bucks' player Sterling Brown has been fired because of social media posts.

Police Chief Erik Morales disclosed the firing during a speech at Marquette University on Thursday but he did not name the officer.

Brown sued the police department in June and accused officers of using excessive force and targeting him because he's black.

One officer later mocked Brown on Facebook for his Jan. 26 arrest stemming from a parking violation.

In other NBA news:

— Prosecutors say Celtics guard Jabari Bird choked his girlfriend multiple times, kicked her and prevented her from leaving his apartment for hours last week before he collapsed in distress. Bird was held on $50,000 bail at his arraignment Thursday on domestic violence-related charges. Not-guilty pleas were entered on his behalf.

CHAIR UMPIRE

US Open umpire tells AP he is focusing on 'working again'

ZADAR, Croatia (AP) — The chair umpire who penalized Serena Williams in the U.S. Open final says he is pleased to be getting back to work.

Preparing to take his seat to direct matches in the Davis Cup semifinals between Croatia and the United States, Carlos Ramos tells The Associated Press he is "just focusing on this tie and working again. That's all I can say."

Ramos gave Williams three code violations in her straight-set loss to Naomi Osaka last weekend, and the American great argued that she wasn't being treated the same as some male players.

USTA president and CEO Katrina Adams, who defended Williams, was overheard apologizing to Ramos on the sidelines of today's draw ceremony.

Ramos wouldn't go into details over his discussion with Adams, who initiated the conversation, saying only "I cannot talk about that."
In world and national news…
WILMINGTON, N.C. (AP) — Forecasters say the center of the eye of Hurricane Florence is about to make landfall near Wrightsville, North Carolina. It remains a Category 1 hurricane with top sustained winds of 90 mph (150 kph), but a gust of 112 mph (180 kph) was reported just offshore. At 7 a.m., the center of the eye was located about 5 miles (10 kilometers) east of Wilmington, moving west at 6 mph.
MIAMI (AP) — It's about the water, not the wind, with Hurricane Florence making an extended stay along the North Carolina coast. Forecasters say "it cannot be emphasized enough that the most serious hazard associated with slow-moving Florence is extremely heavy rainfall, which will cause disastrous flooding that will be spreading inland." Top winds were holding at 90 mph — that's just a Category 1 hurricane — but some communities were already submerged in more than six feet of water.
CAIRO (AP) — Aid agencies have been caught off guard by the extent of the suffering from hunger in a pocket of northern Yemen, where many families eat only boiled leaves. In Aslam district, emaciated children flood the main health center. At least 20 children are known to have died of starvation this year in the province, though the real number is likely far higher. The conditions point to how some fall through the cracks of the international relief effort struggling to keep Yemen from outright famine.
TUGUEGARAO, Philippines (AP) — Typhoon Mangkhut has retained its ferocious strength and shifted slightly toward more densely populated coastal provinces as it barrels closer to the northeastern Philippines, where a massive evacuation is underway. More than 5 million people are at risk from the storm, which the Hawaii-based Joint Typhoon Warning Center categorizes as a super typhoon with powerful winds and gusts equivalent to a category 5 Atlantic hurricane.
WASHINGTON (AP) — President Donald Trump's claim "3000 people did not die" in Hurricane Maria in Puerto Rico last year offers fresh evidence of his resistance to criticism and his insistence on viewing events through the prism of his own success or failure. Trump on Thursday disputed the official death count and falsely accused Democrats of inflating it to make him look bad. He made the claims as the Carolinas braced for a new hurricane, which was about to make landfall in North Carolina on Friday.