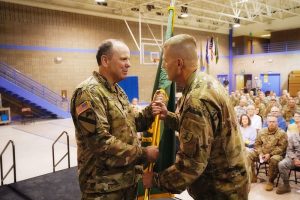 (NDNG) -A change in leadership within the North Dakota National Guard's Land Component Command (LCC) took place Sunday during a change of command ceremony. As the current LCC commander, Brig. Gen. Robert Fode  handed-off the duties of overseeing the state's nearly 3,000 Army Guardsmen to Col. Leo Ryan at the Raymond J. Bohn Armory in Bismarck.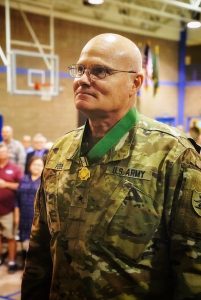 Fode, who will retire in October, has culminated a four-decade-long military career. A native of Mobridge, South Dakota, he enlisted in the N.D. Army National Guard in 1978 as a motor transport operator. In 1985, he was commissioned as a second lieutenant in the engineer branch after attending Officer Candidate School. He has held myriad key leadership positions throughout his career, including serving as a platoon leader, executive officer and commander within units of the 164th Engineer Battalion. Additionally, he served as the operations officer for the 142nd Engineer Combat Battalion.
From December 2003 – February 2005, Fode commanded the 141st Engineer Combat Battalion during the unit's deployment to Iraq. He mobilized again for a NATO-led peacekeeping mission in Kosovo in 2009, serving as the deputy commander, Multinational Battle Group East with Kosovo Forces, or KFOR 12. Upon his return, Fode was assigned as the director of the Joint Staff for the N.D. National Guard before assuming duties as the Land Component commander in April 2014.
A traditional Guardsman, Fode is employed by the N.D. Department of Transportation. He has worked for the agency since 1993 and currently is  the director for the Office of Project Development.
Ryan said during the ceremony, "Thank you Maj. Gen. Dohrmann for putting your trust in me, and I truly appreciate the support of everyone here today.  I look forward to continuing to enable our Soldiers to receive the training they need to accomplish our mission, and will empower you to continue to support our communities, state and nation."
Ryan brings more than three decades of experience to his new assignment as land component commander. He enlisted in 1985 as a bridge crewman in the 957th Engineering Company. In 1992, he completed Officer Candidate School and was commissioned as a second lieutenant. He has held a number of leadership positions throughout his military career, to include commanding the 1st Battalion, 188th Air Defense Artillery Regiment; the N.D. Army National Guard's Officer Candidate School and the 164th Regiment Regional Training Institute.
Ryan twice has served overseas during federal mobilizations. In 1990, he deployed to Southwest Asia in support of Operation Desert Shield and Operation Desert Storm as a squad leader in the 132nd Quartermaster Company. He deployed again in 2007 in support of Operation Iraqi Freedom as the executive officer for the 164th Engineer Battalion.
In his civilian profession, Ryan is an owner and practicing attorney of Dalsted and Ryan, P.C., which has offices in Jamestown and Carrington, North Dakota. He is also the Jamestown City Attorney.