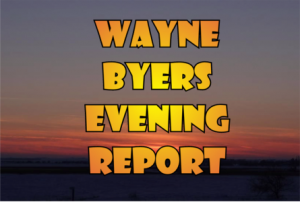 CSi Weather…
.TONIGHT…Cloudy with chance of rain showers and slight chance of thunderstorms. Lows in the upper 50s. Northeast winds around 10 mph. Chance of precipitation 40 percent.
.SATURDAY…Cloudy. Highs in the lower 70s. East winds 10 to
15 mph.
.SATURDAY NIGHT…A 20 percent chance of showers and thunderstorms in the evening. Decreasing clouds. Lows in the lower 60s. East
winds 10 to 15 mph shifting to the southeast after midnight.
.SUNDAY…Sunny. Highs in the mid 80s. South winds 15 to 25 mph
shifting to the west 20 to 25 mph in the afternoon.
.SUNDAY NIGHT…Mostly clear. Lows in the mid 50s. North winds
5 to 10 mph. Gusts up to 25 mph in the evening.
.MONDAY…Partly sunny with a 20 percent chance of rain showers
and thunderstorms. Highs in the mid 60s.
.MONDAY NIGHT…Partly cloudy. Lows in the upper 40s.
.TUESDAY…Mostly sunny. Highs in the lower 60s.
.TUESDAY NIGHT…Partly cloudy. Lows in the mid 40s.
.WEDNESDAY…Partly sunny with a 30 percent chance of rain
showers. Highs in the mid 60s.
.WEDNESDAY NIGHT…Mostly cloudy with a 40 percent chance of rain
showers. Lows in the upper 40s.
.THURSDAY…Cloudy. Rain showers likely in the morning, then
chance of rain showers in the afternoon. Highs in the lower 60s.
Chance of showers 70 percent.
.THURSDAY NIGHT…Mostly cloudy. A 20 percent chance of rain
showers in the evening. Lows in the mid 40s.
.FRIDAY…Partly sunny. Highs in the lower 60s.
Scattered thunderstorms are possible Friday  evening across south central North Dakota and the James River Valley. A few storms may have small hail.
The cold front which moved through on Thursday will begin to
return northward Friday night.
Scattered thunderstorms will develop north of the front in southeastern and east central North Dakota into northern Minnesota this evening, with hail to one inch the main threat.
Saturday there continues to be the chance for thunderstorms the
strongest of which appear to be possible in the evening across
northern Minnesota. A few of these storms may be strong enough to
become severe with hail up to an inch in size. Elsewhere severe
weather is not expected but some lightning and brief downpours
will be possible.
There is a chance of thunderstorms on Monday. Severe weather is not expected at this time.
Jamestown (NDDOT)  Construction will begin Monday, September 17 on the US 281 overpass bridge over I-94 near Jamestown. Construction will take place from 24th St. SW north to 20th St. SW  on US 281. The project consists of concrete deck repairs and installation of traffic signals.
During construction:
Speeds will be reduced
Traffic over the US 281 overpass bridge will be reduced to one lane
A 12 foot width restriction will be in place
Flaggers will be present
Oversize loads will not be permitted on US 281 over the I-94 bridge
The project is expected to be complete at the end of October.
The NDDOT would like to remind motorists to slow down and use caution throughout the work zone. For more information about construction projects and road conditions throughout North Dakota, call 511 from any type of phone or visit the Travel Information Map on the NDDOT website at  http://www.dot.nd.gov/travel-info-v2/
Bismarck  (Gov Bergum's Office) Gov. Doug Burgum announced Friday that Jamestown is being recognized with the Mobilizer Award for its Get Fit & Explore Initiative. The 2018 Main Street Awards honor communities that show excellence in elevating the three pillars of the Main Street Initiative.
Burgum says, "Jamestown has worked diligently to differentiate and enhance the quality of life for their residents, present and future. It's with great pleasure and gratitude that we recognize them with this award for efforts to enhance their vibrant community."
One of three local efforts addressing health issues such as obesity, this Jamestown project will increase physical activity by adding educational components and fun interaction to one of the local recreational paths. By making it convenient and more entertaining to use the trail, the community hopes to increase the number of people biking, walking and using other forms of active transportation.
The Mobilizer Award recognizes community efforts in creating convenient, inviting and multimodal transportation options for residents and visitors.
The Main Street Awards are a collaborative effort of the Office of the Governor, the North Dakota Department of Commerce and the North Dakota League of Cities. A selection committee made up of the collaborating agencies and partners judged the entries to make final awards.
Additional details of award categories can be found at https://www.mainstreetnd.com/awards.
Jamestown  (CSi)  The Young Professionals of Jamestown will host a presentation and workshop on personal branding to be held in Jamestown, with the presentation on Monday September 17, at 7-p.m. at the University of Jamestown's  Reiland Fine Arts Center, and the follow up workshop will be Thursday September 20th from 6-p.m., to 8-p.m.
On Friday's Wayne Byers Show on CSi Cable 2, Jamestown Area Chamber of Commerce Executive, Emily Biven said, the presentation by Ashley Rae, founder of "It's Her Brand," Magazine is geared for high school students, college students, and the public, at no cost.
"It's Her Brand," is a quarterly publication, distributed statewide, dedicated to creating a collaborative movement of women, celebrating women and their brands.
The follow up workshop on September 20 is hosted by the Jamestown Leadership Program to learn the step-by-step process of building your own brand.
The cost is $5.   RSVP by visiting the YPJ Facebook page, or E-Mail:  ypjamestown@gmail.com
Other Sponsor include:  The University of Jamestown, the Jamestown Area Chamber of Commerce, First Community Credit Union, Apex, Jamestown Regional Medical Center, and Two Rivers Printing.
Bismarck  (CSi)  –  During September, communities across the state have come together to organize local events raising awareness about the impact addiction and other behavioral health conditions have on individuals and communities, and promoting community resources that support prevention, intervention and recovery.
On Thursday, Sept. 20, the Jamestown community is holding a behavioral health fair from 4 to 7 p.m. at the Hansen Arts Park.
Jamestown Behavioral Health Coalition member Stacey Hunt who is the clinical director at South Central Human Service Center (SCHSC) in Jamestown, says, "Experts on prevention, treatment and recovery support are participating in this free public event that will highlight information about local resources."
Speakers include Robin Iszler, RN, unit administrator at Central Valley Health; Dan Cramer, clinical psychologist and director of SCHSC; and Adam Martin of the F5 Project in Cass County.
The fair also features resource booths from other coalition members, live entertainment from the band Old Friends and singers Dave and Maggie Oakland, as well as food trucks, and art and craft activities for children with Myra Olson.
Hunt says coalition members representing both the private and public sectors are working together to find ways to connect community members with resources to improve the lives of area residents. Individuals seeking local resources are encouraged to contact Central Valley Health, South Central Human Service Center or other local coalition members.
The Jamestown event is among the last of a series of Recovery Month events that included Recovery Reinvented on Sept. 5 hosted by Gov. Burgum and First Lady Kathryn Helgaas Burgum, and community walks and related events in Minot, Devils Lake and Grand Forks.
Also, the Rolla community is also holding a Mental Health and Addiction Recovery Walk, Sept. 28 beginning at 1:30 p.m. at Lake Region Human Service Center's outreach office in Rolla, N.D. The walk will end at the Rolla City Hall where participants can enjoy refreshments, visit informational booths and listen to speakers.
Substance abuse prevention and behavioral health recovery information is available online at www.behavioralhealth.nd.gov or by contacting the North Dakota Department of Human Services' Behavioral Health Division at 701-328-8920, Relay ND TTY 711 or dhsbhd@nd.gov.
Jamestown (CSi)  The Jamestown Area Chamber of Commerce 2018 Energy Luncheon is set for Tuesday October 16 at noon at the Jamestown North Dakota Farmers Union headquarters.
The Guest Speaker will be Jeff Haase Great River Energy's Leader of Member Technology and Innovation, providing leadership for GRE's conservation and energy efficiency programs as well as demand response and distributed  energy resources technology, strategy, development and operations.
Tickets for the luncheon are $10 for Chamber members or $12 for non-members, available on line at jamestownchamber.com or can be picked up at the Chamber office at the Center for Economic Development in Downtown Jamestown.
Sponsors include:  The Jamestown Area Chamber of Commerce, Great River Energy and The North Dakota Farmers Union.
Valley City (NDUS)  The Presidential Search Committee at Valley City State University has selected three finalists for the VCSU presidency. After a round of campus visits by five candidates Sept. 10-12, the committee selected a trio of candidates for final interviews with the North Dakota State Board of Higher Education on the VCSU campus Sept. 27.
The finalists are:
Jack Geller, Ph.D., dean, College of Social Sciences, Mathematics and Education, University of Tampa (Tampa, Florida)
Alan LaFave, D.M.A., provost and vice president for academic affairs, Northern State University (Aberdeen, South Dakota)
James Williams, Ph.D., MBA, vice president for student affairs, Emporia State University (Emporia, Kansas)
Wesley Wintch, VCSU vice president for business affairs and co-chair of the search committee, says, "These three candidates emerged from a robust round of campus interviews with students, faculty, staff and alumni, along with foundation and community representatives. We are confident each would bring outstanding leadership experience to the Valley City State University presidency."
The finalists will interview with the State Board of Higher Education in Valley City on Thursday morning, Sept. 27, with the selection of the next VCSU president announced thereafter.
BISMARCK, N.D. (Sept. 14, 2018) – The North Dakota National Guard is sending resources to the East Coast to aid in the emergency response to Hurricane Florence if requested.
Three National Guard helicopters and more than a dozen personnel will depart Saturday morning from Bismarck and pre-position in Maryland to be in proximity to the hurricane disaster area in case North Dakota is asked to assist with life-saving or life-sustaining efforts.
"Just as other states have come to our aid during past floods and other disasters, North Dakota is ready to help those threatened by the destructive forces of Hurricane Florence," Gov. Doug Burgum said. "Our hearts go out to the families who have lost loved ones to this violent storm, and we pray for the safekeeping of those still in harm's way."
Specifically, the National Guard is sending two UH-60 Black Hawk helicopters, one UH-72A Lakota helicopter and 15 personnel including pilots, crew chiefs, maintainers and a medic.
"Our aircraft and personnel will travel to be in position to assist in relief efforts from damage caused by Hurricane Florence if ordered," said Maj. Gen. Alan Dohrmann, adjutant general of the North Dakota National Guard. "It's the National Guard's job to save lives, minimize suffering and protect property, and our soldiers and airmen are always proud to do their share when called upon."
Under the Emergency Management Assistance Compact, governors can request mutual aid from other states to share resources, personnel and equipment across state lines during times of emergencies or disasters. North Dakota has not received an EMAC request from states impacted by Hurricane Florence, but it is anticipated such a request could come soon.
Photos of medivac training with the UH-72A Lakota are available here.
BISMARCK, N.D. -A change in leadership within the North Dakota National Guard's Land Component Command (LCC) will take place this weekend during a change of command ceremony. As the current LCC commander, Brig. Gen. Robert Fode will hand-off the duties of overseeing the state's nearly 3,000 Army Guardsmen to Col. Leo Ryan at 2 p.m. Sunday, Sept. 16, at the Raymond J. Bohn Armory in Bismarck.
Fode, who will retire in October, will have culminated a four-decade-long military career. A native of Mobridge, South Dakota, he enlisted in the N.D. Army National Guard in 1978 as a motor transport operator. In 1985, he was commissioned as a second lieutenant in the engineer branch after attending Officer Candidate School. He has held myriad key leadership positions throughout his career, including serving as a platoon leader, executive officer and commander within units of the 164th Engineer Battalion. Additionally, he served as the operations officer for the 142nd Engineer Combat Battalion.
From December 2003 – February 2005, Fode commanded the 141st Engineer Combat Battalion during the unit's deployment to Iraq. He mobilized again for a NATO-led peacekeeping mission in Kosovo in 2009, serving as the deputy commander, Multinational Battle Group East with Kosovo Forces, or KFOR 12. Upon his return, Fode was assigned as the director of the Joint Staff for the N.D. National Guard before assuming duties as the Land Component commander in April 2014.
A traditional Guardsman, Fode is employed by the N.D. Department of Transportation. He has worked for the agency since 1993 and currently is assigned as the director for the Office of Project Development.
Ryan brings more than three decades of experience to his new assignment as land component commander. He enlisted in 1985 as a bridge crewman in the 957th Engineering Company. In 1992, he completed Officer Candidate School and was commissioned as a second lieutenant. He has held a number of leadership positions throughout his military career, to include commanding the 1st Battalion, 188th Air Defense Artillery Regiment; the N.D. Army National Guard's Officer Candidate School and the 164th Regiment Regional Training Institute.
Ryan twice has served overseas during federal mobilizations. In 1990, he deployed to Southwest Asia in support of Operation Desert Shield and Operation Desert Storm as a squad leader in the 132nd Quartermaster Company. He deployed again in 2007 in support of Operation Iraqi Freedom as the executive officer for the 164th Engineer Battalion.
In his civilian profession, Ryan is an owner and practicing attorney of Dalsted and Ryan, P.C., which has offices in Jamestown and Carrington, North Dakota.  He is also the Jamestown City Attorney.

Bismarck  (CSi)  The North Dakota Highway Patrol is no longer seeking information on a hit and run crash that occurred on Wednesday, Sept. 12, in the Bismarck area. Information provided by the public helped to determine that the truck pictured in the news release was not involved in the crash. We appreciate the public's willingness to assist us with this investigation. Have a safe weekend!
BISMARCK, N.D. (AP) — North Dakota's largest business organization will campaign to help defeat a measure that would legalize recreational marijuana and another one aimed at ethics reform.Greater North Dakota Chamber President and CEO Arik Spencer says his organization is among a coalition of groups being assembled to fight the proposals.Campaign filings list the chamber as the contact for committees opposing the measures that will be decided in November.Measure 1 would ban foreign money from North Dakota elections, restrict lobbying and create an independent ethics commission, among other provisions.Spencer says it would be difficult to comply with the measure because it is too broadly worded.He says making marijuana legal would create many problems for businesses and employees.The chamber has more than 1,000 members.
Update…
BISMARCK, N.D. (AP) — A federal jury in North Dakota on Friday convicted a Rhode Island woman of helping scam elderly Americans out of millions of dollars, capping a large-scale Jamaican lottery scam case that authorities have been investigating and prosecuting for six years.
Jurors found Melinda Bulgin, 28, guilty of 15 counts of conspiracy, fraud and money laundering, after 3 1/2 hours of deliberations over two days. Defense attorney Kevin Chapman said he likely will appeal.
The Providence woman was the last of 27 defendants. The others all pleaded guilty or were convicted earlier in the scam that authorities say bilked at least 90 mostly elderly Americans out of more than $5.7 million. Authorities identified victims in at least five states: North Dakota, South Dakota, South Carolina, Texas and Arizona.
Authorities say scammers called victims about bogus lottery winnings, persuading them to send advance fees or so-called taxes to receive the purported winnings, then keeping the money without paying anything to the victims.
"When they (elderly) were vulnerable, Melinda Bulgin and these other co-conspirators preyed on them," Assistant U.S. Attorney Jonathan O'Konek told jurors.
The case is believed to be the first large-scale Jamaican lottery scam tried in U.S. courts. It began in September 2011, when then-82-year-old Edna Schmeets, of Harvey, North Dakota, was scammed out of about $400,000. During emotional testimony Thursday she described cleaning out her life savings, borrowing money from family and borrowing from the bank, so that she could continue sending checks.
"After that I was broke," she said.
Bulgin was accused of collecting money and funneling it between the U.S. and Jamaica via cheap flights she got through her job with an airline. She eventually was caught at a Jamaican airport in 2015 with nearly $15,000 she hadn't declared to customs officials.
That money came from Nancy Bauke, a 78-year-old widow in Tempe, Arizona, prosecutors said.
Bauke testified she was duped by the scammers even though she had worked as a financial adviser and taught financial planning classes. She said she sent a total of $25,000 to Bulgin and "did not receive one penny" in prize money.
MINOT, N.D. (AP) — Prosecutors have dismissed attempted murder and robbery charges against a Minot man accused of robbing a store and burglarizing an apartment, where he allegedly pistol-whipped a woman and shot and paralyzed a man.
Authorities charged Javontez Barnes in January but later concluded they erred in their theory about which of two suspects was responsible for the gun crimes.
The Minot Daily News reports Barnes pleaded guilty Thursday to burglary and reckless endangerment and was sentenced to serve five years in prison. He's agreed to testify against the man prosecutors now believe was responsible for the attack.
That man is serving a six-year sentence for robbing a grocery store the same day as the attack. It did not appear Friday that he had yet been formally charged in the gun incidents.
MINOT, N.D. (AP) — A Minot man has pleaded guilty to misdemeanor charges in a fatal Jet Ski crash last June.
Forty-one-year-old Dean Bartsch has pleaded guilty to prohibited operation of a personal watercraft, a charge that carries a maximum penalty of 30 days in jail and a $1,500 fine.
The Minot Daily News reports authorities say Bartsch operated a Jet Ski without properly securing the vehicle's engine cutoff lanyard to himself.
Ten-year-old Haley Sundsbak died June 10 from injuries suffered the day before in a collision on Strawberry Lake in McLean County. Sundsbak and another girl were on an inner tube being pulled by a boat. Bartsch's unmanned Jet Ski struck the inner tube shortly after he was thrown from the watercraft. The other girl suffered critical injuries, but survived.
FORT YATES, N.D. (AP) — The Standing Rock Sioux Tribe is seeking a $6.7 million grant to research building a bridge across the Missouri River's Lake Oahe.
The tribe has applied for a grant from the U.S. Department of Transportation that's for projects with a significant local or regional impact, the Bismarck Tribune reported .
The tribe hopes to use the grant funding to commission an environmental impact statement on a proposed crossing near Fort Yates. The statement process is expected to take about six years, which would then position the project for full design and construction.
Lake Oahe cut transportation connections between the west side of the Missouri River in Sioux County and Emmons County to the east when it was created in 1958. The bridge idea was introduced as early as the 1970s but floundered mainly due to concerns over the disruptions to burial sites and other cultural issues, said Ron His Horse Is Thunder, the tribe's director of transportation planning and development.
The tribe's concerns have been eased because technology now allows for a more complete search of burial sites, he said.
"The tribe is a little bit more receptive to the idea that, OK, if we do this bridge, we'll use this new technology and these cultural sites will be found and they will be protected," His Horse Is Thunder said.
A bridge would support the Standing Rock Reservation's agriculture and ranching economy as well as communities surrounding the reservation and across the river, His Horse Is Thunder said.
BISMARCK, N.D. (AP) — Democratic Sen. Heidi Heitkamp is sharpening her attacks on Republican Kevin Cramer on trade, launching a new ad Friday that blames her opponent for not opposing tariffs that she says are badly damaging North Dakota farmers.
The ad features farmer and former Democratic state Rep. Charles Linderman of Carrington standing in a soybean field.
"Mr. Cramer, that trade war is costing my family a lot of money. And you don't seem to care," Linderman says in the ad.
Heitkamp's campaign says the six-figure ad buy will run on television, radio and the internet over the next several weeks.
Cramer, a three-term congressman, is facing Heitkamp in a Senate race seen as critical for Republicans' chances to hang on to the chamber, with Heitkamp widely seen as one of the most vulnerable Democrats up for re-election.
Much of the race has turned on President Donald Trump, who carried North Dakota in a landslide in 2016 and remains highly popular. Cramer has strongly backed Trump and his trade policies, while Heitkamp has portrayed herself as willing to buck the president when he's wrong and has seized on trade as a key issue.
Cramer has said he believes trade disparities have harmed American farmers for decades.
Cramer did not immediately return a telephone call for comment Friday. His campaign referred questions to the North Dakota Republican Party, where spokesman Jake Wilkins said in a statement that Heitkamp was "playing politics with our farmers and ranchers" and "is hurting North Dakotans."
The Trump administration in July imposed a 25 percent tax on $34 billion worth of Chinese products in response to complaints that Beijing steals or pressures companies to hand over technology. China retaliated with taxes on an equal amount of U.S. products, including soybeans.
The U.S. also has imposed tariffs on imported steel and aluminum, and that could indirectly hurt farmers by driving up the cost of farm equipment.
Agriculture is the No. 1 industry in North Dakota with about 25 percent of the state's workforce. The state generates 54 commodities and leads the nation in the production of about 10 crops.
North Dakota ranks ninth among soybean -growing states and produces less than 6 percent of the nation's crop. But soybeans have grown in popularity in North Dakota in recent years thanks to strong prices, and this year the 6.6 million acres planted by farmers equals the size of the state's staple spring wheat crop.
In world and national news…
WILMINGTON, N.C. (AP) — A mother and infant in North Carolina are dead after a tree fell on their home – the first two fatalities of Hurricane Florence.
The Wilmington Police Department said Friday that the two were killed when a tree fell on their house. The father was transported to a hospital for treatment. No other information was given.
The hurricane came ashore early Friday, pounding the state with torrential rain and high winds.
Forecasters have been predicting catastrophic flash flooding. The National Hurricane Center in Miami says more than 16 inches of rain have fallen at locations in southeast North Carolina and another 20 to 25 inches is on the way.
SAN JUAN, Puerto Rico (AP) — A year after Hurricane Maria roared across the Caribbean, The Associated Press, the news site Quartz and Puerto Rico's Center for Investigative Journalism have put together the most detailed portrait yet of the final days of storm victims.
The joint investigation reflects how Puerto Rico's most vulnerable fell victim to dire conditions created by the storms. Many could have been saved with standard medical treatment. This slow-motion, months-long disaster kept Puerto Ricans from getting the care they needed for treatable ailments, even as Trump lauded his administration's response.
President Donald Trump cast doubt on Maria's widely accepted death toll, tweeting that "3000 people did not die." He said the death count had been inflated by Democrats who added unrelated deaths to the toll from causes like old age.
WASHINGTON (AP) — Paul Manafort's lawyer says the former Trump campaign chairman cut a deal with prosecutors "to make sure that his family was able to remain safe and live a good life."
Kevin Downing says Manafort, of Alexandria, Virginia, has "accepted responsibility."
Manafort agreed to cooperate with the special counsel's Russia probe and pleaded guilty to two federal crimes as part of Friday's plea deal.
The move allows him to avoid a second criminal trial. He was convicted last month of eight financial crimes in a separate trial in Virginia.
Neither of the cases against Manafort relates to Russian interference in the 2016 presidential election, the central issue in the special counsel's investigation. Instead, they focus on financial crimes and Manafort's Ukrainian political consulting work, including failing to register as a foreign agent.
WASHINGTON (AP) — Supreme Court nominee Brett Kavanaugh is denying a sexual misconduct allegation from when he was in high school.
In a statement issued Friday, Kavanaugh says the following: "I categorically and unequivocally deny this allegation. I did not do this back in high school or at any time."
The New Yorker reported the alleged incident took place at a party when Kavanaugh was attending Georgetown Preparatory School. The woman making the allegation attended a nearby school.
The magazine says the woman sent a letter about the allegation to Democrats.
A Democratic aide and another person familiar with the letter confirmed to the Associated Press that the allegation is sexual in nature. They were not authorized to speak publicly and spoke on condition of anonymity.
Rallying to Kavanaugh's defense, 65 women who knew Kavanaugh in high school issued a letter saying he has "always treated women with decency and respect."