Jamestown (JPD)  Jamestown Police Assistant Chief, Major Justin Blinsky reports that on September 15, 2018, at 1:38-p.m., a Jamestown Police Officer attempted to stop a 2005 white Ford Taurus in a residential area in northeast Jamestown, near ND Highway 20. The Police Officer recognized the passenger in the vehicle as having active felony warrants for his arrest. The vehicle failed to stop and proceeded to ND Highway 20 where the vehicle sped away from officers. The vehicle proceeded to flee from police into rural Stutsman County, reaching speeds in excess of 100 mph.
At 1:53-p.m.  the vehicle came to a stop near the 2700 block of 92 Ave SE in rural Spiritwood, ND. The driver of the vehicle was immediately taken into custody, but the passenger in the vehicle fled into a corn field which borders the roadway.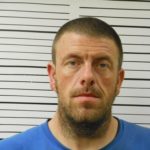 The driver of the fleeing vehicle was identified as 40 year old Chad Lee Kapp (<see photo) of Jamestown. Kapp was arrested on suspicion of the following charges: fleeing or attempting to elude a police officer; hindering law enforcement, and reckless endangerment.
Additional Law Enforcement Officers were immediately called to the scene of the incident and a perimeter was set up, to try and locate the fleeing passenger. The North Dakota Highway Patrol dispatched their agency plane to help provide aerial surveillance of the area. The land owner was notified and voluntarily provided additional assistance to Law Enforcement by allowing Law Enforcement to use Crop Sprayers to drive through his corn field, to provide an elevated platform to search for the suspect and to limit any damage to the crop.
The passenger of the vehicle was identified as 25 year old Levi Shawn Guthmiller of Jamestown. (see photo above)  Guthmiller has not been located and is still wanted by police for the active felony arrest warrants. If anyone has information of his whereabouts, please contact the Jamestown Police Department / Stutsman County Sheriff's Office at 701-252-1000.
The Jamestown Police Department was assisted by the Stutsman County Sheriff's Office and North Dakota Highway Patrol. The incident remains under investigation.