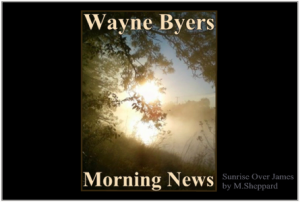 CSi Weather…
.REST OF TODAY…Partly to mostly sunny. Highs in the upper 50s. West winds 5 to 15 mph.
.TONIGHT…Partly cloudy. Lows in the lower 40s. South winds 5 to 10 mph.
.SATURDAY…Mostly sunny. Highs in the lower 60s. South winds 5 to 10 mph shifting to the east in the afternoon.
.SATURDAY NIGHT…Mostly cloudy. Lows in the lower 40s. Northeast
winds 10 to 15 mph.
.SUNDAY…Mostly cloudy. Highs in the lower 60s. East winds 10 to
15 mph.
.SUNDAY NIGHT…Mostly cloudy. A 30 percent chance of rain
showers after midnight. Lows in the upper 40s.
.MONDAY…Mostly cloudy. A 40 percent chance of rain showers in
the morning. Highs around 60.
.MONDAY NIGHT…Mostly cloudy. Lows in the lower 40s.
.TUESDAY…Mostly sunny with a 20 percent chance of rain showers.
Highs around 60.
.TUESDAY NIGHT…Partly cloudy. Lows in the lower 40s.
.WEDNESDAY…Partly sunny with a 20 percent chance of rain
showers. Highs in the lower 60s.
.WEDNESDAY NIGHT…Mostly cloudy with a 20 percent chance of rain
showers in the evening, then partly cloudy after midnight. Lows
in the lower 40s.
.THURSDAY…Partly sunny. A 20 percent chance of rain showers in
the morning. Highs in the upper 50s.
Isolated showers Sunday night into Monday morning
The James River Valley will see the best chance of any
accumulating precipitation Monday morning.
A weak clipper moves through the area on Tuesday with
scattered showers with a more significant clipper through the area
Wednesday into Thursday. This would bring a chance of rain
Wednesday with a transition to rain and snow on Thursday with
winds and much colder air spilling into the region.
Jamestown  (CSi) Traffic did not take long to back up on Highway 281 South, to 17th street SW   from a long load semi carrying a over size propane tank that could not make the corner coming off the I-94 eastbound exit, attempting to turn south onto Highway 281 at 8:30-a.m., Thursday.
The long load rig got hung up on the cement divider, due to restricted turning, in the Highway 281 road construction area.
Jamestown Assistant Police Chief, Major Justin Blinsky on scene reported the backup occurred in both directions, on Highway 281 at the I-94 overpass .
Jamestown Police directed traffic around the hung up semi,  to the North bound lane until the rig could be freed.
The scene was cleared about 9-a.m.
Damage occurred to the cement divider, and the truck, along with traffic control poles.
Jamestown  (CSi)  The Jamestown Tourism's  Grant and Executive Board met Thursday morning at The CSi Technology Center at Historic Franklin School.
Members present were: President Matt Woods, Mitzi Hager, Frank Balak, and Tena Lawrence.
Jamestown Tourism Director Searle Swedlund.
No Ex-Officio Members were present.
Grant request were made by the Jamestown Rural Fire Department for the Annual Ice Fishing Tournament, and 5 Star Bucking Bulls for the Duel in the Dirt Bull Riding.
The Annual Ice Fishing Tournament will be held February 16, 2019 at Jamestown Reservoir.
The Rural Fire Department represented by    Travis Lemieux , and Fire Chief Ben Maulding, requested $4,000, for advertising including regional billboards, outside the Jamestown area, along with ads in Dakota County Magazine.
5200 tickets will be available.
The estimated economic impact is $87,500, with a total of anticipated visitors at 1,300.
The projected profit is $31,500.
He said, in 2018 there were 1290 participants, with 940 from outside Stutsman County.
Tourism Director, Searle Swedlund pointed out the tournament continues attract people from outside the Jamestown area.
The board recommended funding the full amount of $4,000, as the tournament continues to grow, and has the opportunity to continue to grow, and Tourism can be a part of its growth, by with adverting support.
With The Duel in the Dirt, Bull Riding  the organization requested $5,000 for advertising and promotion of the event to be held November 16 and 17, at the Jamestown Civic Center, along with miniature bull riding for children 9-14 years old.
Funding from sponsors is put at $35,000, rider entry fees at $7,000.
2400 visitors are anticipated, of $252,500 to 333,750.
The board table the request, needing more documentation in the request form.
Swedlund said the event attendance needs clarifying, saying the organization is welcome to resubmit the request at the October meeting.
With the Executive Board Meeting:
With the Tourism Report, Director Searle Swedlund noted possible grant requests for 2019 events in Jamestown.   Those possibly include from the National Women's Wrestling Tournament to be held in March of 2019 at the University of Jamestown.  Another possible request may come from organizers of North Dakota Hockey Day, which will include participates necessitating overnight stays in Jamestown.
He noted recent events in Jamestown that included the recent Big Guns of the Old West event at Fort Seward which attracted a good crowd of 170, including out of town visitors.
He added the Fort Seward Interpretive Center's video presentation is progressing, and that the Louis L'Amour area at the Alfred Dickey Public Library is moving along, with interpretive panels and a kiosk, for visitors.
He added several applications have been submitted for the position of Tourism Office Manager, with interviews starting next week.
The Tourism Nominating Committee proposed individuals for directors.
Swedlund added that the nominations will be forwarded to the full Tourism Board for a final decision at the January 2019 meeting.
Those nominated are:  President Matt Woods, Vice President Tena Lawrence,  Treasurer Taylor Barnes, Director Frank Balak, and Paulette Ritter.
Jamestown  (CSi)  The Jamestown City Council met in Special Session Thursday evening at City Hall.
Council Member Phillips was not present.
The Council members approved awarding the bid for the Inert Landfill Cell 1-4 final cover to  On the Level  in the amount of  $249,350.
The Council then awarded the bid for the purchase of 33 new P-25 portable radios for the Jamestown police department to the low bidder, Jamestown communications in the amount of  $57,467.60, with trade in.
Jamestown  (CSi)  The Jamestown City Council's Police & Fire Committee , Public Works Committee met Thursday evening at City Hall.
Council Member Phillips was not present.
POLICE & FIRE COMMITTEE
No items at this time.
PUBLIC WORKS COMMITTEE
The committee recommends approving the request for a variance to allow a rollover curb at 1100 5th Ave SE. (West Side of the Old TSC Building), to be the new home of RV Motorsports.
Considered was a request for Change Order No. 2, to Burski Excavating, Inc., on Sanitary Landfill Cell 4A Liner and Cell 2/3 Partial Final Cover, for a time extension on the completion date, to mid to the end of October this year.
A motion recommended approval of the extension, however due to a lack of a second the motion failed.
INFORMATIONAL: Project updates.
Travis Dillman from Interstate Engineering the first phase of the river tree snagging is complete.
He said grant applications will be filed to finish the project, to include river bank restoration.
One item remains to be completed at the Frontier Village wall replacement.
INFORMATIONAL: Update on Recycling Collection.
Recycle North Dakota, Manager, Ralph Friebel said, with the new recycling building at 10th Street Southeast, the architectural review has been completed and approved by the city.
He said the baler portion of the operation may be completed next week.
INFORMATIONAL: Garbage and recycling collection update.
Sanitation Foreman, Roger Mayhew, said after conferring with other cities, he recommends curb side garbage collection.  He noted the new garbage trucks are heavier and could cause problems with the soft alleyway soils.
With recycling, Ralph Friebel indicated 12 addresses with no curb access, and 25 addresses have no alley access.
The committee recommends city open houses on the garbage collection issue, including maps, for public access.
The committee considered letter received from Ralph Friebel, of Recycle North Dakota, for permission to remove sidewalk on the north side of property at 1016 10th St SE, the new recycling center in the former Coke Plant.
The committee recommends approval of the request.
INFORMATIONAL:
A Sprint representative spoke regarding antennae for three radios, on the City water tower located at the University of Jamestown.
The request is to add three antennae for cell phone communications, prior to October 1 this year.
Council Member Brubakken pointed out Tuesday's committee meeting recommended an increase in the annual lease fee, to $1500 with an escalator clause.
He said Sprint would agree to that annual lease fee.
The committee recommends reviewing the information from Sprint, with the city engineer,  be presented at the October 1 City Council meeting.
Sprint wants to have the cell antennae operational by October 31.
The meeting was shown live on CSi Cable 67 followed by replays.
Jamestown   (CSi)  Jamestown bid a fond farewell to Larry Phillips who passed away on September 12, this year.
Following his funeral on Thursday September 20, at First United Methodist Church in Jamestown, the funeral procession was escorted from Jamestown to his final resting place, with burial at Sunset Memorial Gardens in Fargo.
Jamestown City Fire Department and Rural Fire Department fire fighters honored Larry's memory with fire trucks in the procession and a dedication on the I-94 Bloom Exit bridge.
Larry was a training officer for the Jamestown Fire Department from 1972 to 1980 before he became a regional seven-state fire/rescue instructor,teaching classes in North Dakota, South Dakota, Minnesota, Wisconsin, Montana, Wyoming and Nebraska. He started his own company, Signal 10 Group, in Jamestown and was Chief Instructor at Northwest Region Fire/Rescue, where he carried a Level IV instructor rating through the state of Minnesota.
Larry was a member of the  Jamestown City Fire Department from 1972 to 1980 and the Jamestown Rural Fire Department beginning in 1982.
Jamestown  (CSi)  The Jamestown Regional Entrepreneur Center has set dates for events to which the public is invited.
The Center's Director, Katherine Roth of Jamestown said on Thursday's Wayne Byers Show on CSi Cable 2, that located at the University of Jamestown's Unruh-Sheldon Building, the Center was established to create rural startups in the counties of Wells, Foster, Griggs, Stutsman, Barnes, Logan, LaMoure, McIntosh and Dickey, offering entrepreneurship events to gather and network individuals interested in various industries.
It also provides customized training and individual technical assistance to assist with starting and building a business.
All events, training and technical assistance are free of charge.
This institution is an equal opportunity provider and employer.
Ms Roth said,  on Tuesday October 2nd the public is invited to attend the Entrepreneurship  Club meeting, for more information, at 6-p.m., at the UJ Unruh-Sheldon location, in room 109.
On October 9, at the office from noon to 1-p.m., information will be given on those who have a recipe and wanting to start a food business, with the "Foodtrepreneur" meeting, at the UJ Unruh- Sheldon Building, in room 109.
Then on Wednesday October 10, two sessions will be held at 12 noon to 1-p.m., and 6-p.m. to 7-p.m., at the Unruh-Sheldon building, the Local Makers Meeting, discussing selling local goods,  hosted by the Jamestown Regional Entrepreneur Center.
For more information about the center on line visit:  JRECenter.com
Call Katherine Roth at  701-253-4112, or E-mail, Katherine.Roth@uj.edu
WILLISTON, N.D. (AP) — The Highway Patrol has identified a Williston man who died in a motorcycle crash in Williams County.Authorities say 26-year-old Thomas O'Dell lost control of his bike on a curve on U.S. Highway 85 early Wednesday, and it overturned in the ditch.He was pronounced dead at the scene about 6 miles north of Williston. 
STANLEY, N.D. (AP) — A Stanley man is accused of making a pipe bomb for a Fourth of July celebration in an incident that injured his adult daughter.The Minot Daily News reports 61-year-old Darvey Cox allegedly asked the woman to light the explosive on July 4 and it exploded in her hands. She was treated at a hospital.Court documents allege Cox makes a pipe bomb every year for the holiday. He faces two felony bomb-related charges that could land him in prison for up to 10 years.Court documents indicate he is representing himself in court. A home telephone listing couldn't be found. He could enter pleas at an Oct. 25 hearing.
FARGO, N.D. (AP) — A man accused of helping kill a woman on the Spirit Lake Indian Reservation has been sentenced for unrelated gun assault and shooting incidents.The U.S. attorney's office says 24-year-old Dakota Charboneau will spend 60 years in federal prison for assaulting two men with the butt of a gun in October 2017, and for shooting his ex-girlfriend in the face with a shotgun in November 2017. She lost an eye.Charboneau was arrested last December following a chase with law officers through three counties. He was convicted in June in the assault cause and pleaded guilty on Monday in the shooting.Charboneau also faces murder and robbery conspiracy charges in the August 2016 death of 27-year-old Carla Yellowbird. Authorities say Yellowbird was shot and killed while being robbed of drugs and money.
BISMARCK, N.D. (AP) — The North Dakota Department of Health says 63,840 gallons of produced water spilled from a pipeline release in Dunn County.The pipeline is part of a gathering system owned by Petro-Hunt LLC. The release happened Wednesday about 14 miles (23 kilometers) west of Killdeer and was reported Thursday.Produced water is a mixture of saltwater and oil that can contain drilling chemicals.The cause of the release is under investigation. The Health Department has inspected the site and will continue to monitor remediation.
KEENE, N.D. (AP) — North Dakota regulators say equipment failure caused a spill of about 1,000 gallons of oil and nearly 15,000 gallons of brine at a saltwater disposal well in McKenzie County.The state Oil and Gas Division says White Owl Energy Services reported the incident Thursday at the WO Newtown 1 well about 8 miles northeast of Keene.All of the oil and brine was contained on-site. A state inspector has been to the well and will monitor cleanup. 
BISMARCK, N.D. (AP) — The developer of the Dakota Access oil pipeline says environmental group Greenpeace should be held legally accountable for violating federal racketeering laws.
Texas-based Energy Transfer Partners sued Greenpeace and two other groups for up to $1 billion last year. The company alleges the groups worked to undermine the $3.8 billion pipeline that's now shipping oil from North Dakota to Illinois.
A federal judge has dismissed the other two groups from the case. Greenpeace also wants to be dismissed. Greenpeace argues that ETP's claims are "generalized and implausible." But the company says there's plentiful evidence of "malicious criminal conduct."
The company alleges the group disseminated false information about the pipeline to obtain donations and incite unrest, which hurt ETP financially. The company says the group also organized and funded a violent protest faction.
VELVA, N.D. (AP) — Some residents of central North Dakota community would welcome a Dollar General store, but city officials want no part of it.
The Velva City Commission recently rejected the lone bid on a land sale after learning the developer planned to lease the property to Dollar General, the Minot Daily News reported. The retailer has about 14,000 stores nationwide.
Velva officials declined the developer's offer of $100,000 for nearly 1.4 acres (0.6 hectares) on the city's west side.
Commissioner Mary Liz Davis said officials didn't want Dollar General to threaten existing businesses in Velva, particularly its grocery and drug stores. She said area businesses are already dealing with a worker shortage and a Dollar General would bring more employment competition to the area.
Davis acknowledged that the developer may find another property for the store.
"It's not like we are stopping it," Davis said. "We just don't want to be a part of the process."
In sports…
BISMARCK, N.D. (AP) — The 2018 waterfowl hunting season opens for North Dakota residents on Saturday.The season opens for out-of-state hunters a week later.Hunters are allowed six ducks per day, with several restrictions . The daily limit of mergansers is five. For both ducks and mergansers, the possession limit is three times the daily limit.The bag limit for Canada geese during the regular season is eight daily and 24 in possession, except in the Missouri River zone where the limit is five daily and 15 in possession.The daily limit on whitefronts is three with nine in possession, and light goose is 50 daily, with no possession limit.
High School Volleyball…
Devils Lake def. Valley City, 21-25, 25-22, 26-24, 30-28
Jamestown def. Minot, 25-18, 25-23, 25-20
Medina-Pingree-Buchanan def. Wilton-Wing, 25-22, 25-23, 25-18
Midkota def. Lakota, 25-14, 25-20, 25-20
Alexander def. New Town, 28-26, 25-16, 25-12Benson County def. St. John, 3-1Bismarck Century def. Mandan, 25-23, 25-12, 25-21Bismarck High def. Williston, 3-0Bismarck St. Mary's def. Watford City, 25-13, 25-14, 25-11Bottineau def. Drake/Anamoose, 25-23, 25-14, 25-14Bowman County def. Richardton-Taylor, 25-15, 25-19, 26-24Cavalier def. Midway-Minto, 25-13, 25-17, 25-18Central Cass def. Tri-State, 25-19, 25-9, 25-14Dakota Prairie def. Rolette-Wolford, 25-18, 23-25, 25-18, 22-25, 15-11Des Lacs-Burlington def. Bishop Ryan, 25-18, 24-26, 25-17, 25-19Edgeley-Kulm def. Kidder County, 25-19, 25-22, 21-25, 25-23Fargo Davies def. Fargo North, 23-25, 25-14, 25-16, 25-12Fargo Shanley def. Fargo South, 25-21, 25-17, 25-14

Garrison-Max def. Turtle Lake-Mercer-McClusky, 25-20, 25-15, 25-18

Glenburn def. Mohall-Lansford-Sherwood, 25-22, 25-19, 25-20

Grand Forks Red River def. Wahpeton, 25-23, 18-25, 25-13, 25-17

Griggs County Central def. Larimore, 25-16, 25-23, 20-25, 25-18

Harvey-Wells County def. New Rockford-Sheyenne, 25-18, 25-18, 20-25, 25-15

Hatton-Northwood def. Hillsboro/Central Valley, 17-25, 25-23, 25-19, 17-25, 15-13

Kenmare def. Tioga, 25-8, 25-15, 25-14

Killdeer def. Glen Ullin-Hebron, 25-23, 25-22, 25-21

Langdon-Edmore-Munich def. Dunseith, 3-0

Leola/Frederick, S.D. def. Ellendale, 25-21, 28-26, 25-20

Lewis and Clark def. Surrey, 25-18, 25-9, 25-11

May Port CG def. Finley-Sharon/Hope-Page, 25-9, 26-24, 25-11

Minot Our Redeemer's def. South Prairie, 25-15, 25-16, 25-7

Mott-Regent def. Beach, 27-25, 21-25, 25-22, 21-25, 15-12

Napoleon def. Shiloh Christian, 22-25, 25-16, 25-18, 25-15

Newburg-Westhope def. Nedrose, 25-14, 25-14, 15-25, 25-20

North Star def. Rolla, 25-10, 25-13, 25-19

Oakes def. South Border, 25-14, 25-17, 25-14

Park River/Fordville Lankin def. Grafton/St. Thomas, 25-16, 24-26, 25-21, 25-19

Parshall def. Trenton, 25-17, 25-7, 25-13

Sheyenne def. West Fargo, 25-17, 25-16, 25-21

Stanley def. Powers Lake, 23-25, 25-18, 25-14, 25-12

Thompson def. North Border, 25-5, 26-24, 25-9

Timber Lake, S.D. def. Standing Rock, 25-8, 25-13, 25-11

Velva/Sawyer def. Towner-Granville-Upham, 25-12, 25-16, 25-13

Washburn def. Grant County, 3-1

Wyndmere-Lidgerwood def. Sargent Central, 25-20, 25-10, 25-12
NFL-BROWNS/JETSBrowns finally get a win
CLEVELAND (AP) — It finally happened. The 19-game winless streak is over. The Cleveland Browns have their first victory since December 2016, and their rookie quarterback led them to victory.The Browns trailed 14-0 near halftime before first overall pick Baker Mayfield entered the game and rallied Cleveland to its first win in 635 days, 21-17 over the New York Jets.Mayfield took over after Tyrod Taylor suffered a concussion.
The reigning Heisman Trophy winner finished 17 of 23 for 201 yards, leading four scoring drives and catching a pass for a two-point conversion.Carlos Hyde had a pair of one-yard touchdown runs, the last giving the Browns the lead with 2:04 remaining. Hyde carried 23 times for 98 yards.Jarvis Landry caught eight passes for 103 yards and threw the conversion pass to Mayfield that tied the game 14-14 in the third quarter.Sam Darnold didn't fare well in a matchup of the first two quarterbacks taken in this year's draft, completing 15 of 31 passes for 169 yards. The Jets had two chances to regain the lead after the two-minute warning, but the drives ended with interceptions by Darnold as New York fell to 1-2.The winless skid was the league's second-longest since the 1970 NFL-AFL merger. The Browns are 1-1-1.NFL-NEWSReturns of Burks, Jones replenish Packers' depthUNDATED (AP) — The Green Bay Packers might get injured inside linebacker Oren Burks back for their game Sunday at Washington.The rookie appeared to be in line to open the season as the starter inside alongside Blake Martinez when he hurt his shoulder during warmups before a preseason game last month in Oakland.

Depth has also been replenished at running back, where Aaron Jones figures to return on Sunday after missing the first two games due to a suspension for violating the league's substance abuse policy.

Elsewhere in the NFL Thursday:

— Broncos quarterback Case Keenum returned to practice after missing a day with a sore knee. Keenum didn't want to miss Wednesday's workout but said he understood that being cautious in September will give him a better chance of staying in the lineup all season. He has led the Broncos to a pair of fourth-quarter comebacks, pushing his record over the last two seasons to 13-3.

— Falcons wide receiver Julio Jones says he's "good" to play against New Orleans on Sunday despite missing his second day of practice with tightness in his calf. Jones says his absence from practice on Thursday was "just precaution."

— Jaguars running back Leonard Fournette practiced in a limited capacity for the second straight day and feels "a lot better, like way better" than he did a week ago. Fournette strained his right hamstring in a season-opening win over the Giants at the Meadowlands and sat out last week's victory against New England.

— Steelers star wide receiver Antonio Brown says he doesn't want to be traded. He had earlier responded to criticism on social media by suggesting the team should trade him if it wants to find out how productive he can be when not playing with quarterback Ben Roethlisberger. Brown admits that he's got to do a better job of limiting distractions going forward.

— Giants receiver Odell Beckham Jr. is sick of losing and frustrated with seemingly being asked to take tests every other week by the NFL for performance-enhancers. Beckham tweeted about the tests, saying, "It's actually funny how I 'randomly' get tested every other week. Dear @NFL please stop sending these people, ur takin away from meeting times and film… thanks." Beckham has never been suspended by the NFL for using a banned substance.

MLB…

UNDATED (AP) — On the third try, the Boston Red Sox got it right.

Mookie Betts was 4-for-5 with five RBIs and three runs scored as the Red Sox pulled out an 11-6 win over the New York Yankees to capture their third straight AL East title. The Bosox dropped the first two games of the series and trailed 6-4 heading into the fifth inning before improving to a major league-best 104-49.

Jackie Bradley Jr. tied the game with a solo homer in the seventh. Later in the inning, Xander Bogaerts (BOH'-gahrts) lifted a sacrifice fly that was thrown away by outfielder Aaron Hicks, allowing a second run to score.

Betts capped the scoring with a three-run blast in the eighth off Aroldis (ah-ROHL'-dihs) Chapman, who was making his first appearance since coming off the disabled list. Brock Holt also went deep for the Bosox.

Boston's rally came after Giancarlo Stanton launched a grand slam to erase the Yankees' 4-2 deficit.

It's the first time the Red Sox have won three straight division titles. They need one more victory to tie the club record set in 1912.

Luke Voit homered for the third time in two games, but the Yankees failed to complete the sweep.

New York is now 1 ½ games ahead of Oakland for the first AL wild card.

Checking out Thursday's other major league action:

— The Athletics reduced their magic number to four for clinching an AL playoff berth by blasting the Los Angeles Angels, 21-3. Marcus Semien highlighted Oakland's season-high 22-hit attack by going 3-for-5 with five RBIs, contributing a three-run double and a two-run single. Stephen Piscotty added four ribbies, including a three-run homer that put the A's ahead 5-1 in the third inning.

— Lucas Duda (DOO'-duh) doubled home the go-ahead run in the seventh and Freddie Freeman was 2-for-5 with two runs scored as the Braves beat the Phillies, 8-3. Ender Inciarte (ihn-see-AHR'-tay) and Dansby Swanson each had two hits and an RBI for the Braves, who dropped their magic number for winning the NL East to four over Philadelphia. Swanson drew a bases-loaded walk to spark Atlanta's four-run eighth.

— Tampa Bay's five-game winning streak is over after the Blue Jays homered three times while erupting for seven runs in the bottom of the ninth to beat the Rays, 9-8. Justin Smoak won it with a solo shot, one pitch after Lourdes Gurriel's (gur-ee-EHLZ') three-run blast knotted the score. Danny Jansen hit two-run shot after the Rays scored five times in the seventh to take an 8-2 lead.

— The White Sox blew a 4-0 lead before Matt Davidson delivered an RBI single in the 11th inning to give Chicago a 5-4 victory at Cleveland. Yoan Moncada hit a two-run double and Omar Narvaez (nahr-VY'-ehz) added a solo shot before the Indians began to rally on third-inning homers by Francisco Lindor (lihn-DOHR') and Michael Brantley. The White Sox avoided a season sweep of their nine games in Cleveland after the Indians outscored them 58-19 in the first eight meetings.

— Amed Rosario hit a leadoff single and scored on Jose Lobaton's (LOH'-bah-tohnz) sacrifice fly to five the Mets a 5-4 win at Washington. Michael Conforto belted a two-run homer and Jay Bruce added a solo shot and two RBIs for New York. Anthony Rondon (rahn-DOHN') slammed a two-run blast and rookie Juan Soto tied the game with an RBI double in the eighth.

— Christian Stewart slammed his first two big league homers and collected six RBIs as the Tigers outscored the Royals, 11-8. The Royals led 3-0 in the first until Stewart and Nicholas Castellanos (kas-tee-AH'-nohs) hit back-to-back shots. Jorge Bonifacio (boh-nih-FAH'-see-oh), Brian Goodwin, Hunter Dozier and Adalberto Mondesi (a-dul-BEHR'-toh MAHN'-deh-see) went deep for the Royals.

— The Reds were 4-2 winners at Miami as Scooter Gennett (jeh-NEHT') supplied a two-run homer and a two-run double. Cody Reed allowed five hits over six innings to win for only the second time in 12 major league decisions. Raisel Iglesias put the tying run on base in the ninth before notching his 29th save.

MLB-NEWS

UNDATED (AP) — Pittsburgh Pirates starting pitcher Chad Kuhl will miss the entire 2019 season following Tommy John surgery on his right elbow.

Kuhl went 5-5 with a 4.55 ERA in 16 starts for the Bucs this season. The Pirates initially placed him on the disabled list in June because of right forearm soreness and gave him a month off hoping he'd avoid surgery.

In other MLB news:

— Mets infielder Wilmer Flores will miss the rest of the season because of soreness in both knees. Manager Mickey Callaway said surgery is not recommended at this time but adds that Flores has early-onset arthritis in both knees and will receive injections to alleviate the pain. Flores started 88 games at three infield positions this season and hit .267 with 11 home runs and 51 RBIs.

— Miami Marlins CEO Derek Jeter is hinting that manager Don Mattingly is expected to return next year as the ballclub continues its latest rebuilding effort. When asked about Mattingly's status for 2019, Jeter said, "He's under contract." Mattingly took over before the 2016 season and is 215-259 with Miami, including a 59-92 mark this year.

— Billie Jean King and partner Ilana Kloss have joined the Dodgers ownership group. The tennis great says team owner and chairman Mark Walter and the organization have proven to be leaders in sports on and off the field. Walter says he's proud to welcome "two trailblazing athletes, social advocates and business women."

— Padres vice president of scouting Don Welke has died at 75. He joined the Padres in 2014, following general manager A.J. Preller from the Rangers to San Diego. Welke was instrumental in the Rangers reaching consecutive World Series through his direct involvement in the signings and acquisitions of Adrian Beltre, Jurickson Profar (JUR'-ihk-suhn PROH'-fahr) and Elvis Andrus (AN'-droos).
NHL….Preaseason….
Dallas 3   Minnesota 1
COLLEGE FOOTBALL…
PHILADELPHIA (AP) — Ryquell Armstead ran for 108 yards and a touchdown, the Temple defense scored on two of its five turnovers and the Owls beat Tulsa 31-17 on Thursday night in an American Athletic Conference opener for both teams.
TOUR CHAMPIONSHIPTiger Woods returns to Tour Championship with share of leadATLANTA (AP) — Tiger Woods has a share of the lead through one round of the Tour Championship in Atlanta.Woods made an eagle putt from just over 25 feet on the par-5 18th hole for a 5-under 65 that ties him with Rickie Fowler. It wasn't as low as the 62 he shot at Aronimink to share the 18-hole lead in the BMW Championship two weeks ago. For Woods, this one felt even better because of the dry, tougher conditions at East Lake.Justin Rose and Gary Woodland are one stroke back and one ahead of Rory McIlroy, Justin Thomas and Tony Finau. Rose is playing his first tournament since being elevated to the top of the world ranking last Monday.COLLEGE FOOTBALL-NEWSKelly mum on starting QB for No. 8 IrishUNDATED (AP) — Notre Dame football coach Brian Kelly was evasive Thursday when asked to name his starting quarterback for Saturday's game at Wake Forest.Kelly would not say that junior Ian Book would start against the Demon Deacons or even if he had drawn even with senior Brandon Wimbush, last year's primary starter and No. 1 through Notre Dame's 3-0 start at home. When questioned specifically whether Wimbush would start, Kelly repeated that both of his top signal-callers would play.Checking out other college football news:— Ohio State All-American defensive end Nick Bosa will be out indefinitely after having surgery for a lower-abdomen injury. Jonathan Cooper is expected to start in Bosa's place opposite Chase Young in Saturday's game against Tulane.

NHL-NEWS

Canadiens' Domi suspended for preseason

UNDATED (AP) — Montreal Canadiens forward Max Domi (DOH'-mee) has been suspended for the remainder of the NHL preseason after punching Florida defenseman Aaron Ekblad during a preseason game Wednesday.

Domi was asking Ekblad to fight just as the third period began, but the Panthers star showed no interest in dropping the gloves. Domi punched him twice in the face before dropping his right glove and sucker-punching Ekblad to earn a minor, major and match penalty on the play.

Ekblad was taken off the ice and underwent the NHL's concussion protocol, which he passed.

In other NHL news:

— Sabres forward Sam Reinhart practiced Thursday after signing his two-year, $7.3 million contract. Reinhart missed five days of training camp and two preseason games while holding out. The two-time 20-goal scorer has 65 goals and 140 points in 249 career games.

OLY-RUSSIAN DOPING

Despite protests, Russia's anti-doping agency reinstated

UNDATED (AP) — The World Anti-Doping Agency has declared Russia's scandal-ridden drug-fighting operation back in business. The decision is designed to bring a close to one of sports' most notorious doping scandals but one bitterly disputed by hundreds of athletes and described as "treachery" by the lawyer for the man who exposed the corruption.

On a 9-2 vote, the executive committee took the advice of the agency's compliance review panel and declared RUSADA as having satisfied conditions of reinstatement that were gradually softened over the summer.

In most tangible ways, the decision doesn't change much. RUSADA has been up and running for a while, bringing one of the world's largest testing programs back on line with the help of officials from Britain and elsewhere. Russia's Olympic committee was brought back into the fold after the Pyeongchang Olympics, where athletes who could prove they were clean were able to compete as "Olympic Athletes from Russia."
In world and national news…
WASHINGTON (AP) — A woman accusing Supreme Court nominee Brett Kavanaugh of sexually assaulting her decades ago may testify before a Senate committee but would like certain conditions met. A Senate aide says California college professor Christine Blasey Ford's lawyer told Judiciary Committee staff the preference would be for Ford to testify next Thursday and she doesn't want to be in the same room with Kavanaugh, who denies her allegation. President Donald Trump told Fox News on Thursday it's a "sad situation."
ISTANBUL (AP) — As about a million Uighurs and other Muslim minorities are held in Chinese internment camps that have alarmed a U.N. panel and the U.S. government, there is evidence the children of detainees and exiles are also being placed into dozens of orphanages across the far west region of Xinjiang. Experts say what China is doing echoes how white colonialists in North America and Australia treated indigenous children, while Uighurs fear that their ethnic identity is being wiped out one child at a time.
WASHINGTON (AP) — President Donald Trump's former personal lawyer Michael Cohen says he's providing "critical information" as part of the special counsel's Russia investigation. Cohen pleaded guilty to campaign finance and other charges last month and tweeted Thursday he's providing the information to prosecutors without a cooperation agreement. The Republican president has repeatedly trashed the investigation and called it a politically motivated and "rigged witch hunt."
WASHINGTON (AP) — The often low-key Hawaii U.S. Sen. Mazie Hirono has stepped into the spotlight as one of the most outspoken senators defending a woman who accuses Supreme Court nominee Brett Kavanaugh of sexually assaulting her decades ago. California college professor Christine Blasey Ford's accusation has upended the previously smooth confirmation process for Kavanaugh, who denies assaulting her. Hirono said this week she wanted to tell men: "Just shut up and step up. Do the right thing, for a change."
NEW YORK (AP) — Some investors are seeing and smelling green in marijuana stocks. Canada is getting ready to legalize pot next month, leading to giant gains for Canada-based companies listed on U.S. exchanges. The value of the British Columbia-based company Tilray has jumped tenfold since its initial public offering just two months ago. But Ken Mahoney, CEO of New York based Mahoney Asset Management, is cautious. He says, "We just went through this eight months ago with cryptocurrencies."