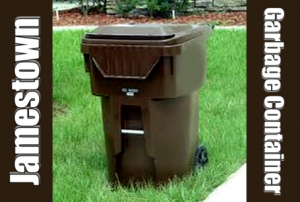 Jamestown (CSi)  The City of Jamestown invites the public to give their input into alley and curbside garbage collection options with two Open House dates: Fri & Sat Sept 28 & 29,  9am to 2pm, at the Jamestown City Fire Hall, at 209 2nd Ave NW.
The news release from City Hall says, in 2018, the City began automated garbage collection. The intent was to reduce costs by reducing labor, increase efficiency by reducing the collection time, and streamline the collection process.
This 2-day Open House is an opportunity for residents to actively participate in the decision-making process.
At least one City staff person will be present to answer questions and listen to comments. Residents are invited to comment on alley and curbside waste collection to be included on the list compiled for City Council.
To submit comments without attending an open house, email comments to: rac@jamestownnd.org
For more information, visit the City website at: jamestownnd.org click on Public Notices or Events. To view current City garbage utility/cart rates, go to: http://jamestownnd.org/departments/public-works/utility-billing/
For more information about recycling, (carts, collection, recyclables, drop-off hours, etc.) contact Recycle North Dakota at 701.320.9218, email: info@recyclenorthdakota.org or visit recyclenorthdakota.com