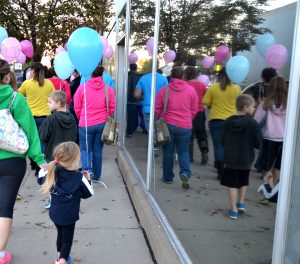 (JAGST) Jamestown Area Grief Support Team (JAGST) in conjunction with the Jamestown Regional Medical Center Family Birthplace will hold a candlelight service Monday, October 15 at 6:30 p.m. at St. John's Lutheran Church, 424 First Avenue South, Jamestown, for families and loved ones affected by infant loss from infertility, miscarriage, stillbirth or infant death.  The evening will begin with a short Walk of Remembrance followed by the candlelight service at the church.
In 1988 the month of October was proclaimed as National Pregnancy and Infant Loss Awareness month. October 15th has been recognized as National Pregnancy and Infant Loss Remembrance Day. This day allows families and friends to honor their babies who have died. International Wave of Light ceremonies are held at 7:00 p.m. local time in all time zones. Participants are asked to burn their candles for at least one hour, resulting in a continuous chain of lighted candles throughout the globe on this day.
This will be the seventh annual candle lighting ceremony in Jamestown, joining those around the world to create a Wave of Light in memory of the babies lost. Fellowship and refreshments will follow the candle lighting service. For more information on the event please contact Renae Lunde in the JRMC Family Birthplace at (701) 952-4807.