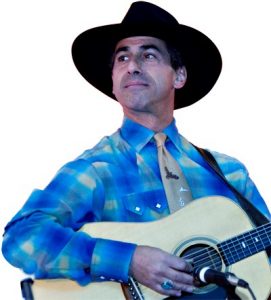 (Arts Center)  The Jamestown Arts Center hosts Kerry Grombacker on Saturday October 13, for a 2-p.m., writing workshop,  and a 7-p.m., concert.
In May and June of 2010, Kerry Grombacher followed the path of U.S. Highway 281 from Dunseith, and the International Peace Garden, to Brownsville, Texas, on his 1,872 mile long "Highway 281 Troubadour Tour," and he appeared at the Jamestown Arts Center in the inaugural concert on the tour. We are happy to welcome him back to Jamestown.
Kerry will lead a creative writing workshop. In the spirit of the troubadours of old, his songs paint vivid portraits and tell the fascinating stories of working cowboys and old camp cooks, roadside motels and prisons, wildland firefighters, cattle rustlers and wolf trappers – stories of the west that he's lived and worked in.
Afterwards, Kerry will entertainwith his country Western themed songs & stories.