Saturday Homecoming Parade – two videos:   A short of pictures,  and a 22 minute version of the view from the CSi Downtown WebCAM,  no audio.
Parade Pixs from WebCAM with music

22 Minute Parade Video from CSi Downtown WebCAM – No audio
Sunday Oct 7
10:30-a.m. to 1-p.m., Sodexo Sunday Brunch, Student Senate Cafeteria
8-p.m., Get to Know Your Homecoming Court, Student Senate Cafeteria
8-10 p.m., Homecoming Casino Night, Student Center
Monday October 8
4-p.m., 36th Annual Bill Osmon Fun Run, Lokken Stadium
Tuesday October 9
7:30-p.m., Guitar Artist, Luther Enlow, Froemke Auditorim
Wednesday October 10
10-a.m., to 1-p.m., Homecoming Decades Dance, Valley City Eagles
Thursday October 11
11-a.m., VCSU Homecoming Pep Rally, Graichen Gymnasium
Friday October 12
12 noon Alumni No-host Luncheon, Student Center Cafeteria
2:30-p.m., Alumni Welcome Back, Ice Cream Social, Allen Pedersen Gazebo
3-p.m., Campus Tours
5-p.m., Hall of Fame Social, Student Center Skoal Room
6-p.m., Hall of Fame Banquet & Ceremony, Student Center Cafeteria
7-p.m., Choir Concert, Vangstad Auditorium
8-p.m., Alumni Social, celebrating class reunions and All Greek Reunion,Valley City Eagles
Saturday October 13
On Saturday morning, Oct. 13, the Alumni Honors Breakfast will be held at the VCSU Student Center beginning at 8:30 a.m.
Seven alumni will be honored with the Certificate of Merit award. This year's recipients include Peder Gjovik '77, Mark R. Hanson '86, Joan (Leichtman) Heckaman '67, Marcia (Knutson) Pritchert '91, Clark Williams '64, Heather L. (Schmit) Woods '03 M.Ed. '12, and Sheila (Lindeman) Zinke '80.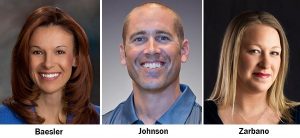 Megan R. (Schmidt) Zarbano '08 and Matthew C. Johnson '01 will each receive the Young Alumni Achievement Award, and Kirsten Baesler M.Ed. '10 will be recognized as the 60th recipient of the Distinguished Alumni Award.
Tickets are $10 each and may be reserved by calling the VCSU Alumni Office at 701-845-7403 or email kim.hesch@vcsu.edu.
10-a.m. VCSU Alumni Baseball Game, Charlie Brown Field
10-a.m., VCSU Softball Alumni Game, VCSU  Softball Complex
10:30-a.m., Homecoming Parade, Central Avenue
11-a.m., – 2-p.m.,  Viking Tailgating, Lokken Stadium
2-p.m., Viking football game vs. Waldorf University, Shelly Ellig Field, at Lokken Stadium
5-p.m., Post-Game and All-Alumni Social, Valley City Eagles
9-p.m. – 1-p.m., Alumni and Student Dance, Valley City Eagles