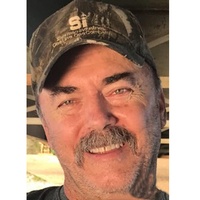 Rod was welcomed into this world by his parents Bill and Alice Irion on 10/27/1960 and died unexpectedly on 10/05/2018. Rod was born in Missoula, Montana and later moved to Jamestown, ND. He graduated from Jamestown High School in 1979 where he held the record for the pole vault for 30 years. He later moved to Garrison where he operated his own guide service known as Dakota Limit Guide Service until 1993.In 1994 he graduated from Bismarck State College with a Power/Process Plant technology degree. Later that year he proposed to Dawn Gruchalla and they made their home in Battle Mountain, NV. In December of 1995, they eloped to Lake Tahoe, NV. Four years later they were blessed with a daughter, Brooke Ashley Irion. In 2010, they then moved to Runaway Bay, TX where he was employed at Brazos Electric Co-op until his death.

Rod was a devoted husband and father and enjoyed the outdoors and was an avid sportsman. He started coaching his daughter golf at the age of 2 and continued to be her coach.

Besides his family, the other love of his life was fishing. He and his fishing partner Mark Boyd won the 1992 Saskatchewan Premier's Cup/Can-Am Cup. His last fishing tournament was in September with his wife and she out-fished him!

He was a generous, kind person and always had a smile on his face and a story to make others laugh.

He will be deeply missed by his family, friends and those who knew him.

The memories he takes with him are so precious, they are more valuable than all the gold and silver in the world.

He is survived by his wife Dawn; daughter, Brooke Irion, Runaway Bay, TX; father, Bill (Mary) Irion, Orofino, ID; sister, Carolyn Kvislen, Bismarck, ND; sisters-in-law, Tami (Kevin) Severence, Jamestown, ND and April (Shawn) Lange, Eldridge; father-in-law, Terry Gruchalla, Jamestown, ND; nieces, nephews and great nieces and nephews.

He was preceded in death by his mother, Alice Irion and mother-in-law, Ramona Gruchalla.

 

Funeral Service: 10:30 am, Thursday, October 11, 2018 at St. John's Lutheran Church, Jamestown, with Pastor Erik Weber officiating.

Visitation: 5:30 p.m. to 7:00 p.m., Wednesday, October 10, 2018 at Williams Funeral Home, Jamestown.

Interment: Calvary Cemetery, Jamestown.

There are accounts you may donate to for the benefit of Rod Irion's family established at: First State Bank of Runaway Bay, TX 76426 or First Community Credit Union, 111 9th Street SW, Jamestown, ND 58401.