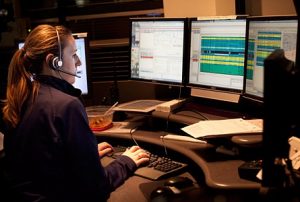 Jamestown  (CSi)  Jamestown Voters on November 6, will decide if the 9-1-1 emergency phone service charge, should be increased monthly from $1 a month of up to $1.50 per month.
On Wednesday's Wayne Byers Show on CSi Cable 2, Stutsman County Emergency Manager, and 9-1-1 Coordinator Jerry Bergquist said, a "Yes" vote means you approve the measure, a "No" vote means you do not approve of the increase.
He said if the measure fails, the additional financial burden will continue to be placed on the Stutsman County General Fund.
If the measure is approved by voters, based on 2017 revenues, and additional $130,00 in revenues would be generated to help operate the Communications Center, together with other funds.
He added that the county receives 85-cents to 90-cents for each $1.50 it collects which includes the 50-cents paid directly to the state.
Bergquist pointed out that the 9-1-1 funds produced from the current $1 fee on both landline and cellular phones has slowly been declining, resulting in less revenue to apply for dispatch equipment replacement.
In 2017 the revenue generated from the current 9-1-1 fee at $1 per land line and cell phone total $234,397, which only paid for 30 -percent in operational costs, with hardly any money set aside for equipment replacement, and greater burden place on other county general fund to make up the difference.
The LEC's Dispatch Center is staffed with two dispatchers per shift 24 hours, seven days a week.
Bergquist's appearance on our show was not meant to promote the increase, but only providing  informational topics.