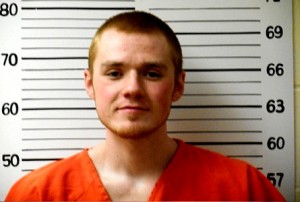 Jamestown (CSi) Jamestown Police reports, that on October 10, 2018, at about 6-p.m.  a Jamestown Police Officer attempted to stop a vehicle which was being driven by a male suspect who had active felony warrants for his arrest, near Northland Estates trailer park in Northeast Jamestown.
Assistant Police Chief, Major Justin Blinsky reports, as the Officer initiated the traffic stop, the male suspect evaded capture by striking the patrol car and speeding away. The vehicle was located minutes later near the intersection of 12 Ave NE and Railroad Drive, in northeast Jamestown. The vehicle slid off the roadway and became inoperable. The male driver fled the scene on foot and a search for him commenced. The suspect is believed to be armed with a firearm and potentially dangerous.
A code red alert was issued to warn citizens of the fleeing armed suspect and to encourage anyone with information about the suspect's whereabouts, to contact the Police Department and to not confront the suspect.
The driver of the vehicle was identified as 25 year old Levi Shawn Guthmiller of Jamestown. Guthmiller is 6 feet tall, 160 pounds, with red hair. He was last seen wearing a dark colored jacket, with a white hoodie, and blue jeans.
The vehicle also contained a 21 year old female passenger, who was detained for questioning. Guthmiller has not been located at this time. Anyone with information about this incident or Guthmiller's whereabouts is asked to contact the Jamestown Police Department at 701-252-1000.
The Jamestown Police Department was assisted by the Stutsman County Sheriff's Office. This incident remains under investigation.
Previously…
Jamestown  (KVLY)  Jamestown Police is warning residents of an armed and possibly dangerous man who fled from officers Wednesday.
25 year-old Levi Shawn Guthmiller is currently at large after fleeing an officer who tried to arrest him. It was in the area of Railroad Drive and 12th Avenue NE.
Assistant Police Chief, Major Justin Blinsky says, "We believe he's either in the Southeast or Northeast part of town.  We want residents to be aware that he is armed and possibly dangerous."
Guthmiller is identified as wearing a dark colored jacket, white hoodie and blue jeans. It's unknown if he's been picked up by someone.
Guthmiller has several felony warrants out for his arrest. Guthmiller also ran from police near Spiritwood in September.
Call 252-1000 with any information regarding the whereabouts of Guthmiller.