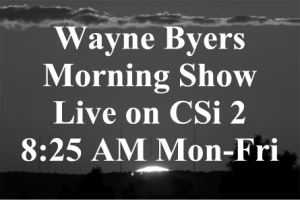 CSi Weather…
TODAY…Mostly cloudy in the morning then clearing. Highs in the mid 30s. Northwest winds 5 to 15 mph.
.TONIGHT…Partly cloudy. Lows 15 to 20. West winds around 5 mph.
.FRIDAY…Sunny. Highs in the upper 30s. Southwest winds 5 to
10 mph.
.FRIDAY NIGHT…Mostly cloudy. A 20 percent chance of rain after
midnight. Lows in the lower 30s. Southwest winds 10 to 15 mph.
.SATURDAY…Partly sunny. A 20 percent chance of rain in the
morning. Windy. Highs in the upper 30s. West winds 15 to 20 mph
shifting to the northwest 20 to 30 mph in the afternoon.
.SATURDAY NIGHT…Mostly cloudy. Lows in the mid 20s.
.SUNDAY…Partly sunny. Highs in the mid 30s.
.SUNDAY NIGHT…Partly cloudy. Lows in the lower 20s.
.MONDAY…Mostly sunny. Highs in the lower 40s.
.MONDAY NIGHT…Mostly cloudy. Slight chance of rain and snow
after midnight. Lows in the lower 30s.
.TUESDAY…Partly sunny. Highs in the mid 40s.
.TUESDAY NIGHT…Decreasing clouds. Lows in the lower 30s.
.WEDNESDAY…Mostly sunny. Highs around 50.
Friday may be the warmest day of the forecast period, especially
west.  Highs will range from around 40 east to the mid 50s southwest.
Saturday will see the arrival of a clipper system, bringing cooler
air and gusty winds.
This may result in a wind advisory being issued over much of west and central North Dakota.
No Travel Advised – Eastern ND
NDDOT and NDHP have issued a No Travel Advisory Thursday morning for portions of eastern ND due to snow/ice covered roads and reduced visibility creating hazardous driving conditions. Cities included in the No Travel Advisory are Jamestown, Valley City, Edgeley, Ellendale, Oakes, Cooperstown, Michigan, Larimore and surrounding areas. Conditions are such that motorists should not travel in these areas.
FARGO, N.D. (AP) — The first significant snow of the season has dumped as much as 17 inches in parts of eastern North Dakota.School buses are running 2 hours behind Thursday as drivers deal with the slippery roads. The National Weather Service says the highest snow totals are in Finley at 17 inches, in Hannaford at 16.5 inches and a little more than 14 inches west of Hope.Grand Forks set a record snowfall for the date at 5.7 inches.
Valley City recorded 13.1 inches of new snow on Wednesday.The state Department of Transportation and the North Dakota Highway Patrol issued a "no travel advisory" for parts of eastern North Dakota on Wednesday evening due to snow and ice-covered roads and reduced visibility.The advisory included Jamestown, Valley City, Edgeley, Ellendale, Oakes, Cooperstown, Michigan, Larimore and surrounding areas.
Update….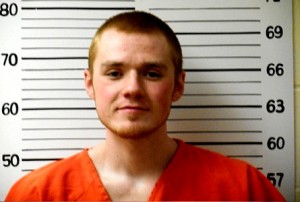 Jamestown (CSi) Jamestown Police report, that on October 10, 2018, at about 6-p.m.  a Jamestown Police Officer attempted to stop a vehicle which was being driven by a male suspect who had active felony warrants for his arrest, near Northland Estates trailer park in Northeast Jamestown.
Assistant Police Chief, Major Justin Blinsky reports, as the Officer initiated the traffic stop, the male suspect evaded capture by striking the patrol car and speeding away. The vehicle was located minutes later near the intersection of 12 Ave NE and Railroad Drive, in northeast Jamestown. The vehicle slid off the roadway and became inoperable. The male driver fled the scene on foot and a search for him commenced. The suspect is believed to be armed with a firearm and potentially dangerous.
A code red alert was issued to warn citizens of the fleeing armed suspect and to encourage anyone with information about the suspect's whereabouts, to contact the Police Department and to not confront the suspect.
The driver of the vehicle was identified as 25 year old Levi Shawn Guthmiller of Jamestown. Guthmiller is 6 feet tall, 160 pounds, with red hair. He was last seen wearing a dark colored jacket, with a white hoodie, and blue jeans.
The vehicle also contained a 21 year old female passenger, who was detained for questioning. Guthmiller has not been located at this time. Anyone with information about this incident or Guthmiller's whereabouts is asked to contact the Jamestown Police Department at 701-252-1000.
The Jamestown Police Department was assisted by the Stutsman County Sheriff's Office. This incident remains under investigation.
Jamestown (CSi) A snowmobile on fire was called in to LEC at 11:48 am.  Five units of the Jamestown Fire Department went to  1404  Skyline Circle, where they found the snowmobile plus a pickup on fire in the driveway next to the garage.
City Fire Chief Jim Reuter says, the fire started in the snowmobile, and spread to the pickup parked next to it.
He says the owner was driving the snowmobile, parked it and went in the house where he heard a loud explosion from the snowmobile.
Reuther says the snowmobile and pickup were totaled in the blaze.
He points out that the homeowner closed the garage door, which helped to keep the fire from spreading to the home, which was not damaged.
No injuries reported.
The cause is undermined due to the total damage to the snowmobile.
Five city fire units and 23 fire fighters were on the scene  about a half hour.
Jamestown  (CSi)  Tree limbs heavy with wet snow coming in contact with power lines have been causing power outages in Jamestown all day Wednesday.
Otter Tail Power Company, Jamestown Operations Manager, Charles Krebs says, Wednesday morning between 11:15 and 11:27, one such incident caused an outage from the post office area, to just west of Jamestown.
On Wednesday afternoon, another tree limb in the 200 block of 6th Avenue, Southeast, contacting a power line caused a separate outage in Southeast Jamestown starting at 2:45-p.m., from the area around the middle school, and south to 10th Street Southeast.
He says when the tree limb contacts the power line a fault occurs which needs to be reset.
Jamestown  (CSi)  Due to the cold temperatures outside and the boiler/heat at the Alfred Dickey Library not working, we have decided that the Alfred Dickey Library will need to be closed again  on Thursday, October 11, 2018, as it is too cold inside the building to provide service. We are working to get our boiler/heat repaired as soon as possible. Please visit the Stutsman County branch located at 910 5th ST. SE in Jamestown for all library services. Please call 701-252-1531 with any questions. We apologize for any inconvenience this may cause.
Jamestown  (CSi)  Jamestown Voters on November 6, will decide if the 9-1-1 emergency phone service charge, should be increased monthly from $1 a month of up to $1.50 per month.
On Wednesday's Wayne Byers Show on CSi Cable 2, Stutsman County Emergency Manager, and 9-1-1 Coordinator Jerry Bergquist said, a "Yes" vote means you approve the measure, a "No" vote means you do not approve of the increase.
He said if the measure fails, the additional financial burden will continue to be placed on the Stutsman County General Fund.
If the measure is approved by voters, based on 2017 revenues, and additional $130,00 in revenues would be generated to help operate the Communications Center, together with other funds.
He added that the county receives 85-cents to 90-cents for each $1.50 it collects which includes the 50-cents paid directly to the state.
Bergquist pointed out that the 9-1-1 funds produced from the current $1 fee on both landline and cellular phones has slowly been declining, resulting in less revenue to apply for dispatch equipment replacement.
In 2017 the revenue generated from the current 9-1-1 fee at $1 per land line and cell phone total $234,397, which only paid for 30 -percent in operational costs, with hardly any money set aside for equipment replacement, and greater burden place on other county general fund to make up the difference.
The LEC's Dispatch Center is staffed with two dispatchers per shift 24 hours, seven days a week.
Bergquist's appearance on our show was not meant to promote the increase, but only providing  informational topics.
Jamestown  (CSi)  Jamestown Public Works announces that due to City utility repairs, there will be temporary water outages along 11TH Ave NE between 3rd St & 4th St NE beginning Thursday morning, October 11, 2018 for a duration of 4 – 5 hours.
11th Ave NE will be closed to through traffic during the repair work. Please use alternate routes and use extreme caution in this area.
PLEASE NOTE:
The above schedule is contingent upon changing weather conditions.
Jamestown  (NDFU)  – North Dakota Farmers Union (NDFU) President Mark Watne Wednesday day called on the Trump administration to address the long-range impact on rural America of the ongoing trade war.
Watne says, "There is no 'short-term pain' in a trade war. Wars are made up of battles. The effects of this trade war and pain will be long term for agriculture.
He noted that former trading partners are making inroads with other countries to avoid trade with the U.S.
Brazil, for example, currently has eight new export elevators under construction
Watne adds, "Countries are using the trade war to their advantage and it's impacting commodity prices."
According to NDSU ag economics professor William Wilson, soybean prices normally would be about $13 per bushel this time of year without the trade war, instead of $7. With few shipments of ag commodities leaving U.S. ports and prices well below the cost of production, Watne said he is concerned about farmers' ability to secure financing for next year's crop.
Watne says, "No amount of rhetoric will secure an operating loan and no amount of direct assistance to farmers will restore trade relationships that have been lost.  This goes well beyond the farm to agribusinesses and main streets everywhere."
Watne recently asked U.S. Chief Agriculture Trade Negotiator Gregg Doud at a meeting in Washington, D.C., what a trade war win would look like for farmers. Watme adds. "His response wasn't better prices or greater demand for soybeans or other commodities."
Frustrated that few leaders are talking about the long-range impact of the trade war in rural America, Watne said reality is hitting home as more crops come off the field. Watne says, "I hope we don't lose family farms in this process."
Jamestown  (CSi) A change in location for the Friends of the James River Valley Library System, next adult program on Tuesday October 16 at 6-p.m.
The location will be moved to the Stutsman County Library 910 5th St. SE. Jamestown, ND.  still at 6-p.m, due work in the Alfred Dickey Public Library conference room.
Attorney, Dan Buchanan will present the topic: Wills and Estate Planning.
To reserve a spot call, 701-252-2217 or on line, friendsofjrvl.org/programregistration.
Information will include: What is a will and why is it necessary, and specific information regarding wills.
Over the years, Dan has focused his practice in estate planning and administration of estates and trusts.
BISMARCK, N.D.  (CSi) – The North Dakota Insurance Department will be hosting a series of nine, statewide Medicare Part D Annual Enrollment Events beginning on Tuesday, Oct. 16 in Grand Forks. The events will provide Medicare beneficiaries of all ages with the opportunity to review, plan or shop for coverage options with the assistance of trained, volunteer counselors. This year, an additional event has been scheduled in Minot.
It is critical for beneficiaries to review their plan and make sure that it is the most cost effective option. Last year, SHIC volunteer counselors and staff were able to find more than $2 million in savings for North Dakota consumers.
Open enrollment for Medicare health or prescription drug plans (Part D) runs from Oct. 15 through Dec. 7. It's just as important for North Dakotans already enrolled in Medicare Part D to review their current coverage during this time as it is for those enrolling for the first time because they can determine what features of coverage matter most to them and shop for plans that meet their needs and fit their budget. For example, changes companies make to their plan's 2019 formulary (list of approved medications) and the tier assignments may be extremely costly if an individual does not review and make changes to their coverage. Any of the medications covered by a plan in 2018 may not be included in the 2019 formulary; this will result in having to pay full price for the medication.
SHIC counselors will be visiting the following cities:
Valley City, Thursday October 18th, 9-a.m., to 4-p.m., at the senior center, at 139 2nd Avenue Southeast.  845- 4300.
Jamestown, Friday October 19th, 9-a.m. to 4-p.m., Gladstone Inn & Suites, 111 2nd Street, Southeast.  252-0700.
KILLDEER, N.D. (AP) — A Texas man is dead after a one-vehicle crash in North Dakota's oil patch.The Highway Patrol says 49-year-old Billy Galloway of Livingston, Texas, was driving a pickup truck that failed to negotiate a curve on a rural Dunn County road and rolled in the ditch about 9:15 p.m. Tuesday.Galloway died at the scene, about a mile north of Killdeer. A passenger in the pickup was taken to a Dickinson hospital with unspecified injuries.NEW TOWN, N.D. (AP) — Authorities have identified an Idaho man who died in a pickup truck rollover crash in the western North Dakota oil patch. The Highway Patrol says 23-year-old Darren Cooley, of Kooskia, Idaho, died this week when he failed to negotiate a curve on state Highway 1804 north of New Town. Cooley's body was found at the scene Tuesday morning. Authorities believe the crash happened overnight.MANDAN, N.D. (AP) — Police say a Mandan officer who shot a man was trying to arrest him on a number of warrants. Deputy Chief Lori Flaten says Mandan police along with officers from the Metro Area Narcotics Task Force spotted the man in Frontier Trailer Park Tuesday and tried to pull him over in a traffic stop. 

FARGO, N.D. (AP) — North Dakota's sugar beet harvest is nearing the halfway point, and the harvest of potatoes is about three-fourths complete.Other harvest progress reports in the federal Agriculture Department's weekly crop report include 8 percent for corn, 9 percent for sunflowers and 34 percent for soybeans.Winter wheat seeding is 84 percent complete.Sixty-one-percent of subsoil moisture supplies and 71 percent of topsoil moisture supplies are rated adequate to surplus.Stockwater supplies are rated 68 percent adequate to surplus, and pastures are rated 35 percent in good to excellent condition. 
BISMARCK, N.D. (AP) — North Dakota regulators won't order a company to stop work on an oil refinery near Theodore Roosevelt National Park so they can study the appropriateness of the site. The decision eliminates a potential big roadblock for the $800 million Davis Refinery. But it's based on a technicality in state law and is unlikely to end debate over whether the refinery is too close to the state's top tourist attraction.BISMARCK, N.D. (AP) — Some American Indian leaders are lukewarm over legislation that would allow tribes in North Dakota to collect a state sales tax on their reservations. The legislation would require taxation of all tribal and non-tribal owned businesses. Tribal leaders say casinos should be exempt because revenue from them is used for essential services on reservations. The state's 5 percent sales tax isn't currently collected on tribal-owned businesses on reservations. 
 In sports…
UJ Men's and Women's Soccer on Wednesday in Jamestown, was Cancelled.
Polls…
BISMARCK, N.D. (AP)- As they've done from the start of the season, the Thompson High football team is the number one ranked team in Class 9-Man, as voted on by members of the North Dakota Associated Press Sportscasters and Sportswriters Association, while Hillsboro/Central Valley remains atop the Class A poll.
First place votes are in parenthesis, followed by the team's record, and the number of total votes received.
With the start of the 9-Man playoffs Saturday, this marks the final poll in that classification for the year.
Class 9-Man
1. Thompson (9 ) 8-0 77
2. New Salem-Almont (8) 8-0 76
3. New Rockford-Sheyenne 8-0 42
4. Napoleon/Gackle-Streeter 8-0 23
5. Ray-Powers Lake 8-0 17
Others Receiving Votes: Bismarck Shiloh Christian (7-1) , Richland (7-1) , Oakes (7-1)
Class A
1. Hillsboro/Central Valley (13) 7-0 75
2. Langdon Area/Edmore/Munich (3) 7-0 65
3. Velva 7-0 45
4. Bowman County (1) 7-0 31
5. Carrington 6-1 24
Others Reeving Votes: Minot Bishop Ryan (7-0)
NHL …WASHINGTON (AP) — Evgeny Kuznetsov continued his dominance against the Vegas Golden Knights, scoring a goal and assisting on three more as part of a 5-2 Washington Capitals victory Wednesday night in a rematch of last season's Stanley Cup Final.Kuznetsov assisted on two goals by Alex Ovechkin and one by Nicklas Backstrom and scored his own on the power play. The leading scorer in the Cup Final with eight points in five games, Kuznetsov has seven points through the defending champions' first three games of the regular season.Coming off a 49-goal season and a Conn Smythe Trophy as playoff MVP, Ovechkin has four goals in three games. The 610th and 611th goals of his career put him in sole possession of 17th on the NHL's career list, passing Bobby Hull.Braden Holtby, who made "the save" with his stick in Game 2 of the Final, stopped 29 of 31 shots and bailed out his teammates during an especially sloppy second period. Holtby allowed goals to Cody Eakin in the second period and Reilly Smith in the third.In other NHL action:— Jakub Voracek and Scott Laughton scored two goals apiece, and the Philadelphia Flyers rebounded from an embarrassing loss to beat the Ottawa Senators 7-4 on Wednesday night. Sean Couturier, Robert Hagg and Claude Giroux also scored for the Flyers, who were coming off an 8-2 loss to the San Jose Sharks in their home opener a night earlier. Calvin Pickard stopped 31 shots.— Nick Cousins scored in the shootout, Antti Raanta made 23 saves and the Coyotes earned their first win of the season. Dylan Strome and Brad Richardson scored for Arizona (1-2), which dropped its first 11 games last season. The Coyotes got their first goal this season when Strome converted a power-play opportunity with 2 1/2 minutes left in the first. They were the last NHL team to score. Anaheim was trying for the first 4-0 start in franchise history. Ryan Kesler and Ben Street scored for the Ducks (3-1), and John Gibson made 37 saves.MLB-NEWSBaseball catches its breath as Red Sox move onUNDATED (AP) —Players on the four remaining playoff teams are getting a couple days to regroup.

The National League Championship Series gets going first, with the Milwaukee Brewers hosting the Los Angeles Dodgers. L.A. beat Milwaukee 4-3 in the season series. Both teams won division titles with one-game playoff victories the day after the regular season.

The Red Sox are set for a postseason rematch with the World Series champion Astros. Boston eliminated the Yankees with a dramatic 4-3 victory Tuesday night in Game 4 of their AL Division Series, and now rookie manager Alex Cora and his club will wait until Saturday night to open the AL Championship Series against Houston at Fenway Park.

Ace lefty Chris Sale figures to get the ball for the Sox after making an impressive turn in a setup role for the eighth inning last night.

In other MLB news:

— The Yankees have lost four straight postseason home games to the Red Sox, and now they'll watch on TV as Boston chases a fourth World Series title in 15 years — New York has just one pennant and championship during that span (2009). The Yankees begin an offseason that's sure to bring a few changes. CC Sabathia, Brett Gardner, David Robertson and J.A. Happ can become free agents, and New York could be major a player in an anticipated free agent market that will likely include Manny Machado, Bryce Harper, Patrick Corbin, Dallas Keuchel and possibly even Clayton Kershaw.

— Braves manager Brian Snitker expects to find out this week whether general manager Alex Anthopolous will bring him back. Snitker is not yet under contract for 2019, though there's nothing to indicate he won't return for his third full year at the helm — especially after a season that makes him one of the leading candidates for NL manager of the year. Still, Anthopolous met with Snitker and the coaching staff yesterday and didn't make any promises.

— The Washington Nationals picked up righty reliever Kyle Barraclough from Miami in their first offseason move to rebuild the bullpen. The Nationals gave the Marlins $1 million in international slot allotment as part of the deal. The hard-throwing Barraclough went 1-6 with 4.20 ERA and 10 saves in 17 chances, with 61 appearances this year.

— San Diego is hunting for a new hitting coach a day after firing Matt Stairs. The rebuilding Padres continued to rank at or near the bottom of the majors in key offensive stats in their first year under Stairs. His replacement will be the Padres' 10th hitting coach since Petco Park opened in 2004.

NFL NEWS

Chiefs sign linebacker; Fournette not ready

UNDATED (AP) — The Kansas City Chiefs signed former Cleveland Browns linebacker Nate Orchard to shore up their pass rush with linebackers Justin Houston and Dee Ford hobbled by injuries.

Houston could miss several weeks after hurting his hamstring in Kansas City's win over Jacksonville.

Ford has dealt with a series of minor injuries this season. The 25-year-old Orchard was a second-round pick of the Browns in the 2015 draft.

Elsewhere around the league:

— The Jacksonville Jaguars have ruled out running back Leonard Fournette for their game at Dallas. It will be the fourth game Fournette has missed this season. Coach Doug Marrone says Fournette (hamstring), left tackle Josh Wells (groin) and cornerback D.J. Hayden (toe) will all miss Sunday's game. The Jaguars signed veteran Jamaal Charles yesterday with the expectation that Fournette would be sidelined an extended period.

— The Detroit Lions have acquired cornerback Lenzy Pipkins via waivers from the Indianapolis Colts and released linebacker Marquis Flowers. Pipkins spent time on the Colts' practice squad and active roster earlier this season, appearing in one game. Detroit has an open date this week.

— The Tennessee Titans have filled their fifth wide receiver spot by promoting Cameron Batson from the practice squad. The Titans filled the open roster spot a day after waiving receiver Nick Williams, who was beaten by a defender that turned the play into an interception and also dropped a would-be touchdown pass in the fourth quarter in Tennessee's loss in Buffalo. Batson signed with Tennessee as an undrafted rookie free agent in May.

COLLEGE FOOTBALL NEWS

Kansas fires offensive coordinator Meacham with 6 games left

LAWRENCE, Kan. (AP) — Kansas fired offensive coordinator Doug Meacham with six games left in the season Wednesday, ending the short tenure of what coach David Beaty hailed as a game-changing hire just last year.

Meacham had spent the previous three seasons as the co-offensive coordinator at Big 12 rival TCU when Beaty lured him to the Jayhawks.

Meacham was expected to install a variation of the Air Raid offense that would put up the kind of points not seen in Lawrence in a decade.

Instead, the Jayhawks managed just 18.7 points per game last season. That has ticked up to 27.7 this year, but the Jayhawks are averaging just 19 points during three conference losses.

Beaty plans to handle play-calling duties when the Jayhawks face Texas Tech on Oct. 20.

GOLF-HALL OF FAME

Goosen, Stephenson among 5 selected for golf Hall of Fame

ST. AUGUSTINE, Fla. (AP) — Two-time U.S. Open champion Retief Goosen and three-time major champion Jan Stephenson are among five people selected for induction into the World Golf Hall of Fame.

A 16-member panel of mostly golf administrators also selected retired Augusta National chairman Billy Payne, LPGA charter member and renowned teacher Peggy Kirk Bell and Dennis Walters, who has been inspiring golfers through clinics despite being paralyzed from the chest down since he was 24.

The induction will be June 10, the Monday of the U.S. Open at Pebble Beach.

NBA NEWS

Jimmy Butler to ESPN: I was 'brutally honest' with Wolves

UNDATED (AP) — Jimmy Butler has returned to practice with the Minnesota Timberwolves for the first time this season.

He told ESPN in an interview taped and aired Wednesday that he was "brutally honest" with teammates and other officials during that workout.

Butler asked the Timberwolves to trade him elsewhere last month, and said much of an earlier ESPN report Wednesday stating he had outbursts during the practice session was largely accurate.

Butler is a four-time All-Star who can become a free agent after the season.

OBIT-TEX WINTER

Tex Winter, innovative basketball coach, dead at 96

MANHATTAN, Kan. (AP) — Tex Winter, the innovative "Triangle Offense" pioneer who assisted Phil Jackson on 11 NBA championship teams with the Chicago Bulls and Los Angeles Lakers, has died. He was 96.

Kansas State University said Winter died Wednesday in Manhattan.

Winter published "The Triple-Post Offense" in 1962 and teamed with Jackson to use the system to great success with Michael Jordan and Kobe Bryant. Winter assisted Jackson on championship teams with the Bulls in 1991, 1992, 1993, 1996, 1997 and 1998, and the Lakers in 1999, 2000, 2001, 2002 and 2009.

Inducted into the Naismith Memorial Basketball Hall of Fame in 2011, Winter spent more than six decades in coaching. He was 451-336 as a college head coach at Marquette (1951-53), Kansas State (1954-68), Washington (1969-72), Northwestern (1975-78) and Long Beach State (1978-83). He coached the Houston Rockets in 1972-74, going 51-78.

NASCAR NEWS

Jimmie Johnson and Chad Knaus to split after 17 years

CHARLOTTE, N.C. (AP) — There will be no eighth NASCAR title for Jimmie Johnson and Chad Knaus.

Hendrick Motorsports will split the driver and crew chief at the end of this season.

Johnson and Knaus were partnered in 2002 when Knaus built the No. 48 team as part of a Hendrick expansion. They won a record-tying seven titles and made the playoffs in all 15 years of its existence.

Kevin Meendering will return to Hendrick Motorsports after a stint as crew chief for Elliott Sadler in the Xfinity Series to lead Johnson.

RONALDO-RAPE LAWSUIT

German magazine stands by its reporting on Ronaldo

BERLIN (AP) — The German weekly magazine that first published the rape allegation against Cristiano Ronaldo says it has "hundreds of documents" that substantiate its report and there is no reason to believe they are not authentic.

Ronaldo's lawyers issued a statement on Wednesday calling the documents cited in the report "complete fabrications."

Der Spiegel magazine says "we have no reason to believe that those documents are not authentic," adding "we have meticulously fact-checked our information and had it legally reviewed."

Kathryn Mayorga filed a lawsuit late last month in Nevada saying she was raped by Ronaldo in Las Vegas in 2009. Police have also re-opened an investigation.

The 33-year-old Ronaldo, who plays for Italian club Juventus, has denied any wrongdoing. But some sponsors, including Nike and video game maker EA Sports, have expressed concern about the rape allegation.
In world and national news…
PANAMA CITY, Fla. (AP) — Fires were still burning in the early morning darkness the day after massive Hurricane Michael slammed into a Florida Gulf Coast beach town with a 10-foot storm surge and 155 mph winds that were just shy of a Category 5. A reporter and photojournalist from the Tampa Bay Times made their way into Mexico Beach early Thursday, finding the town of about 1,000 almost impassable.
ISTANBUL (AP) — Turkish President Recep Tayyip Erdogan is increasing his pressure on Saudi Arabia over the disappearance of journalist Jamal Khashoggi during a visit last week to the Saudi Consulate in Istanbul. Erdogan is quoted by Turkish media on Thursday as telling journalists flying with him from Hungary that "we cannot remain silent to such an incident."
SINGAPORE (AP) — Stock markets are sinking, extending losses from Wall Street. Investors are worried that higher interest rates will dent company earnings and a trade war will crimp global business. European markets are all down Thursday after Asia closed sharply lower. Futures are auguring another drop in the U.S., which saw its major indexes tumble Wednesday.
BAIKONUR, Kazakhstan (AP) — NASA says two astronauts from the U.S. and Russia will be flown to Moscow after they made an emergency landing. NASA astronaut Nick Hague and Roscosmos' Alexei Ovchinin landed in the steppes of Kazakhstan Thursday following the failure of a Russian booster rocket carrying them to the International Space Station.
NEW YORK (AP) — Harvey Weinstein is set to appear before a New York judge as his lawyers try to get the charges dismissed in his criminal case. Judge James Burke is expected to issue rulings Thursday on defense motions assailing an indictment accusing Weinstein of rape and sexual assault. Weinstein denies assaulting anyone. His lawyers and prosecutors have been wrangling over the case in recent weeks in closed-door meetings and sealed court papers